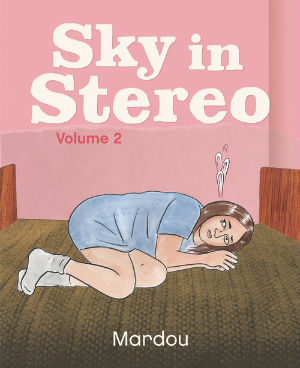 Sky In Stereo Vol. 2 proves an interesting follow-up to the grounded exploration of teenage adventure and romance of Mardou's first volume. Picking up where the story left off with the protagonist Iris being committed to a psychiatric ward following an extended acid trip, almost the entirety of this volume is spent on her recovery. By shifting the focus, while leaving a few threads from the first volume unresolved, it gives new meaning to the series as a whole. By spending the first volume on Iris' life before the manifestation of her psychiatric condition, the reader has a better sense of how dramatic a shift it is for her to live in its aftermath. Even in isolation this volume functions as a showcase for Mardou's ability to create fiction so real and intimate that it often times feels autobiographical. With Iris as our point of view character the reader is allowed access to the psych ward but in a way that never feels exploitative. This is largely in part due to the way Mardou's expressive cartooning captures the emotional range of Iris and her fellow patients' experience, giving the reader plenty of reason to empathize with their mental health struggles.
Mardou begins Sky In Stereo Vol. 2 with Iris still suffering the effects of the psychotic break brought on by her acid trip. By keeping the camera closely on the terrified Iris and letting the reader in on her paranoid thoughts we become instantly sympathetic to her. Convinced by her delusional state that the unnamed psych ward is a charade put on to torment her, it turns the already traumatic experience of being institutionalized into a living nightmare. Yet the reader can see that the things Iris believes to be happening are clearly not, and in a sharp use of the medium this disconnect between words and images fully emphasizes how strong a break she has had from reality. The world of the psych ward then unfolds from Iris' perspective as she casually introduces the reader to its other inhabitants such as the wide-eyed wanderer Margeret or the anxious and achey June. We can only guess at the reasons these other women have been institutionalized but in their dialogue and their performance their pain is palpable.
Iris will begin to find some relief though her friendship with fellow teenage patient Miki but the danger of relapse always hangs over her. After a violent outburst lands Iris in solitary confinement her doctors explains that her fears that the medical staff are conspiring against her are all part of her mental disorder. Iris is at first slow to grasp that her life as she lived it before is over, though hints abound. A birthday visit by her friends where they tell her about going to university or the Glastonbury Festival makes it clear that they have moved on with their lives while she remains in limbo. Misinterpreting her friend's freedom as merely good fortune and her own mental break as a one-time incident brought on by taking LSD rather than a permanent condition, Iris continues to distrust the medical care she is being given. A mistrust that is further compounded by the painful physical side effects of medication she is initially prescribed.
Iris' inner debate as to whether she should accept her medications and the numbing comfort they provide or face the dizzying highs and terrifying lows of life without them is not an uncommon one for stories of mental illness. Mardou's triumph here is that by having brought the reader so close to Iris, we feel the weight of this choice rather than evaluating it clinically. We understand her fear of losing the radiant magic her disorder had made her capable of feeling, but simultaneously recognize both her fear of the destructive impulses inside her and her rejection of the drab grey normality she feels is offered to her by pharmaceuticals. Yet it is only when Iris makes the conscious decision to ground herself and continue her treatment of chlorpromazine that a way out of the psych ward begins to open for her.
What really lets the Sky In Stereo Vol. 2 evoke this response to Iris' plight in the reader owes less to melodrama and more to how the simplicity of Mardou's loose scratchy line work communicates her character's inner turmoil. Structurally the pages are a variation on a nine-panel grid, with a tendency towards middle or close shots, though there are enough wide shots to get a sense the psych ward and the surrounding grounds. While Mardou employs a relatively consistent thin line weight she also uses well-placed areas of hatching or brushy blacks to give the drawings a nice dynamic range. Even when her panels have only simple compositions or sparse backgrounds they are redeemed by the quick pacing that highlights each intricate change in the characters' performance. By capturing these emotions so acutely with a minimum of lines Mardou lends the book a feeling of immediacy that makes it feel like it had been drawn while it was happening. Her scribbly renderings of Iris and the other patients feel alive with an awkward energy that lets the reader in on the inherent sad comedy of many scenes. There is a deep subtle empathy in to the soft cartoonish way in which Mardou draws the anxiety, confusion, and earnestness on the patient's faces that makes it impossible not to feel their mix of sadness at being institutionalized and hope for release.
For all the very real lived-in moments that Sky In Stereo Vol.2 provides the reader it is still a work of fiction. Yet through keeping everything so close and immediate the reader becomes less an observer of Iris' time in the psych ward and more a participant. It is these storytelling choices in combination with the heartfelt care that Mardou takes in capturing her characters that allows her to paint such a humanizing portrait mental illness. The way she traces the arc of Iris' break from and later return to normal life all the more impactful when read in combination with the first volume. Over the course of the series Mardou achieves that perfect synchronicity of fiction where the reader genuinely cares about even the smallest struggles of the character because we feel like they are happening to someone we know.
Mardou (W/A) • Revival House Press/Uncivilized Books, $13.99
Review by Robin Enrico