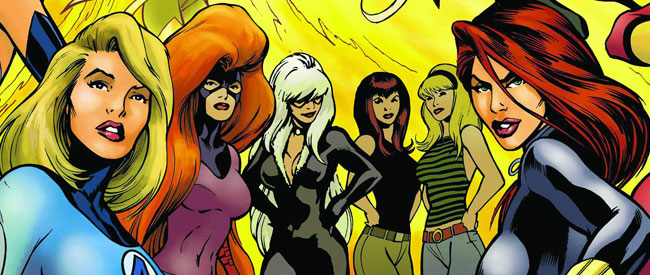 After examining Paul O'Brien's analysis of Marvel's sales, Graeme McMillan's Newsarama blog posed an interesting question: why the low sales for Marvel's female-led titles?
McMillan's question is likely to draw a multitude of opinions from comics enthusiasts, and most will probably ask as many questions as they answer. Is Marvel's lack of female writers impacting the ability of its superheroines to find a voice? The comics buying public is dominated by males, is it reasonable to assume that they simply prefer male leads?
I think it's something else.
You don't need to be a female to write compelling female characters or to revitalize ancillary members of a comic's universe. Paul Dini's work on DC's Zatanna is a good example. Part of Batman's universe, Zatanna Zatara is a magician and a sometimes member of the Justice League. A minor character, Dini built upon the groundwork established by her appearance in Batman: The Animated Series, several animated adventures, the 2005 four-issue limited series, and his own writing on Detective Comics #833 and #834 (2007) where we learn that Zatanna and Bruce Wayne were childhood friends, to breathe new life into the character during a 16-issue feature run that began in 2010.
Wonder Woman is surely the best example of a successful female lead character that has had a steady stream of male writers. From creator William Moulton Marston through Robert Kanigher, Mike Sekowsky, George Perez, Phil Jimenez, J. Michael Straczynski, and others, Wonder Woman has stood the test of time as one of DC's flagship characters courtesy of the male writers to whom she has been entrusted. Wonder Woman has certainly changed with the times—although more gracefully at some times than at others—but she remains interesting in part due to her curiosity about the world and her faith in its people.
Assuming male readerships prefer male lead characters is short-sighted and doesn't give them enough credit. DC's success with its female leads means that the characters have achieved more than just a female fan base. So what is DC doing better than Marvel to sustain interest in its leading ladies?
Overall, DC is doing a better job at making its female characters compelling. They have interesting back stories that may or may not be fleshed-out, including origins that are at least partly known. They have meaningful interactions and complementary roles to play with and against their male superhero counterparts. Their female characters usually maintain a balance between solving problems through action and selecting more diplomatic or crafty methods. And they have all faced moral decisions that define what kind of person they are and will be as their story moves forward.
Zatanna works because even as a minor character she is interesting all on her own. She has an element of mystery in her background (the search for her missing magician father). She has abilities that can make her a threat to almost any other character in the DC universe as evidenced by her controversial mind-wiping of Dr. Light in Identity Crisis. And she has faced complicated moral issues and their not-so-pleasant consequences.
Wonder Woman is virtually as powerful as Superman and has endured decades of difficult choices between her duty to her mother, her people, and the world. That she will do the right thing is never in question, and might lead the reader to believe that she is predictable. However, her methods for achieving what is right can go from diplomacy to skull-knocking in very short order. The moment you think you have her figured out, she proves you probably don't.
Would Selina Kyle as Catwoman be half as interesting if she didn't walk that fine line between criminal and hero? Her wavering moral compass and willingness to take steps that Batman wouldn't approve of make her an Irene Adler to Batman's Sherlock Holmes—or if you're a Highlander fan, Selina is Amanda to Bruce's Duncan. The depths of character revealed by these choices make the charismatic Catwoman an indelible personality and give her storylines conviction.
In the Marvel universe, Elektra is one of the most compelling female characters. Considerable effort has been expended through the years to making her a unique complement to Matt Murdock's Daredevil, and it shows. But she functions just fine on her own, as well. Her origin and background are subjects of debate, but we certainly know enough to be intrigued. Created by Frank Miller as a love interest and match for Daredevil, Elektra's unwavering occupation as an assassin is a constant source of discord for the two. And this delightful conflict means that readers literally have no idea what will happen next when they are together.
Marvel has done a good job of creating female characters that fit well into superhero groups, but they need more individual depth. The mutant ladies of the X-Men books certainly complement their team, but Storm, Kitty Pryde, and Rogue are hardly as well developed as Wolverine, Gambit, and Cable. Have the Avengers really challenged the Wasp to stand apart from Hank Pym? Sue Storm is the wheel that keeps the Fantastic Four turning, but has she been given enough opportunities to save the day on her own?
One of my favorite episodes of Buffy: The Vampire Slayer is Season 3's "The Zeppo." In it, Xander must save the day without any super-powered help from Buffy or Angel. And with everyone else occupied preventing the end of the world, he's on his own to rescue dear Sunnydale High from being blown up by undead former students. It's a struggle, and he nearly fails, but in the end all is well and we learn that Xander is a first-rate hero on his own merits.
I think it's time for Marvel to place some of their female characters in the hot seat, show off some emotional maturity and character development, and give them their own "Zeppo" moments.