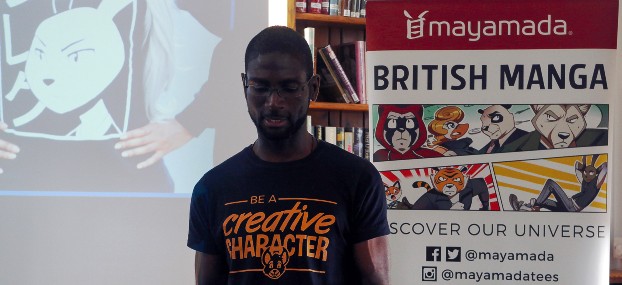 With a fictional universe founded on a most distinctive premise, and a publishing ethos that embraces a far wider sense of comics community, UK imprint mayamada have been building up an ever expanding profile over the last few years. We've covered their comics like Samurai Chef in the past at BF and featured their crowdfunding endeavours in our Crowdfunding Corner.
With a new mayamada Kickstarter campaign currently running for their comic Serious: Through the Fog, we caught up with mayamada co-founder Nigel Twumasi (above) to chat about their latest topically relevant comics offering, what British manga means to them, and their publishing story so far…
ANDY OLIVER: Who makes up mayamada? Who are the faces behind the brand?
NIGEL TWUMASI: I'm Nigel and I co-founded the mayamada brand with my Lao. He's no longer involved in the day to day, but we created and shared writing responsibility fo the stories that exist in the universe so far.
So now I work with the amazing illustrator Pinali who brings the stories to life visually, and Lara-Lee who supports the storytelling and editing process for our stories.
We also have a team of people who work on the non-comic part of the brand. Like our podcast and GamePad host Tazziii, Ben who also works on GamePad event and Gina who works across various areas including our comic story workshops.
AO: What are the origins of mayamada? What was the initial impetus for the venture?
NIGEL: It all came from a passion for storytelling as well as a keen interest in anime and manga…but we actually don't have a background in making comics. I would draw a bunch when I was a kid, but got a computer early on and stopped to go down a more engineering focused path…
Lao and I both studied engineering at university and graduated to work in IT. I've since left my job, but it was during that period we had the idea to create a business that would take our interest in making meaningful stories and characters. I actually spent a lot of time during the working day thinking and planning for mayamada…that's just between us though haha!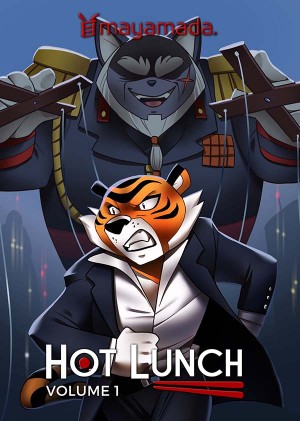 Being engineers there were a lot of mistakes. It took us a while to get our first manga, Samurai Chef, made and we've learned lots since then and hopefully getting better at this thing now.
AO: You describe your output with the term "British manga". What was it about manga in particular that appealed to you as a style of visual storytelling?
NIGEL: There are visual elements I like such as the truly fascinating character designs and dynamic framing of panels. But what really draws me to manga is the incredibly wide portrayal of emotions and the diversity in the stories.
It can be taken as a stereotype when you see snippets here and there that show the large eyes and extreme reactions, but if you look beyond that you'll understand see that manga allows for a very wide variety of emotion to be displayed in its stories. This allows you to stretch a little more with the situations and character types you can portray.
On a similar note, the diversity of stories in manga is incredible and often more diverse than western comics (at least the more mainstream you get). I believe stories are about allowing us to experience another person's perspective so love to see a medium that is accepting of more types of stories.
I even say this knowing that not all stories are for me, but the fact they can exist is great and just allows me to feel increasingly confident about stretching my own creativity with the types of stories I create.
Manga also tends to be quite introspective and you'll find protagonists that wouldn't always fit the mould of what we've come to expect in a lead character…I think that naturally fits with who I am as a person too!
AO: Can you elaborate on the concept of the mayamada universe, the structure of that fictional reality and the books you've put out to date?
NIGEL: We've framed the mayamada universe as a television network where the stories of the shows are told through the manga-style comics and graphic novels. All of our characters are anthropomorphic (animal with human-like features) which is a decision we made from the beginning to make our stories more approachable for those with less experience of the medium.
Really we just needed a way for us to come up with completely different story ideas but still make sense in the context of a brand…this way seemed to tick that box so we went with it!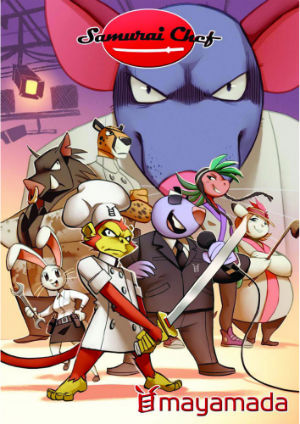 Our first story was Samurai Chef: the story of a cooking show where the Chef judges contestants' food by attacking it with his sword. The dishes are then transformed into food monsters and fight back…it gets even messier from there…see what I mean about the diversity of storylines?
From there we made Serious Volume 1. It's a more "grounded" story about a young rabbit with a dream of becoming a successful entrepreneur. The story follows his adventures as he learns what it means to chase and dream and overcomes challenges to achieve his goal.
Our more recent release is Hot Lunch Volume 1, a dramatic heist story about a tiger who is framed for a crime and goes on to enlist a crew of thieves to bring down the shadowy cabal of restaurant owners who set him up.
AO: You've been working with artist Pinali on your books. How did that collaboration begin and what does Pinali's  distinctive brand of visual storytelling bring to the table?
NIGEL: Once we had the idea for the mayamada universe as a television network, we knew we had to find an artist capable of bringing it to life. So we went to the London Comic Con and roamed the Artist Alley (as it was called back then) and quite literally stumbled across Pinali who had a table at the event.
Being able to draw anthropomorphic characters is a special artistic skill in itself and Pinali has been more than up to the task. We told her our idea for mayamada and she was in…the rest is history as they say.
I like to think we've grown as storytellers as Pinali has grown as an artist. She is able to capture the personality of our brand and characters so well, allowing them to display emotion in a very effective way that doesn't get bogged down in unnecessary detail. This is a great trait to have when working to appeal primarily to a young audience.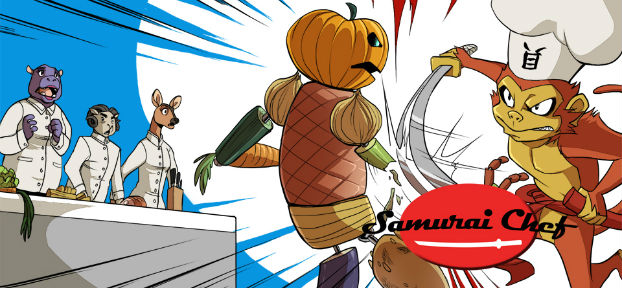 It's a manga style that also maintains some western influences and really gives us a cool unique look that helps us appeal to fans of manga as well as newcomers to the medium.
My personal favourite part of working with Pinali is the moment in the process when I've written the story outline and script, then send everything over to her for the initial page sketches. It's at that point that I get to experience the story I've created for a second time when she adds her visual interpretation to my words.
AO: The idea of comics community is something that's very important to us here at Broken Frontier. Can you tell us a little bit about how you've interacted with that wider community and some of the work you've done with young people in that regard?
NIGEL: It's been great to be part of the comic community over the years of build mayamada. I particularly enjoy the smaller indie-focused conventions that best represents the actual community. Thought Bubble is a great example of this. I get to have more conversations with fans and other creators, and in both cases learn from people who know way more than I do!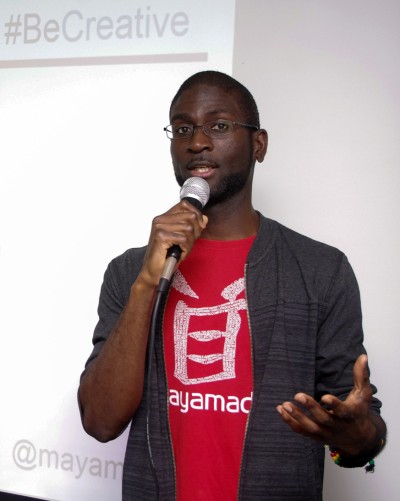 In terms of our work with young people, I'm also keen to keep in mind that while for some comics is an everyday part of life, there are many young people who don't have awareness of comics or access to these events that can get really expensive to attend.
Bringing diversity to the industries and culture we work in is a big part of the mayamada brand and long term I believe that means working to bring awareness of the culture to young people from underrepresented groups who can tell different stories.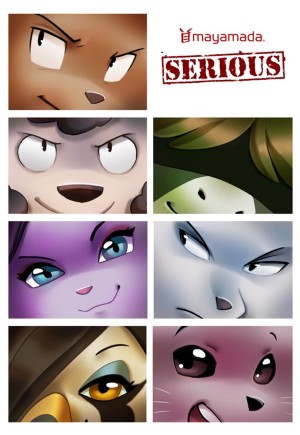 So we have a workshop program, The StoryBoard, which we use to deliver comic story workshops to young people in an effort to develop their creative confidence and raise awareness of comics and manga to the next generation. Many will know about comic book movies, but it's also important they understand the medium these stories have originated from.
In the future, I want to add an online component to those physical deliveries and then use that as a platform to bring other comic creators to these young people and help them tell stories as well as providing great examples of people they can take inspiration from.
AO: You have a new project on Kickstarter at the moment in the form of Serious: Through the Fog. What's the premise of the comic and how has it been shaped by events in the world around us this year?
NIGEL: Through the Fog follows on from the Volume 1 story released towards the end of 2016. The idea came from my personal experience through those first four to six months of the pandemic, lockdown measures and social distancing. They have been some of the toughest months I've had personally and from a business perspective as well.
So in my attempt to maintain some sort of optimistic outlook I wanted to put together a story where the characters in Serious would also have to deal with an unexpected pandemic that hits their world.
As Serious is a manga about people working towards their goals, it made sense to use that as a basis to be able to work through my own thoughts, feelings and experiences and at the same time produce a manga that could help others (young reader in particular) focus on positive outcomes and lessons that can still be found in times like this. I've taken some creative license with the nature of the specific virus, but hopefully the message still comes across!
The story will see the protagonist Blake and his team really blindsided by events and have to overcome this major challenge to continue working towards their entrepreneurial dreams. I want to look at the professional side of things, but also the personal mental toll is taken on each member of the team and how they work through it all.
AO: What can backers expect from the Kickstarter in terms of rewards beyond the usual print and digital copies?
NIGEL: We have a reward that allows you to become a character in the story and mayamada universe. Every title we've made contains a few real life people turned into anthro manga characters; the process is always a fun one.
A couple of the other rewards have been shaped by our work with young people. We have one that allows you to get six copies of Serious Vol.1 and Through the Fog. One pair for yourself and the rest to donate you young people or youth organisations.
We also have a tier to book me to deliver an online workshop and Q&A session with young people. I'm always keen to show young people who aren't always exposed to comics and comic culture that they can make use of their imagination and creativity too. Some of the stories I've seen young people create are fantastic and so creative.
AO: It's always a strange thing to ask in the midst of a Kickstarter campaign but what are your longer-term plans for the mayamada universe? Are there any plans for future projects you can tease us with?
NIGEL: So the future plans for new manga are actually the plans I had this year until the pandemic hit! I've been working on the next graphic novel 11th Hour in the background. It's a mystery thriller about an unassuming kid who must realise his potential when he joins three strangers in a race to stop a tyrant gaining the timepieces he craves to take control of a megalopolis called Tempora.
The plan was to launch Kickstarter for 11th Hour this year but that'll have to be 2021 now, as soon as I get the space to continue writing it. In the years since starting mayamada, I've been able to invest in developing my skills as a storyteller and so will be working to bring things I've learned over three previous volumes to make the best story yet with 11th Hour!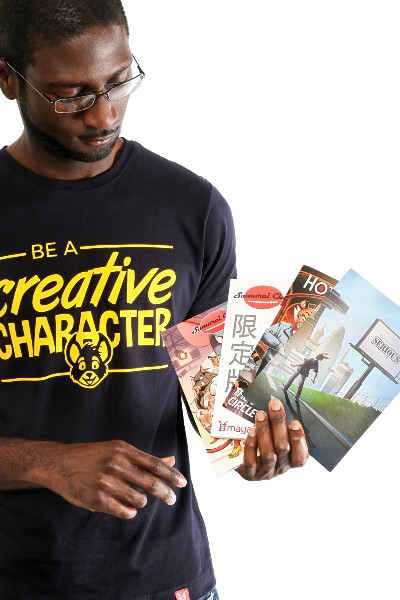 In the meantime, we're continuing to talk about stories on our Story x Story podcast. It's something we started in 2019 and working on growing with more deep dives into stories across pop culture, creator interviews and hopefully doing video episodes in the not too distant future.
For more on mayamada visit their site here, their Twitter here and their Instagram here.
Interview by Andy Oliver