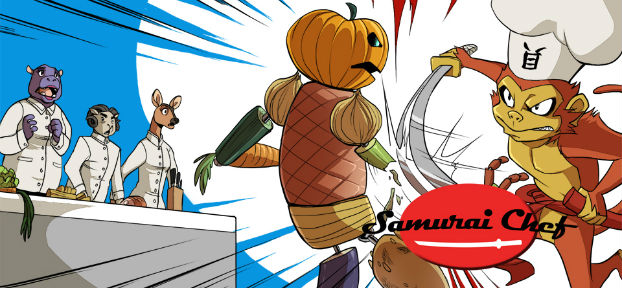 I was very much up for reviewing Samurai Chef because it seemed to combine two things I enjoy – battle manga and competitive cooking shows. Turns out there's more of the battle and less of the actual cooking or TV tropes here, but that's not to say it isn't still enjoyable.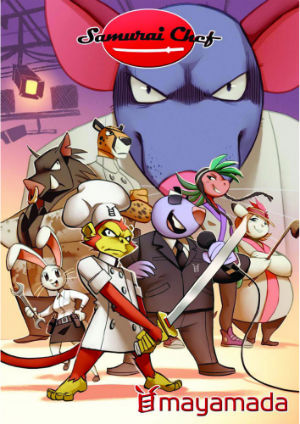 Mayamada is a "story based brand inspired by Anime and Manga, founded in London by Nigel Twumasi and Lao K." Each title is based around the idea of a different TV show on an imagined television network World of Mayamada and the team behind the comic are diversely entrepreneurial. You can buy t-shirts of course, but they're also running events and are very slickly brand conscious. This is possibly what happens when a small comics company is run by computer science graduates instead of artists!
Brand aside, the comic itself is beautifully presented, I was able to find very little about the artist Pinali (A L Jones) online but their character design and graphic composition is on point. The style is a fairly straightforward anthropomorphic manga with striking motion lines and tones added with a grainy texture, perhaps meant to be reminiscent of TV static. Of course there is a mystic legend behind the contemporary media model, and the contrast between the ancient samurai silliness and the modern television silliness is enjoyably relatable from the beginning.
The comic jumps straight into the action, direct from the Mayamada studio where animal teams of chefs from a variety of local kitchens, for some reason all named after plants and seemingly not related to any actual restaurants, compete to impress the Samurai Chef.  To begin with they are not having much luck, as the famed culinary monkey only seems interested in destroying the prepared dishes with his sword. More cutting it would seem than even the sharpest criticism of Gordon Ramsey or Monica Galetti. As I said I was hoping for a little more tongue-in-cheek competitive cooking banter, but as the kitchens realise after a few rounds, this is more about fighting than fine dining; more karate than carpaccio; more ninja than nicoise; more battle than bavois. Ok I'll stop doing that now.
While a parade of characterful chefs of every genus take it in turn to create increasingly dangerous meals, a subplot involving some shady characters who cook on the wild side develops towards an ultimate showdown. Each character is expressively written and drawn, but there is little time to develop any of them. The comic remains engaging and entertaining thanks to good pacing and Pinali's excellent character design, body language and expression doing a lot of work in terms of creating memorable moments and larger than life characters.
The battles themselves are dramatic and inventive, and it's worth picking up this book just to see some of the ways that the creators came up with to turn food into fantastical fight scenes. Some of the ideas here haven't yet been fully explored, but it's still early days, and I hope Mayamada find ways to do so – bringing the same inventive approach they have in their character design to perhaps a more meta idea of the relationship between on and off screen action.
Check out this and other projects by Mayamada here.
Mayamada (W), Pinali (A) • Mayamada, £10.00