It's a new era at Broken Frontier and to usher in the next stage in BF's evolution we've been building an expanded writing team to broaden our scope and approach to our coverage. Every week we'll be introducing you to a member of our committed crew of comics commentators with a view to connecting you to the names behind the bylines.
This week we continue our 'Meet the Broken Frontier Team' features with one of the newest members of our crew – British Comic Award-nominated artist EdieOP (also the only creator to have contributed stories to both the Broken Frontier Anthology and the Broken Frontier Small Press Yearbook).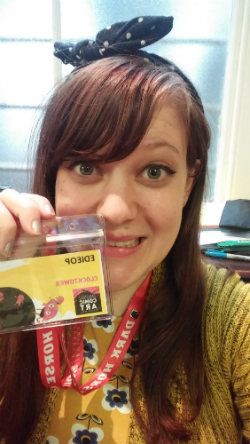 Introduce yourself to our audience in 50 concise words or less…
I'm EdieOP, comic artist, illustrator and the sunny side of sinister! I write and illustrate my own slightly sinister, dark humour all-age comics such as Maleficium, Making Friends with Smiley, Jonah and the monster stories I contributed to the Avery Hill Reads anthology.
How, when and why did you become a part of the Broken Frontier team?
Very recently actually! I joined because I see a lot of gorgeous illustration and beautiful comic books when I visit conventions and I approached Andy [Oliver, BF Editor-in-Chief] about the opportunity to review them and contribute to the Broken Frontier team.
Tell us about your role at BF? What are your areas of coverage?
I'm a contributing writer so that means I get to review a lot of fantastic work and write features/blogs about what's going on in the graphic novel and comicsphere. I mostly write about and review small press work or heavily illustrative work as my background is in illustration. I'm also very interested in writing about comics theory and the academic side of comic art.
What's your very first memory of comics?
I was a massive Beano fan growing up, I used to write and draw my own comics that I used to send to The Beano! I remember being a member of the Dennis the Menace Fan Club and the Beano Club. I was also massively into manga (both drawing and reading) as a tween until I got to art school and I was banned from drawing manga for my project work!
What is it about comics as a storytelling medium that you are most passionate about?
I love books and I love artwork. For me comics is getting the best of both, it's like jelly and ice cream! If it were up to me I think all, or at least most, novels would be graphic novels!
Name three current favourite (plus three all-time favourite) graphic novels or comics…
For favourites I'm going to be rebellious and name three artists I really love at the moment… I'm a pretty huge fan of Anja Uhren's work, Rozi Hathaway's and I love pretty much everything Danny Noble draws! I couldn't pick out a particular comic, I love their way of working and artistic style.
I'm also really excited to get a copy of A Thousand Coloured Castles by Gareth Brookes when that comes out!
Are you involved in comics or any other artistic practice outside of your Broken Frontier work?
I'm still plodding away on my own comics and illustration commissions, I've got a couple of illustration projects for someone's book and one of my own short stories and I'm working on my second graphic novel so watch this space!
And, finally, give us one creator or project you think we should be looking out for in 2017 and tell us why?
Tough one… I usually keep one eye on the Broken Frontier Six to Watch! I'll be particularly interested to see any work from Anja Uhren. As mentioned earlier I'm waiting for A Thousand Colored Castles by Gareth Brookes coming out in April and really looking forward to Spinning by Tillie Walden coming out in September.
For more on the work of EdieOP visit her site here. You can order Maleficium and Reads online from Avery Hill Publishing here. For longer-form interviews with EdieOP on her comics practice click here and here.