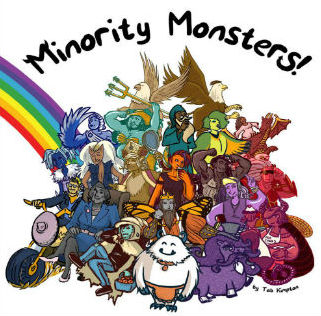 Sometimes the perfect way to allow people to empathise with others is through accessible characters. Minority Monsters attempts to highlight aspects of the LGBTQA+ community to educate anybody interested in the topic. Whilst maintaining an educational voice, the fact that the comic is driven by character makes the content fresh.
Minority Monsters follows Fred Aura the Explorer as he finds out more about various identities through his explorations of Alphabet Soup Land, meeting inhabitants like Sir Fabulous the Third the Bisexual Unicorn, Baroness Camp Von Glamour the Lesbian Harpy and King Monarch the Trans Ex-Princess.
Despite being informative the comic retains a sense of fun and never feels like a wall of information, making it an enjoyable read. I knew most of the information provided already but felt like others could gain a lot from reading this. It's always nice to have information presented in new and interesting ways to give ourselves a 'refresher course'.  It describes a lot of thing ranging from sexuality to gender, keeping the discussion open and non-judgemental.
The format of the book is to have a character's identity introduced in a comic and then more detail is portrayed through text and diagrams – the text often focuses on explaining keywords and concepts such as the Kinsey-scale as a method for describing sexual identity. Sometimes the text debunks various stereotypes in 'common misconception' sections. The art-style complements the tone of the comic, appearing bright and fun and giving the work a vibrancy.
Minority Monsters is filled with lots of helpful information regarding the community, even touching on how people who use the same label do not always share the same identity. The index in the back will likely be helpful for people looking for specific information but readers will miss out on some of the overarching narratives which I personally found enjoyable. It often criticises aspects of our own society and highlights how these things may be improved through education and tolerance.
Overall, this comic aims to educate, and is successful in achieving its goal. Lots of people don't really know where to start when trying to find out more about the LGBTQA+ community and Minority Monsters certainly has all the bases covered, introducing people to different aspects in a clear and understandable way.
Tab Kimpton (W/A) • Discord Comics
Available to buy online here. A PDF version is also available online free here. 
Review by Holly Raidl