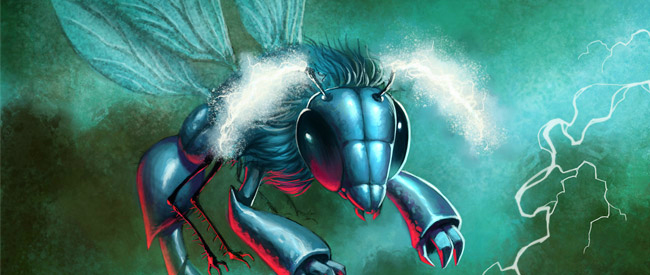 Imagine a parallel history where a complex conspiracy has led the U.S. and Russia into an all our nuclear war.  The weapons of choice, however, aren't conventional or nuclear, but monsters that tower above skylines and can easily level entire cities.
Drawing from Asian history and culture is World War Kaiju, and writer Josh Finney is here to talk his alternate history and the fate of the world.
BROKEN FRONTIER: What is the story behind World War Kaiju?
JOSH FINNEY: World War Kaiju is an alternate history, one in which the atom bomb was never created and the ultimate weapon of mass destruction is the Kaiju—fifty foot tall radioactive beasts spawned from the mysterious KAI-235 isotope.
The story begins in 1973, after the earth has been ravaged by an all out kaiju apocalypse. Set in San Francisco we're following a lone investigative reporter who has been contacted by a retired CIA operative who is willing to spill the truth and reveal the secret history of the Cold War. As the CIA man weaves a tale of conspiracy and destruction, readers are drawn into a series of flashbacks which guide them through the hottest moments of the 1950s and 60s. Ultimately, a mystery begins to unravel…
… who were the architects of the Kaiju War?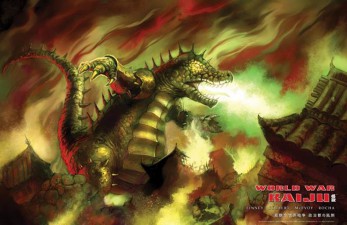 World War Kaiju has been crowd funding on Kickstarter for about a month and a half now. How is the project doing?
The Kickstarter has been going extremely well. We've hit the first of our stretch goals, and still have about 6 days left before the campaign times out. If this experiment with crowd funding succeeds, I see it as a bit of a game changer for my career.
I've been at this business for about six years. I've worked with indie publishers. I've worked with DC. In the end the biggest obstacle I've encountered every step of the way has been the industry itself. For all the hype we've been hearing about a brave new world of "creator friendly" companies dedicated to "drawing new readers," the truth is, the only new readers anyone cares about are a handful of Hollywood producers. If Kickstarter proves viable, it means from here on out I can bypass all that mess. Instead I can go directly to the audience and create books for them—you know, the people who actually appreciate the medium, people who buy graphic novels to read and enjoy.
The reason I haven't taken WWK to a publisher is that I have no desire to see yet another one of my stories dumbed down and turned into a pitch pamphlet for Hollywood. Or worse, have a book dropped not because it wasn't doing well, but rather because the publisher couldn't sell the option. I'm a writer. What I write is meant to be read. My first and only priority is writing a damn good story that my audience will enjoy. That's it. And right now, that isn't what the comics industry wants.
For readers who may have never heard of "kaiju," what is the genre?
Kaiju is short for Daikaiju, which in Japanese directly translates to mean, "Giant Mysterious Beast." The word is synonymous with a film genre which began in 1954 with Gojira/Godzilla. While the kaiju genre was heavily influenced by films like King Kong and The Beast from 20,000 Fathoms, there are some critical differences between the giant monsters of American cinema and the Japanese kaiju.
American monsters tend to be big animals doing what animals do, only on a larger scale. Kaiju, conversely, is steeped in Asian mythology and Shinto animism. These aren't creatures of animal instinct. Kaiju are forces of nature. Angry gods. Living embodiments of war, political tensions, or nature gone amok. Kaiju have an agenda. When Godzilla rises from the ocean there's a reason he heads straight for Tokyo. He's pissed off, and mankind has gotta pay.
How is the Earth of World War Kaiju different than ours?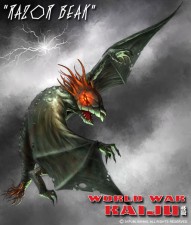 On the surface, the Earth of World War Kaiju is much like our own. The maps are the same, as are the world leaders, yet look a bit closer and everything is wrong. Children watch cartoons glorifying America's "dino-defenders." Kaiju dung is used as nuclear fuel.
There's even a yeti in the New York Zoo. And, oh yeah…there's a war coming.  Everybody knows it, but it isn't The Bomb that's got families digging shelter in their backyards. No, it's The Beast. This is the "Kaiju Age," an era when the looming threat atomic monsters dominated our nightmares and dreams. And there invisible hands pulling and prodding mankind from behind the scenes. I'd say more about who they are, and what their agenda is…but that would be telling.
It's clear that Godzilla and Dr. Strangelove are key inspirations, were these some of your favorite titles growing up?
Strangely, no. Throughout elementary school my two big obsessions were robots and aircraft, then later cyberpunk. Yet, throughout my life kaiju films have been something of a staple. I've always liked them, I've always watched them, but it wasn't until college that I began to recognize the genre as something more than campy fun. During my first year at SFSU someone showed me a fan-subbed bootleg of the 90's era Gamera: Guardian of the Universe.
That movie was a real eyeopener for me. Not only did it present a modern and mature take on the kaiju mythos, it gave me a window into the cultural significance of the genre. There's a lot of subtext to these monster films—even the old, campy ones.  In a sense, kaiju are something of a metric for the Japanese zeitgeist.  It reflects the nation's hopes and fears, and how they view their place on the world stage.
As for Doctor Strangelove? Well, I'm sure plenty of film scholars would strangle me for this, but I'd say Strangelove and the original Gojira are cut from the same cloth. They share a lot of DNA. Both are products of mankind struggling to come to terms with the reality of atomic annihilation. The difference is one is told from a Western perspective, the other Japanese.
How important does science and science-fiction play into World War Kaiju?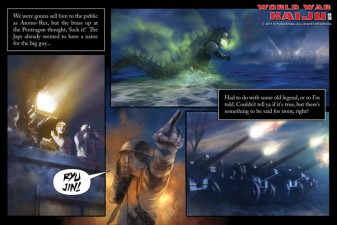 World War Kaiju is first and foremost an alternate history tale that's heavy on satire, but it does operate on the classic sci-fi principle of a believable world struggling to come to terms with one unbelievable idea.
In this case, it's that giant apocalypse monsters have become the centerpiece of the Cold War. The general mood of WWK fuses the dark satire of Doctor Strangelove with the "reality seen through a cracked lens" absurdity of films like Buckaroo Banzai and Repoman. Then add as many 50's Japanese sci-fi tropes as possible. Bang. That's World War Kaiju.
As far as real science? Very little. Actually, whenever I get into the so-called "science" of the kaiju, I go out of my way to lampoon popular fringe theories and so-called "movie" science.
Your artist, Patrick McEvoy (Arkham Horror, Call of Cthulhu, Game of Thrones), is no stranger to the comics world, but the tone looks heavily influenced by old time newspaper copy. How did you two collaborate to pick the perfect tone for the book?
Patrick was always my first choice for this project. I needed someone who was a master of creature design, able to portray action on a titanic scale, shift styles on the fly, and do it in that "larger than life Technicolor palette". Patrick really is the best man for the job on all accounts. His Call of Cthulhu work alone is proof of that. Also, I didn't know it at the time, but it turns out that Patrick has a real love of period pieces, and has something of a fetish for mid-20th Century art and cinema. What more could I ask for? The guy is amazing.
More information about World War Kaiju can be found at Josh Finney and Patrick McEvoy's Kickstarter here.