SAFARI FESTIVAL FORTNIGHT!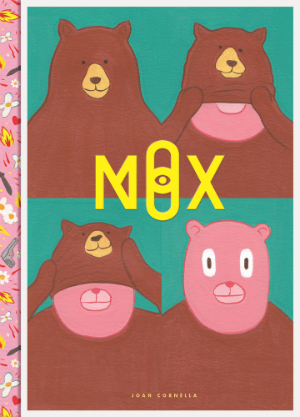 Given that (aside from the odd sign or label) the strips in Mox Nox are wordless it may seem a touch odd to be talking about the debut English language edition of Spanish creator Joan Cornellà's work. Nevertheless, the Safari Festival guest's comics came to print for the first time in the U.S. last year when Fantagraphics published this collection of his morbidly amusing work.
A contributor to papers including Ara and the New York Times, and satirical magazines like El Jueves, Cornellà has become something of a social media sensation with his uncompromising wit appealing to a readership outside of the traditional confines of the comics world.
It's not difficult to see why that is the case when perusing the pages of the appealingly nihilistic world of Mox Nox with their alluringly inviting brand of smiling cynicism. This tactile hardcover contains just under fifty one-page strips that are largely, though not exclusively, presented in six-panel grids and display Cornellà's skill for creating bizarre and brutally funny mini-episodes with a distinctively diversionary flow to their narratives.
It's that element of surprise – the constant defying of the reader's expectations – that quickly becomes Cornellà's stock in trade here. A sense of misdirection pervades his comics as motivations are never quite what we think, unlikely twists turn into even unlikelier turns, and incongruity is elevated into the highest of art forms.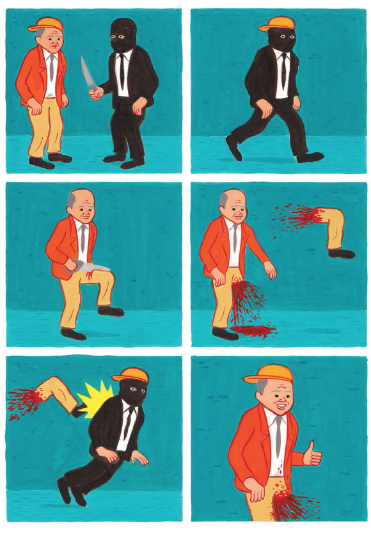 Take the example above, for example, as a mugging is foiled with an unforseeable self-mutilatory zeal or the disturbing discovery that comes from investigating a faulty shower appliance (below). What makes these strips all the more disquietingly droll is their wry delivery. They're often provocative but with a casually detached indifference; outrageous visual punchlines giving a sly wink of affirmation at the reader to acknowledge their complicity in the gratuitous nature of what has gone before.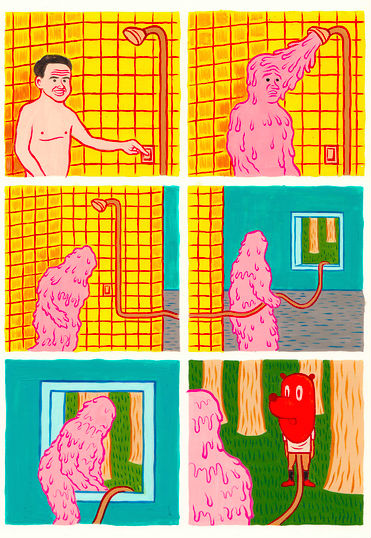 Given the limited panel space he works in, Cornellà's pacing is exemplary and that comic timing is frequently backed up by his powerful use of shifting perspective. Take the example below and that final terrifying close-up frame as indicative of how those two aspects of his storytelling so masterfully complement each other. The stripped back elegance of his cartooning also adds an extra layer of the relatable to each page, ensuring an immediate connection with the reader through its accessibility.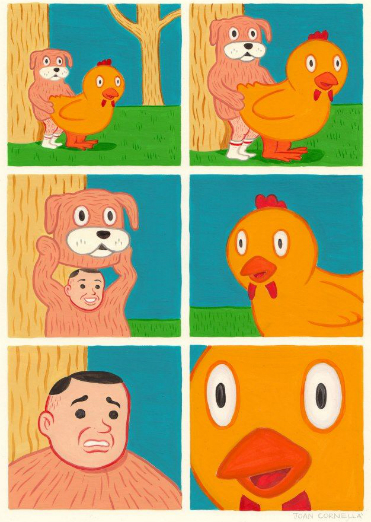 Mox Nox is a book filled with contradictions sitting comfortably side by side with each other. It's frequently gross yet amiably impish; weirdly upbeat while still utterly bleak. Whether it be in his own unique style of slapstick body horror, the moments of social commentary weaving in and out of the absurdist jollity, or that simultaneous evocation of existential angst with a knowing thumbs up to the audience, Joan Cornellà has created something undeniably and unsettlingly original in these pages. Few comics will make you feel quite so good about being made to feel quite so uncomfortable as Mox Nox…
Joan Cornellà (W/A) • Fantagraphics, $14.99
For more on the work of Joan Cornellà check out his website here and follow him on Twitter here. Joan Cornellà will be exhibiting at Safari Festival on August 27th and signing at London's Gosh! Comics on August 26th. 
For regular updates on all things small press follow Andy Oliver on Twitter here.