"Mr. Fibby said, "I never lie. I am the Prime Minister and I am going to save the National Health Service £350 million a second by taking the power back from the foreigners." An early and indicative example of dialogue from Henry Hardwicke's Mr. Fibby: The Prime Minister Who Couldn't Stop Lying published by Your Dad's A Tory, a short book that uses the trappings of the Roger Hargreaves Mr. Men series of children's books to parody the mendacious behaviour of Boris Johnson, the most unsuitable British Prime Minister in history.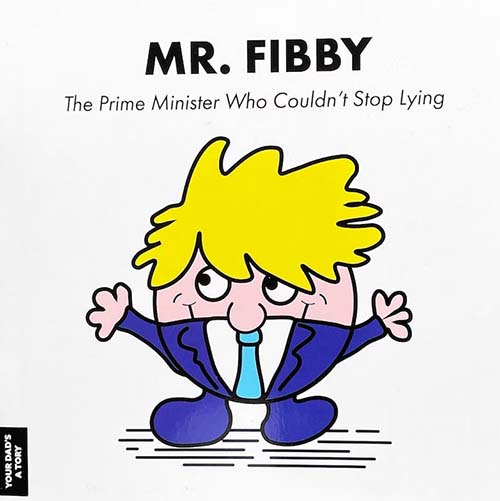 Mr. Fibby isn't sequential art but we've bent the rules here at Broken Frontier in the past to cover graphic narrative with social relevance, or material that comes from the direction of zine-makers. And given the recent parliamentary investigations into whether Johnson misled Parliament over the infamous Partygate scandal this is a publication that seems undeniably relevant right now. That it does so with such a cutting wit, couched in the narrative framework of kids illustration, is only to its advantage.
In Gullibleland Mr. Fibby (a not very subtle Boris Johnson stand-in) manages to lie his way to the position of Prime Minister. With the aid of Mr. Posh and Mr. Nasty (British political figures Jacob Rees-Mogg and Dominic Cummings) he cons the population into believing his outrageous untruths, convincing them that without the "foreigners" food will be free, no one will have to work, and the north will be warm. At the same time he manages to botch a response to a global pandemic, causes a party scandal by breaking his own rules, and generally lies himself into one scrape after another.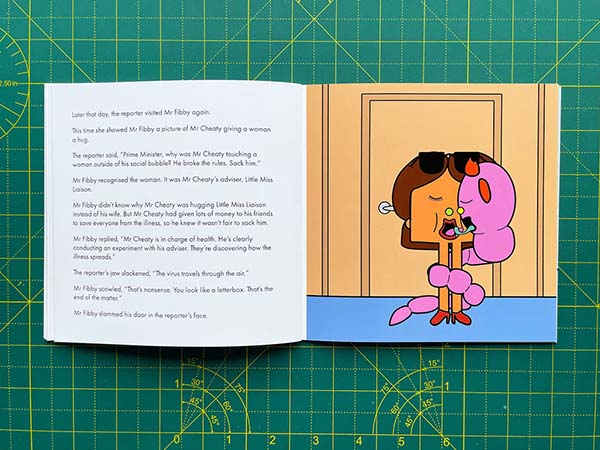 Hardwicke populates his story with a number of Mr. Men and Little Miss characters (or in this case the Minister Men and Little Ministeresses) and it's not difficult to know who characters like Mr. Sex Pest, Mr. McDalek, Mr. Rich, Mr. Snorty, Mr. Cheaty and Little Miss Bore are based on, even without the guide to characters and their alter egos at the back of the book. It's the ludicrous but spot-on parallels that he draws with Johnson's appalling conduct during his Prime Ministership, though, that lend such a cuttingly satirical edge to the proceedings. That Mr. Fibby's spouted nonsense, however ridiculous, is at its heart not that different from the reality adds an almost chilling air to the satire.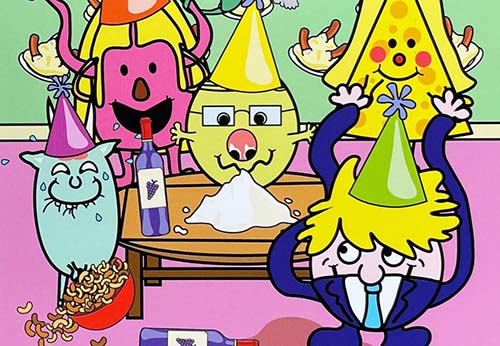 Capturing the visual style of the series it takes its inspiration from with an effortlessly incongruous wit Mr.Fibby: The Prime Minister Who Couldn't Stop Lying is an escapist if sadly only brief comfort reading antidote to years of UK governmental corruption.
Henry Hardwicke (W/A) • Your Dad's a Tory, £5.99
Review by Andy Oliver