Myriad Editions announce the return of their First Graphic Novel Competition providing aspiring new graphic novelists with a unique opportunity to be published.
Around four years ago I had the honour of being asked by Myriad Editions Creative Director Corinne Pearlman to be a judge for the second Myriad First Graphic Novel Competition. I joined Corinne, graphic novelists Nicola Streeten and Woodrow Phoenix, and novelist Meg Rosoff in the lengthy but hugely pleasurable process of sifting through the dozens of entries to find the winning entry that would go on to eventual publication from the acclaimed publisher. It remains one of the true highlights of my time at Broken Frontier and so many of those who entered have gone on to become familiar names on the UK indie comics circuit.
I said of the competition's importance last year at BF: "As someone who actively champions exciting new comics prospects through my work at Broken Frontier I cannot stress enough the importance of publishers like Myriad who are proactively looking to nurture previously unpublished creators. It hardly needs saying that the British small press scene is replete with comics practitioners deserving to be seen by a greater readership. It was a privilege indeed to be a part of a process that recognised and appreciated that wealth of talent!"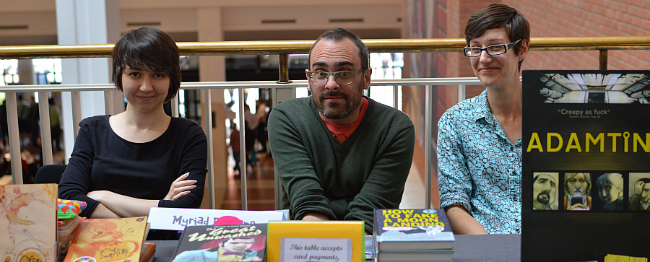 Former winners Jade Sarson and Gareth Brookes with 2012 judge Hannah Berry 
If you want to see other creators talking about the competition's value – including 2012 winner Gareth Brookes (The Black Project), 2014 winner Jade Sarson (For the Love of God, Marie!); finalists Jessica Martin, Robert Wells, Wallis Eates, Henny Beaumont, Paula Knight and Ian Williams; and former judges/creators Hannah Berry, ILYA, Woodrow Phoenix and Nicola Streeten – then check out the Broken Frontier article 'Sponsoring the Myriad First Graphic Novel Competition 2017 – Winners, Finalists and Judges on the Vital Importance of this Crucial UK Comics Institution' here.
Judges and finalists at the 2014 winner announcement at the British Library
The full press release for this year's competition is below. I cannot stress enough from my first hand experience what an incredible opportunity this competition is and the difference it can make to up-and-coming talent.
MYRIAD ANNOUNCES NEW COMPETITION FOR DEBUT GRAPHIC NOVELISTS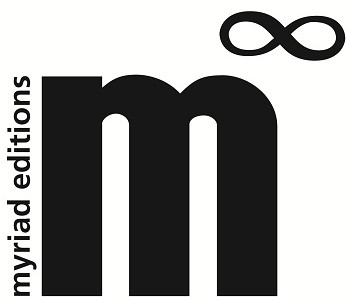 Myriad is delighted to announce the callout for entries for the 2017 First Graphic Novel Competition. Now in its third outing, the competition's prize is for the creator of the winning entry to work with Myriad's editorial team towards publication of their first full-length work. To date, Myriad has published books by the winners of the two previous competitions and four of the shortlisted authors.
Corinne Pearlman, Creative Director of Myriad and one of the judging panel, says: 'The First Graphic Novel Competition is a unique opportunity for debut cartoonists to get their work published. Along with its sister competition, First Drafts, it is at the heart of Myriad's mission to discover and nurture bold and exciting debut authors.'
The judges include:
Kate Evans, cartoonist, author of Threads, Red Rosa, and The Food of Love and Bump
Wei Ming Kam, writer, sales and marketing at Oberon Books, co-founder of BAME In Publishing
Corinne Pearlman, Creative Director, Myriad Editions
Martin Rowson, cartoonist, author of a graphic novel adaptation of The Communist Manifesto (2018)
Sarah Shaffi, online editor at The Bookseller, co-founder of BAME In Publishing
The competition calls for 15-30 pages of a graphic work in progress by creators working individually or as a team whose full-length work has not previously been published. The competition is open until 12 noon on Wednesday 28th February 2018. The winner will be announced at an event in May.
Myriad is committed to publishing work that reflects the breadth of human experience and attracting creators who reflect our diverse society, from BAME and LGBQT+ artists to those with physical or mental health challenges and from different social backgrounds. 'We want to uncover exceptional new voices in comics.' says Corinne Pearlman. 'We welcome support to promote the competition so that we can reach out more widely and inclusively.'
Further competition details and entry forms are available to download at http://www.myriadeditions.com/competitions/first-graphic-novel/