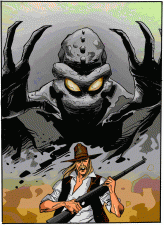 Press release
Remember in 2006 when scientists announced that Pluto was to be de-classified as a Planet? We all felt a slight pang of disappointment as our Solar System lost its little Ice baby.
Well, the sinister history of the downgraded Planetoid is now revealed in the New Sci-fi Graphic Novel from Award winning publishers Scar Comics, entitled Forgotten Planet
Unknown to the population of Earth a secret war raged on Pluto over 30 years ago and the small number of former mercenaries who are aware of this is about to get even smaller, as one by one they are picked off by government assassins.
The new book by hot indy writer Peter Rogers and acclaimed Italian artist Giancarlo Caracuzzo reveals a dark alternative history and takes the reader on a retro science fiction adventure from the 1970s to the point when Pluto 's status as a planet is revoked.
Only one of the mercenaries, Cale Beckett, has survived the assassinations, and after a visit to Area 51 he is forced to return to Pluto to uncover what has unfolded in the 30 years since he left.
With stunning artwork and a hard hitting character driven story ,Forgotten Planet delivers a pulpy Science Fiction flavour, combined with sharp modern edge.
For the first time since they began publishing in 2004, Scar Comics are launching this full colour 100 page epic via crowd-funding website Kickstarter.
"Doing a book with Kickstarter means we can offer our creators some payment for their hard work and dedication. As an Indy publisher (and I'm sure most other small publishers will agree) it can be a real struggle to finance the production of a book while also doing right by our creators. However we hope a successful Kickstarter campaign will not only allow us to reward our creators' dedication and talent, but also allow us to offer our readers a really high end collectible version of the book." said Editor and Co Publisher Shane Chebsey.
The campaign has already seen support from high profile creators such as Jimmy Palmiotti, Justin Gray, Ivan Brandon, Si Spurrier and Rob Williams. To make a pledge to get your limited edition of the new book, as well as lots of other exclusive collectible goodies on offer, check out the Kickstarter campaign now at:
http://www.kickstarter.com/projects/339233852/forgotten-planet-by-peter-rogers-and-giancarlo-car
To find out more about Scar Comics and its creators visit their main website at: www.scarcomics.com