There's something timelessly enduring about an unsolved mystery. The struggle to comprehend the unknowable, and speculation over certain 'truths' we will likely never uncover, has long captured the popular imagination. In our information age of 24-hour news bulletins and online forums, the public scrutiny around these inexplicable cold cases, and how they may be construed to serve a variety of value-laden narratives, has reached an all-time high. But what of those ill-fated families whose real life tragedies become broadcast on a global stage, and co-opted by questionable causes? Nick Drnaso interrogates these ideas with his new graphic novel Sabrina; so named after a likeable young woman who seemingly vanishes without a trace…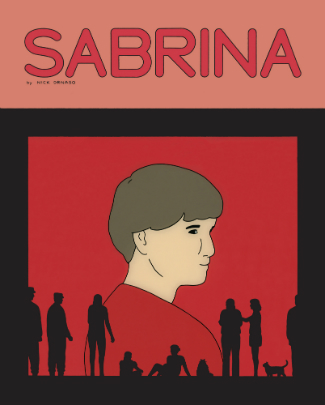 As with Drnaso's acclaimed debut, Beverly, Sabrina uses neat and ordered composition to communicate that which cannot be controlled or rationalised, creating a sterile atmosphere of unease. Picture the precision of Chris Ware in the palette of Rutu Modan, adding dialogue that tunes in midway through conversations, and relations between characters that gradually reveal themselves via day to day interactions. The reader observes the passage of time through additional layers of clothing against the cooling weather. The fluctuation of protagonist Calvin's mental health is shown via the daily survey he must complete as part of his employment in the U.S. Airforce. A certain shade of red prompts a memory. A cat's bowl goes empty. All the while, the dread surrounding what happened to Sabrina, who left home for work one day and never returned, hovers above it all.
If I'm being evasive as to plot, that's entirely intentional. Much like the investigation at its centre, the experience of reading Sabrina is one of piecing together clues, and readers should go in cold where they can. However, it's not giving the game away to say that the story expands on the ideas that saw Beverly arrest critical attention in 2016; the senseless violence that springs up and shocks quiet suburban landscapes, the everyday threats and abuses experienced by women, the people who go missing without explanation, and the idea that there's more to a situation than what we see on the news.
Not only does Sabrina see Drnaso tackle the emotional complexity of a family, a wider community, and later an entire nation struggling to navigate the aftermath of a highly publicised disappearance. He also manages to root his story in the unique anxieties of today, communicating a paranoid, desperate climate via visual storytelling and steady pacing. Meaning is not told, but shown, as we witness how the trappings of modernity permeate characters' conversations and life choices. Calvin wears a blanket with sleeves he saw advertised on a home shopping network. Sabrina's parents set up a Facebook page welcoming any new leads. An anonymous antagonist signs off emails as 'Truth Warrior'. A leaked online video of an execution has an advert placed before it. After all, the intrigue of a mystery is timeless, but becomes truly chilling when inextricably associated with our own lived experience.
Even with the all-too-real terror at the story's core, Sabrina also celebrates the beauty in the mundane, from sisters completing a crossword together, to co-workers discussing the dental treatment they need. Most expertly executed among these quiet, shared moments is the awkward, distanced sort of male intimacy between Calvin and Ted; estranged school friends whose paths reconvene when each finds themselves in a time of crisis, incidentally brought about by the sudden absence of the women in their lives. Calvin's bumbling attempts to provide emotional support to Ted entail small talk about craft beers and a show-and-tell of gifts exchanged at the company Christmas party.
Yet as the sun sets and those craft beers sink in, what could be more tender than a grown man helping his drunk, grieving friend into bed, washing and folding his clothes, and leaving dinner outside his bedroom door for whenever he's ready? Throughout the story there are pages where Ted is made to appear completely alone as he pours out his anger and his pain. Yet the top of a head spied from behind a couch reveals the stolid presence of his friend, listening and understanding from the other side of the room. In this way, Drnaso provides the most subtle treatment of grief, and of male friendship, to have hit the comics medium in some time.
"Part of the reason I thought the book was a total failure when I finished was that I truly thought there was nothing positive to be taken from this story", Drnaso told newcity.com in a recent interview. Sabrina certainly reflects back a contemporary world wherein "a new tragedy presents itself before we can make sense of the last", and everyday people become innocent victims of unjust and unpredictable horrors. It is not a world of raised voices or anguished wailing, but one in which quiet gestures are imbued with emotional nuance. Protest is typed on computer keyboards behind closed doors, and the suburban calm of a Midwestern setting is ever-so-subtly shaken as polite interactions begin to crack, revealing a ball-fisted rage at the airplane bombings, school shootings and other random violences that fill our consciousness.
Amid these inexplicable evils, and the building volume of fake news, media hysteria and escalating paranoia, hope will not be found trawling the toxic echo chambers of the internet, nor by shutting out the dissonance and escaping into dreams of some utopian society on Palmyra Atoll where the victims of Sandy Hook sit watching a sunset from the sand. But maybe some semblance of hope can be found in a musty club where regular people gather once a week to share their thoughts, or in visiting a favourite old diner with a friend. He may not realise it himself, but perhaps Nick Drnaso's Sabrina does offer some modest form of optimism within the bleak picture it paints.
Nick Drnaso (W/A) • Drawn & Quarterly, $27.95
Review by Ally Russell