A beautifully presented metaphor for the triumph of creativity and imagination overcoming darkness and despair.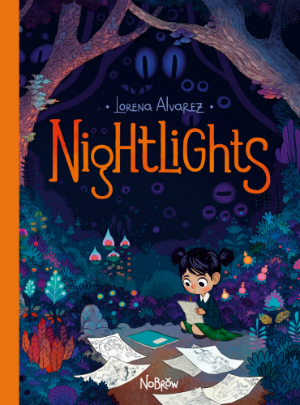 Published in the similar hardcover album format that has proven so successful on Luke Pearson's Hilda series, Lorena Alvarez's Nightlights will appeal to a similar audience of younger readers with its amiable young protagonist and often poignant mix of relatable real world elements with the ever encroaching domain of the fantastic.
Once the lights are off in her bedroom each night, Sandy is visited by magical lights that she transforms into amazing creatures and enchanted environments. During the daytime at her austere Catholic school she spends every spare minute recreating those experiences in drawn form.
It's there that she is befriended by the strangely unsettling new girl Morfie who shows an overt interest in her extracurricular activities and abilities. As their relationship develops it becomes obvious that Morfie may have other less innocent motivations, though, and Sandy finds herself in danger of losing everything she loves to sinister forces outside of her control…
Regular BF visitors may remember that Lorena Alvarez was nominated in the Best Artist category this year in our Broken Frontier Awards. Readers of Nightlights will understand immediately exactly why that was the case. The captivating fantasy spreads in these pages as Morfie reshapes reality with her boundless imagination are, indeed, utterly stunning in construction (below) but it's her more nuanced and subtle storytelling that most impresses on a critical level.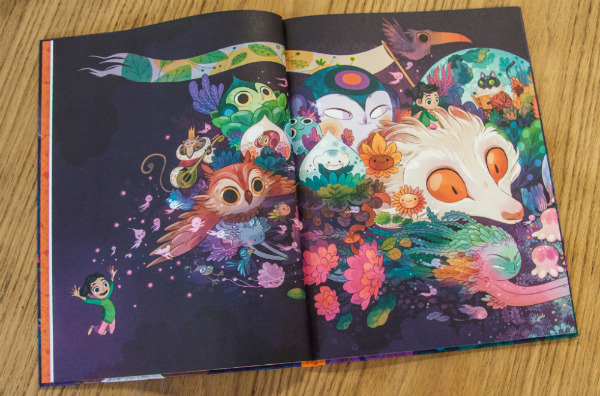 Individual panels burst with detail but it's those that depict the various locales that Sandy inhabits or passes through that are particularly well designed. The moments in the school grounds, for example, where multiple mini-narratives can be observed as characters converge and interact, or the street scenes replete with new things to spot on every re-reading. Alvarez's visual characterisation is also sublime with an ability to perfectly evoke childhood joys or insecurities in her cast's expressions and body language with an uncanny accuracy.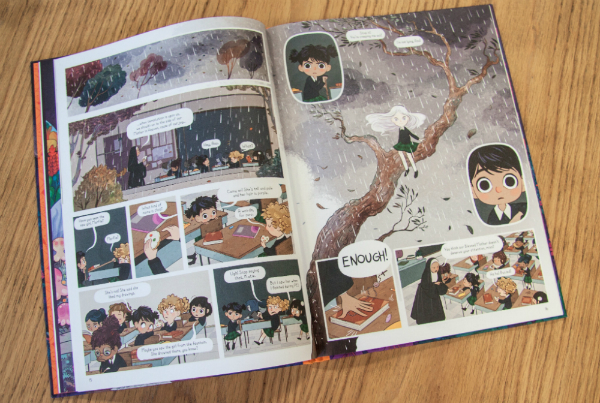 This is a piece of comics that lives up to the true notion of all-ages reading. Younger fans will enjoy it on a simple level of good versus evil with a suitably fairy tale final plot twist, lots of unexplained mystery to engage them and a sense of comeuppance. The older reader will take from it a familiar child's eye reminder of the politics of the playground and the fears and worries we all experience in our formative years. Most crucially, though, they'll enjoy it as a sumptuously coloured, beautifully presented metaphor for the triumph of creativity and imagination in overcoming darkness and despair.
Lorena Alvarez (W/A) • Nobrow Press, £14.99/$18.95