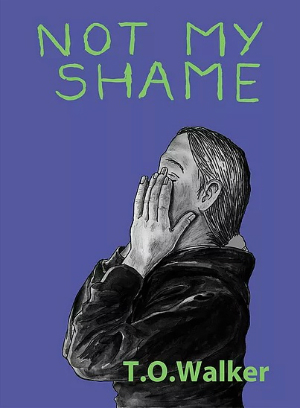 Singing Dragon have built up a notable back catalogue of graphic storytelling material over the last few years that focuses on graphic medicine and vital explorations of contemporary issues. It's work that has embraced a wide variety of approaches, formats and age ranges from Mike Medaglia and Rachael Smith's comics adaptation of Kathy Hoopman's all-ages Blue Bottle Mystery: An Asperger Adventure to Samuel C. Williams's study of PTSD in At War with Yourself through to Maria Stoian's remarkable Take It as a Compliment detailing multiple accounts of sexual abuse and harassment.
What all of their output has in common to date, though, is its role in powerfully communicating individual stories through the emotional immediacy of the form and in showing a solidarity with those affected by the issues in each book by underlining the shared nature of their experiences. T.O. Walker's Not My Shame tackles the subject of childhood sexual exploitation and its inescapable ramifications in adult life with an almost stream-of-consciousness potency.
From its opening pages Not My Shame underlines the manner in which the trauma of its author's past can intrude on her present through its juxtaposition of happy imagery of mother and child interacting with moments of panic and distress triggered by newspaper headlines. Walker's narrative style is less about linear sequential art but instead presents the reader with an almost overwhelming series of images and thoughts, all punctuated with brief but resonant comments that underline the manner in which our victim-blaming culture has permeated every layer of our societal structures.
Visually, Walker's artistic style is unsophisticated but it's that same rawness of presentation that works so effectively in reflecting the emotional rawness depicted with an unflinching and affecting honesty. The use of entire panels as, to all intents and purposes, text boxes in their own right brings us more directly into her worldview, emphasising her own frustration at trying to make sense of not just her attempts to come to terms with her thoughts but also the wider injustices and subsequent self-blame that entrap so many victims.
Books like Not My Shame are a reminder that comics are such a vitally empathetic medium. In sharing her own story Walker inspires her audience and asks them to challenge all too prevailing attitudes. If you haven't checked out Singing Dragon's range of socially relevant comics work to date then this is a fine starting point.
T.O. Walker (W/A) •  Singing Dragon, £8.99