This brief but always touching read brings us into its characters' world with a warmth and sincerity that belies its fleeting page count.
Singing Dragon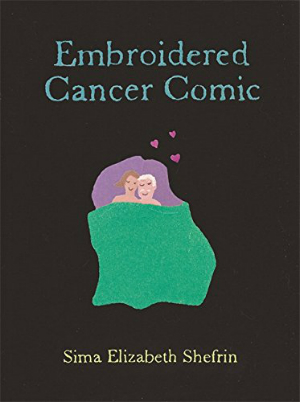 have been building up a most enviable portfolio of graphic medicine comics since 2015. The imprint of Jessica Kingsley Publishers have given us challenging and thought-provoking comics on a variety of subjects in that area including pain and trauma, Lewy Body Dementia, sexual harassment and abuse, and Asperger's. And the line-up of creators involved has included both established names of the ilk of Mike Medaglia and Rachael Smith through to newer practitioners in the field like Maria Stoian, Alex Demetris, Steve Haines and Sophie Standing.
All of their output to date has been highly impressive, underlining the vital power of comics to communicate personal experience to a wider audience through a variety of diverse approaches to the form.
Sima Elizabeth Shefrin's rather straightforwardly titled Embroidered Cancer Comic from Singing Dragon is an account of life preceding and following her partner Bob's diagnosis of aggressive prostate cancer. Shefrin, a textile artist, utilised a needle and thread to record the couple's journey, focusing particularly on the humour that they relied on to make sense of an otherwise obviously devastating turn of events.
That sense of self-deprecating – and sometimes almost whimsical – honesty is a significant part of what sets Embroidered Cancer Comic apart from other entries in this field and gives it a unique identity of its own. In superficial terms, if a cancer diary could ever be described as feeling light-hearted in tone then this is it. But on a more profound level Shefrin's account of coming to terms with the reality of their situation, of the difficult choices to be made, and the consequences of Bob's treatment in regards to sex and intimacy clearly have a cathartic element to them. It's that same unashamed humanity, frankness and positivity that makes this such an engaging and appealing read.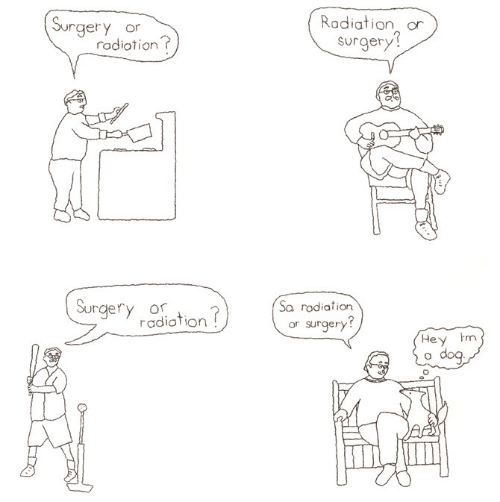 While the embroidered illustrations are functional rather than elaborate – there's no Gareth Brookes level of ostentation here – that clarity of imagery mirrors the simple candour of the narrative. Shefrin displays an endearingly effective sense of comedy pacing throughout, building up to visual "punchlines" that while never complex in delivery still always bring an empathetic smile to the reader's face.
Elizabeth Shefrin and Bob Bossin's willingness to share their very personal story with such openness and accessibility once again emphasises what a potent tool graphic medicine is in reaching out and connecting with an expanded readership. This brief but always touching read brings us into Elizabeth and Bob's world with a warmth and sincerity that belies its fleeting page count. The afterwords from its subjects at the back of the comic serve to re-enforce that bond. Embroidered Cancer Comic may only be 30 or so pages in length but there's a sense of privilege about having been invited into the couple's lives in that time that is simply undeniable.
Sima Elizabeth Shefrin (W/A) • Singing Dragon, £7.99