If you're at all involved in that nebulous entity we refer to as "Comics Twitter" then you will no doubt have seen the flurry of activity over the last few days on the #ASDComicTakeover hashtag as autistic comics creators mark Autism Acceptance Month with daily comics. We invited organiser and cartoonist Bex (recognisable as @Schnumn on Twitter and Instagram) to talk to us more about the initiative and the print anthology comic that will be spinning out of it.
Don't forget that if you have a community-based comics project that you would like us to spotlight at Broken Frontier you can get in touch with us here. More details in our recent team statement.
Over to Bex and some of the artists involved…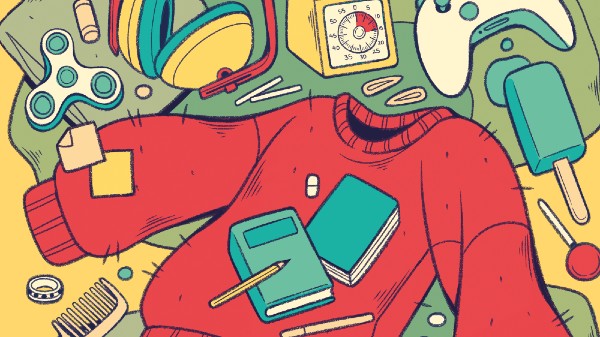 April is Autism Acceptance month, and what better way to celebrate than with an entire month of comics made by autistic creators? The ASD Comic Takeover is a collaboration between 40 autistic comic artists and writers, each telling their own personal stories of their experiences with autism in a fun and accessible way. 
For every day of April, the creators will post one new comic about autism to Twitter under the hashtag #ASDComicTakeover.
This comic initiative aims to raise awareness of autism and dispel some of the stigma surrounding it as well as providing a source of solidarity and validation to autistic readers. They also hope to provide a tool for allistics and neurotypicals and people who are questioning whether they're on the autism spectrum to better understand autistic experiences. Using an accessible and engaging format, they are hoping to help people of all abilities and ages to better understand autism, and encourage conversation around the topic.
The ASD Comic Takeover is dedicated to representing as many facets of autistic life as possible and the comics cover a wide variety of topics, including but not limited to:
Pre-diagnosis: exploring the conflicts and problems that undiagnosed autism can bring with it in both childhood and adulthood.

Diagnosis journey: stories of how being diagnosed with autism has impacted our lives

Life after diagnosis: reflecting on negative coping strategies and learning healthier ways to live with autism.

Internalised ableism and coming to terms with an autistic diagnosis.

Reflections on the symptoms of autism and how they can differ greatly from person to person.

Tips and tricks from autistic people for other autistic people on coping strategies to make our lives more manageable.

Reflections on experiences with institutions and special schools.

The importance of community and a support system.

Bullying and the struggle of autistic people to find friends who understand and accept us.
Bex @schnumn:
I had the initial idea for the ASD Comic Takeover back in October when I was helping out with Pina Varnel's ADHD Invasion for ADHD Awareness Month. I knew there and then that I wanted to someday organise something similar for autism; however, in typical neurodivergent fashion, I forgot all about it until March. With just one month to go until Autism Acceptance Month in April, I put a call-out on Twitter, asking if any autistic comic artists would be interested in collaborating with me and I was surprised at how many people reached out! 
The response was overwhelmingly positive and in the time since then, we've assembled a team of over 40 creators; writers and comic artists alike. Everyone has been working super hard and all of the comics look amazing! It's been such a fantastic experience to work with so many other autistic creators and hearing how varied everyone's experiences have been has been really educational and interesting.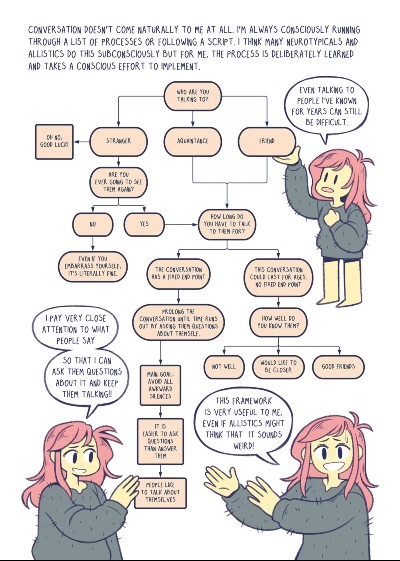 Image Credit: Bex @schnumn
One of the reasons I wanted to organise this project, other than raising awareness of autism, was to be able to meet other autistic comic artists. Unfortunately, it seems that many autistic folks are not loud and proud about their autism so it can be hard for us to find each other, especially online where the environment is often hostile towards us.
I think that most people just don't understand autism. People make a lot of assumptions and they usually have a very narrow idea of what an autistic person is like, without realising that autism is a spectrum and we're all very different. It is our hope that this initiative will help to educate people and dispel some of the stereotypes surrounding autism.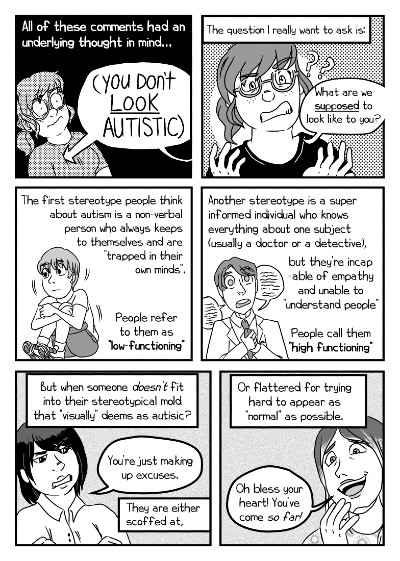 Image Credit: Kayla Konnichibot @Konnichibot
Ari @csomeoneh:
I joined this project because for me, it seemed like a way to share my experiences with others, and hopefully give others somebody to relate to – make them feel like they're not alone. Participating with this project realised that goal – but even better, it also gave me the opportunity to meet a group of like-minded people who shared the same goal. It's a blessing that I was able to participate.
Laila @lailaportrays:
As a second-generation migrant, my experience of feeling different from others was always rationalised through that lens by others and myself, despite the fact that I didn't seem to fit in any culture. I was always trying too hard to fit in or trying too hard to find answers even at the cost of my own health. While it may have contributed to feeling alienated, my late autism diagnosis has finally provided me with profound answers and appropriate methods to address the issues I've long buried deep inside me. I'm very happy to have contributed to this project of sharing autistic experiences and I hope it will contribute to a better understanding of a differently wired brain.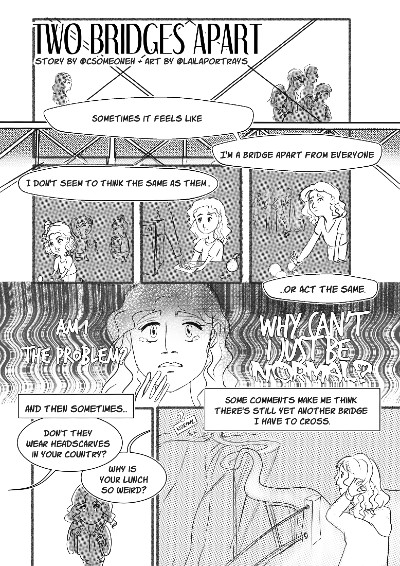 Image Credit: Ari @csomeoneh, Laila @lailaportrays
Emma @Moodypidge:
After finding Bex's post on Twitter looking for autistic creatives, I jumped at the chance. I wanted to share my personal experience with my late diagnosis and hopefully have others in my situation relate to it. Through this project I've made some amazing new friends, found amazing creatives and I've been able to share my pigeons with even more people!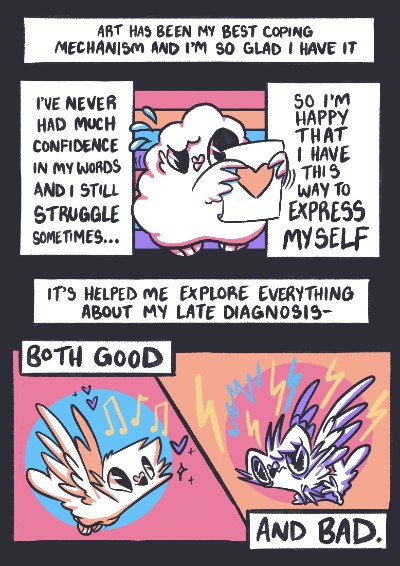 Image Credit: Emma @Moodypidge
Cy @Cypopps: 
I joined this amazing project because I'm an autistic comic artist and I love the autism community. I knew that April can be a sensitive time for some people on the spectrum – the spotlight is on us and a lot of misinformation floats around – so I wanted to draw a comic to explain a common misconception about what "the spectrum" means. I am so happy it resonated with autistic people and educated non-autistic people!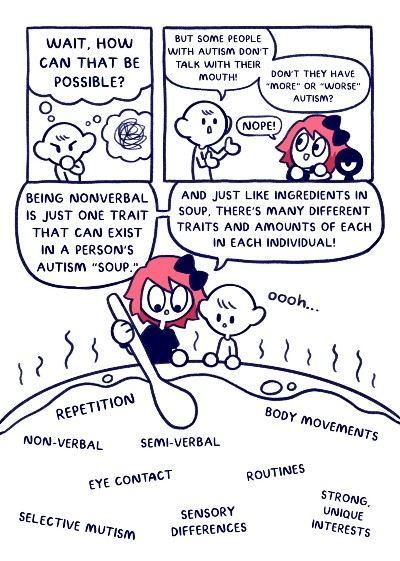 Image Credit: Cy @cypopps
Hexed_boy @hexed_boy: I have learned so much from working on this project with Bex and everyone. Being able to connect with so many people through comics during such an important month has been such an invaluable and powerful experience!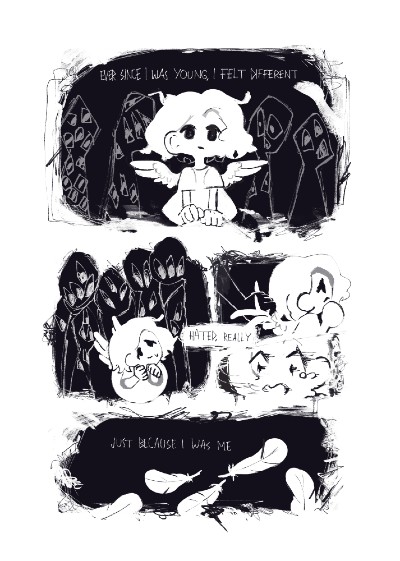 Image Credit: Hexed_boy @hexed_boy
Tismoonie @tismoonie:
I joined this project as someone who has been recently diagnosed with autism, and after seeing how few people actually knew about Asperger's Syndrome, I had to do something about it to share my knowledge about it (especially as a Jewish person). This has been an amazing experience because I didn't just meet great autistic creators, I also got to know more about their stories and experiences with autism, which only reinforces how wide and diverse the autistic spectrum is.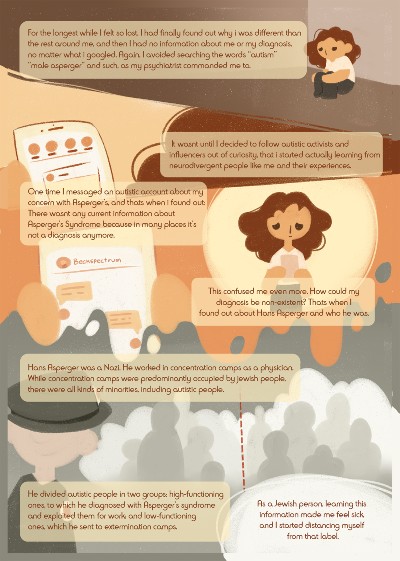 Image Credit: Tismoonie @tismoonie
Rhia @saltedgayfish:
I've always felt the need to express my feelings through art; especially when it came to Autism. There's never been a lot of media out there directly for Autistic people, it has always been for our parents or written academically. When I first saw the tweet from Bex I knew immediately I wanted to join in on this experience. It's been a joy to meet other Autistic creatives and talk about our experiences and I'm hoping our comics can help others understand what it means to be Autistic.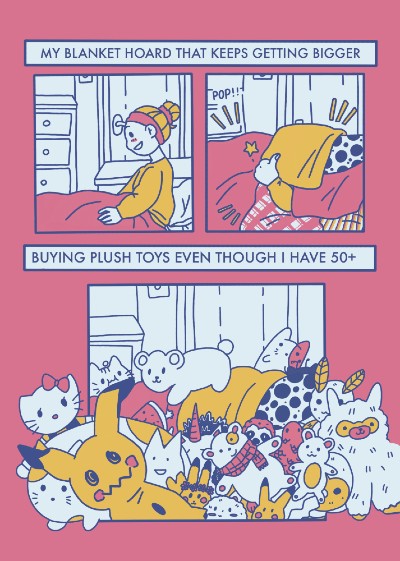 Image Credit: Rhia @saltedgayfish
Due to popular demand, the team are moving ahead with turning the ASD Comic Takeover comics into a printed book titled, SENSORY: LIFE ON THE SPECTRUM. The details of this are yet to be announced to be sure to check the #ASDComicTakeover hashtag and follow the creators to learn more!