Originally presented via the #ASDComicTakeover tag on social media, the short comics collected in the pages of Sensory: Life on the Spectrum – An Autistic Comics Anthology come to us via an initiative from British indie creator Bex Ollerton. When they first ran on Twitter and Instagram it was as a tie-in to Autism Acceptance Month which, in turn, led to a crowdfunded print volume. In 2022 that anthology was picked up by publisher Andrews McMeel, ensuring it would reach an expanded readership. You can read an article on the genesis of the project here at Broken Frontier, with Ollerton and a number of creators involved giving insights into their contributions to the book.
The great strength of Sensory: Life on the Spectrum is that the brevity of each strip allows for so many perspectives on the subject it explores. Ollerton's original conception came from a desire to give creators with autism a space to express themselves, to feel less alone, and to talk about a topic rarely covered in comics. It also serves, of course, as a source of first-hand experiences/information for neurotypical readers wanting to understand more about neurodiversity from direct testimony.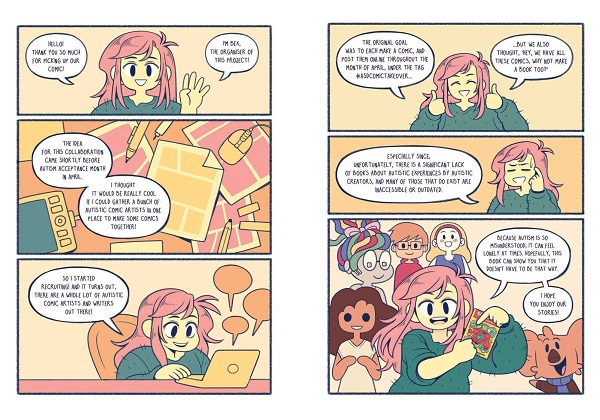 Comic strip by Bex Ollerton
With around 40 creators involved approaches in both style, theme and content are unsurprisingly multitudinous. There are strips that use visual metaphor as a bridge to empathetic connection, notably AcidKeyLime's 'Overwhelm' which employs contrasts of vivid colour and grey monochrome to depict overstimulation. Jo Svensson's 'Fly' translates experience into graphic allegory with a quiet urgency, while Dominique Morris's 'Halfway' uses the fantasy quest as a gateway into understanding how neurodiverse people can benefit from neurotypicals being proactive in their approach to two-way communication.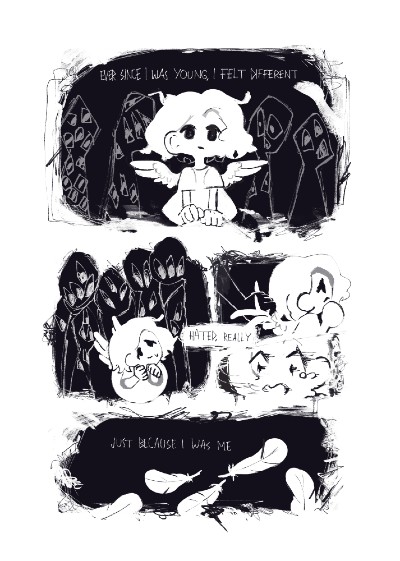 Unsurprisingly many strips cover themes of loneliness, feelings of being othered, or of having to put up a mask to "fit in". The scratchy art of Noel Fox's 'Until There Was Nothing Left' (above) captures the rawness of the emotions expressed while Michiums' 'Music Waves' uses a busy impressionism to explain how overwhelming the immediate environment can be when the mask cracks.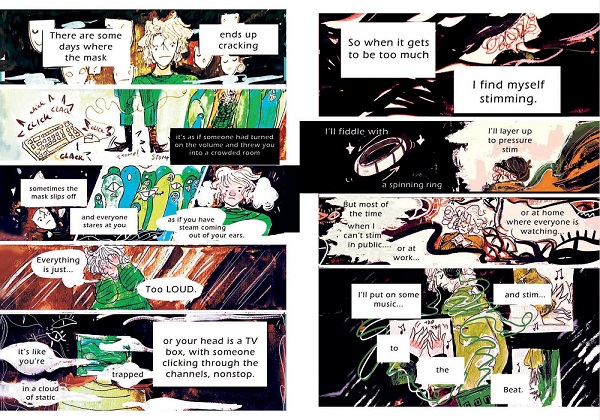 Other entries take on an educational aspect including Ollerton's own 'Masking and Mirroring' which juxtaposes her usual accessible and quirky cartooning with diagrammatic additions to explain neurodivergent thought processes in conversational situations. T Catt's 'Tips for Autistic Adult Life!' is similarly visually articulate in its insightful presentational style. And Cy Popps' 'Autism Soup' (below) is particularly engaging here, presenting the spectrum not as a range but as a soup of ingredients.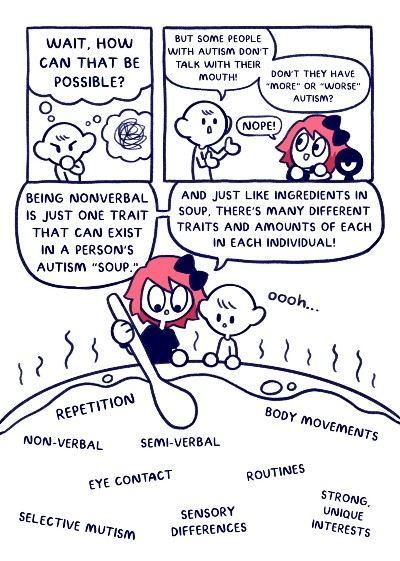 Sensory: Life on the Spectrum is a fascinating compilation of lived experiences that provides unique personal insights into so many different facets of the subject. Lives pre-diagnosis, living with autism, its differing impact depending on different individuals, the struggle for and the importance of acceptance and understanding, and so many more vital discussion points. It's a monumental achievement as a project and a worthy winner of this year's Broken Frontier Award for Best One-Shot Anthology.
Bex Ollerton, Emma O'Friel, Arian Sebastian Farzad, Laila Ahmad, Suzanne Wdowik, Chloe F. Mackay, Allie, Alice Williams, Matt Crane, Buddy O. Baker, Dean McColl, Noel Fox, Jo Svensson, Rhia May-Bird, Angelina Eddins, Charlie Watts, Almond, Dominique Morris, Micaela Wainstein, Mell Stansel, Jinx Peregrine, Alicia Wedderburn-Graham, Ash Ortiz, Reloaxa, Kayla Gilliam, PJ Fairweather, Jo Blakely, Kyle Lewis, Lindsay Miller, Nova Kahan, T Catt, CJ Barrett, Toria McCallum, Alexandra McCarthy, Molly McCracken, Michiums, Kate Cunningham, C. A. Crisostomo, Taylor Reynolds, Cy Popps, Shay Commander, Kai Mycelium Andrews McMeel, $19.99
Review by Andy Oliver