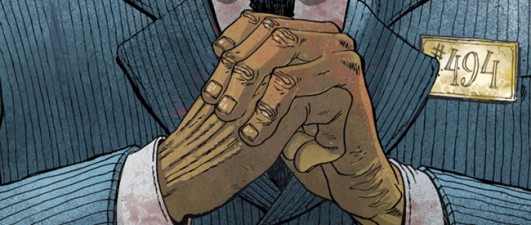 Bastard Zane unleashes the probability-altering fury of the Accident Gun in this literally "bloody" brilliant second issue of Titan Comics' summer hit.
Si Spurrier and artistic collaborators P.J. Holden and Jordie Bellaire return this month with another darkly comic installment of their critically acclaimed creator-owned existential chase tale, successfully pushing the action and black comedy to the next level as they reveal more of the labyrinthine mechanics ruling the metaphysical plane.
Picking up where last issue left off, Bastard Zane catches up to the fugitive mathematician Richard Thyme just as the poor schmuck realizes just how devious and twisted the Divine Calculator can be. Having found his true love decades too late, Thyme manages to weasel out on his contract with Zane, claiming to have found the ultimate loophole in the Accountancy's afterlife bureaucracy. As the disgruntled operative chases his fugitive across time and space, he must contend with competing agents of the Divine Calculator, who also have deals with Thyme, allowing him an infinite number of incarnations with which to win his true love.
Spurrier balances the romantic aspects of his plot with calculated gut-shots of Zane's gallows humor and over-the-top cartoonish violence. It's a juxtaposition that serves his story well on a number of different levels, not the least of which is to take full advantage of the unique visual tone created by artists P.J. Holden and Jordie Bellaire. The contrasting color palettes employed by the artistic team enhance the over-the-top action and violence with absurd detail that is somehow both visceral and stark. Warmer colors signal the transition into the physical realm, where Spurrier uncovers the depths of Thyme's metaphysical plight and illustrates the dichotomy at the heart of his quest: He is a man of science and logic trying to cheat an infinitely complex mathematical system for love, a quality of the human condition that seemingly defies logic.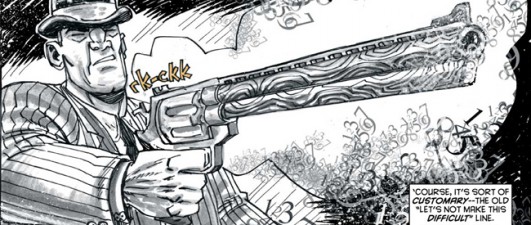 Holden and Bellaire's synergistic partnership is key, here. Without their ability to transition smoothly from one plane of existence to the next and then capture the chaos when those worlds intersect, Spurrier might have a tougher time selling his unique version of the afterlife to wider audiences. The fact that all three creators are reading from the same page is evident in every word and panel of this series and in and of itself acts as a catalyst for readers to buy into their story.
Featuring razor-sharp execution and the unmitigated passion of its creators, Numbercruncher continues to be one of the summer's most anticipated books month-in and month-out. It's a damn shame this existential ass-whooping only lasts for only two more issues.
Unless of course, there's a loophole…
Si Spurrier (W), P.J. Holden (A), Jordie Bellaire (C) • Titan Comics, $3.99, August 21, 2013.