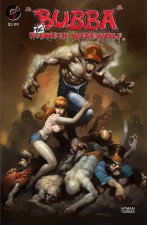 After an incredibly successful KICKSTARTER with fellow Publisher COSMIC TIMES, CREATURE ENTERTAINMENT is heading to NEW YORK COMIC-CON with some new books and a certain REDNECK WEREWOLF!
From the MAD Mind of Mitch Hyman, BUBBA THE REDNECK WEREWOLF makes it splash at NYCC with "NIGHT OF THE LIVING BUBBA" a one-shot written by Hyman and produced by Creature's amazing talents, such as artists Roberto Torres and Amanda Raquel.
"This book is a great jump on point for new fans and brings Bubba almost full circle for old time fans. But this issue has something for everyone." said Hyman, who approached CREATURE with the idea of making a one-shot back in Spring, "The book should always have the ability to stand alone and if this goes well, we could see a Mini-Series if it goes well!" The One-shot book, covers Bubba attending a comic convention as a special guest and then… well… hilarity ensues.
Bubba bought some friends too, with new books premiering at NYCC alongside of it!
 TS-101 #1 will make it's first major convention premiere, created by John ulloa (DOUBLE IMPACT) written by Rick Prieto with Art by Emanuel Sotomayor, it tell the story of the theory of the SINGULARITY, when man and machine become sone, and how it happens to land on the lap of unemployed schlep named David. Also, Creature will feature many NYCC Exclusive such at alternate covers for newly released ZOMBIE YEARS #1 drawn by Series creator Juan Navarro, with issue #3 debuting as well, which tells the tale of the zombie apocalypse in the tropical background of Miami. Also Ulloa's and Navarro's stellar hit TOMMY, about a boy with an imaginary friend who happens to be a serial killer, will be there with an EXCLUSIVE NYCC LOATHING AND FEAR cover, an ode to gonzo journalist, Hunter S. Thompson. Also exclusive is the Green version of the "WALKING BREAD" T-shirt Juan designed with FINE PRINT SHOPPE out of Miami, in an exclusive NYCC green screen print, which helps it crave "GRRRRRAINS!" That and the rest of the Creature Entertainment Library will be available at Booth # 1140.
"We're really proud of what we've been able to accomplish this year, for Creature" said Juan Navarro, Editor in Chief of the company "we've been able to hit a lot of different convention and had a great reception, and now with Bubba guiding us, we know we'll be able to end the year with a splash at New York Comic-Con"