Ordinary might not be the most original story ever published, but long-time collaborators Rob Williams and D'Israeli give it wit, style and energy.
Maybe its a sign of how unengaging the Big Two's comics are getting that most of the interesting wrinkles on superhuman shenanigans are coming from the indie world at the moment.
Hot on the heels of Snapshot and Numbercruncher, Ordinary is the latest creator-owned work to make the leap from the Judge Dredd Megazine to its own US series. And with a punchy script from Rob Williams and stellar artwork from his long-time Lowlife collaborator D'Israeli (Matt Brooker), the three-parter looks set to provide a quickfire blast of high-energy storytelling.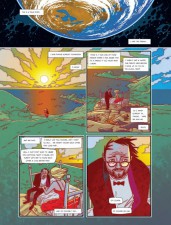 The cover (evoking Monty Python's 'Bicycle Repair Man') sets the scene well. Meet New York plumber and all-round loser Michael Fisher: a failure as a father and a failure as a man.
But when a strange catastrophe takes place and he turns out to be the only person on earth not to have been granted superpowers, it seems that the finger of fate has pointed at Michael and given him the opportunity to do something remarkable.
Michael's likely trajectory is mapped out very clearly, both figuratively and geographically: to find redemption, he's going to have to prove his worth by manning up and making the perilous odyssey from Queens to the West Side of Manhattan to find his son, Josh. However, if life in NYC wasn't hard enough already, how much harder is it now that every a-hole in town has suddenly developed superpowers.
Williams's script crackles with his trademark wit and imagination, giving the US comics market another welcome taste of British irreverence. An additional bonus is that away from the short anthology chapters of 2000 AD and the Megazine, he has room to let his fictional world breathe without the need for a cliff-hanger every six pages.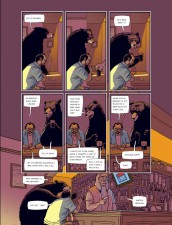 He also uses the form nicely to deliver a series of gags: the scene involving the president's emergency broadcast is particularly effective. (Although he does hit one bum note with the Boring Old Lady trope, which should trigger a QI-style klaxon. Fortunately, here's the antidote to that kind of cliche.)
However, the real magic in this comic comes from the pen of D'Israeli, although it's a shame that his pages have been reduced from the magazine size of their original publication: this is work that deserves to be seen in the biggest format possible.
In a similar way to his compatriot INJ Culbard, D'Israeli's work blends clarity and imagination, keeping the pages grounded in a world we can recognise while also cutting loose on the fantastic (in both senses) detail. In a medium that often defaults to the generic, D'Israeli offers a strong and always welcome individual voice.
Whether we like it or not, superheroics – in their various forms – arguably remain the defining form of mainstream comics. With the shelves groaning under the weight of titles trying to find a new angle, Ordinary proves to be as enjoyable and rewarding as any of them.
Rob Williams (W), D'Israeli (A) • Titan Comics, $3.99, May 21, 2014