A book detailing the history of the trade union movement in comics form would, of course, always be a project that we would gravitate to here at Broken Frontier. With half the current team situated in the UK – a country where an increasingly far right and tyrannical government is attempting to suppress basic freedoms like the right to protest while simultaneously actively seeking to crush workers' rights to strike – it becomes an even more important project to spotlight. Sam Wallman's Our Members Be Unlimited: A Comic About Workers & Their Unions was published by Scribe towards the end of last year, arriving on book shop shelves at a time when its subject matter could not have been more relevant.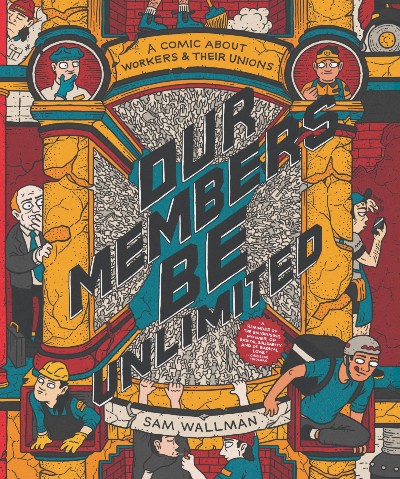 Graphic biography/social commentary told from a historical perspective often falls into the trap of being worthy and important but ultimately dry in delivery. A reliance on traditional linear panel-to-panel storytelling is often applied through a mistaken belief that experimental or more abstract presentation will somehow dilute, or even endanger, the clarity of the message. In Our Members Be Unlimited Wallman takes a very different approach, with a keen sense of graphic design being in evidence throughout, visual metaphor communicating the themes of the book on a more profound and empathetic level, and a constantly shifting array of compositional techniques on offer to fit the mood of individual segments.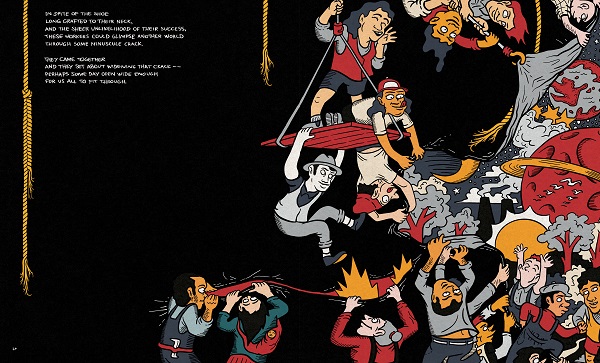 It's this unpredictability that further ensures the reader's engagement with Our Members Be Unlimited. It begins with a general overview of the history of unionisation before moving onto a more specific, contemporary example of Wallman's experience of the brutally oppressive and exploitative atmosphere of working in an Amazon warehouse, and his own attempts to begin a union there. Some chapters admittedly feel like information dumps of examples of the adversarial nature of the union-capitalism relationship. But never in an overwhelming or unreadable manner. Others make their point with brevity, a minimalist use of exposition, and powerful graphic allegory.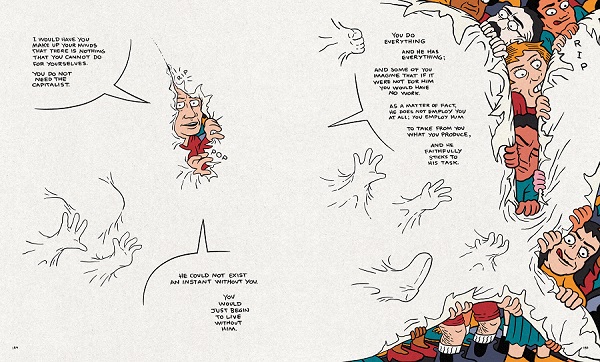 It's a book that shows us far we have come and yet, simultaneously, a reminder of how much we have regressed in recent times as late-stage capitalism exacerbates the self-same inequality that unionisation has long been fighting against. It's not simply graphic biography. It's a call-to-arms to mobilise so that we retain the rights that have been fought so hard for over the centuries before we are stripped of them for good. An appeal to for us to remember the motto "For the many not the few". And a tribute to the potential power of collectivism.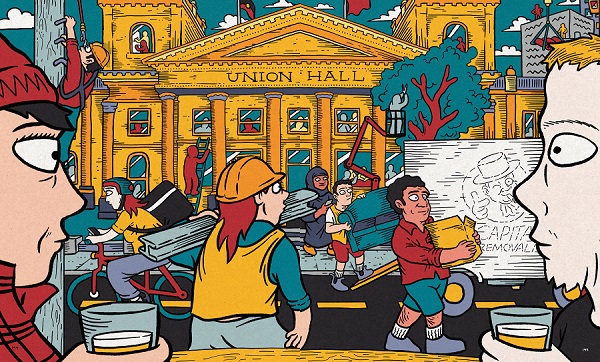 As an example of comics social commentary Our Members Be Unlimited is not simply a triumph. It's a masterpiece. And one that embraces the full, unique potential of the canvas of the comics page to connect with a readership who needs to hear its message now more than ever. A book for the age to be sure.
Sam Wallman • Scribe, £20.00
Review by Andy Oliver