ELCAF WEEK!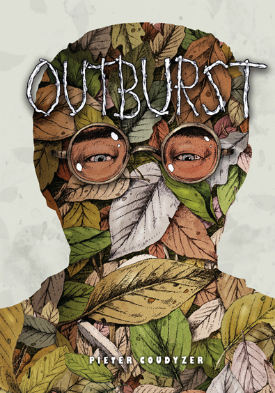 "To get to know yourself… you have to leave others behind."
Outburst tells the story of introvert and isolated protagonist Tom Deleersnyder, a man who we quickly find has been bullied his entire life. After a particularly vicious childhood prank Tom undergoes a shocking Kafkaesque metamorphosis, unleashing his inner wilderness.
From childhood to adult life, Tom's story is a typical portrait of an outsider. The sombre autumnal colour palette sets the tone for a melancholy story and creator Pieter Coudyzer's creative use of framing and composition plays a strong role in maintaining the persistently heavy atmosphere. We follow Tom through his bleak and empty childhood where he is put down and laughed at during school both by staff and students. It seems everyone who meets Tom recognises he is different and pushes him out. Even at home Tom returns to an apparently empty house, greeted by phatic and disembodied speech from his mother. Coudyzer effectively develops and maintains the sense of relentless bullying and pressure very early that we share with Tom.
We quickly learn Tom's only break from his life is to retreat to his own personal wilderness – a drawing of a forest he created from memory. The moment in the book where Tom creates the drawing is a touching scene, an oasis from the oppressive bullying he faces daily. His teacher praises him for his work and his classmates look on disinterestedly, but for once not heckling or mocking him.
"I could watch my homemade forest for hours."
After the incident responsible for Tom's metamorphosis his drawing ends up being his refuge throughout the story. Providing him shelter as he fights the growing wilderness both physically and mentally. We continue to journey with him as he struggles through adulthood to maintain some semblance of a typical life until a fateful day, which determines Tom's fate.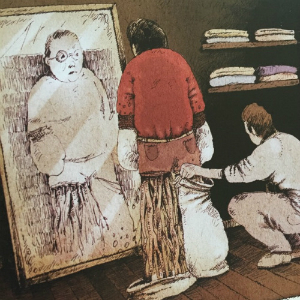 Throughout the story Tom's metamorphosis remains ambiguous enough for us to question whether what is happening to Tom is real, or a visual metaphor for his state of mind.
The ambiguity Coudyzer creates is clever and adds to the feel of the story being akin to a modern fairy tale. To me it was a melancholy, magical feel, which felt very reminiscent of Guillermo del Toro's films, in particular Pan's Labyrinth.
Coudyzer weaves a brilliant and tragic tale through a winning combination of writing and stunning artwork. We're quickly brought into Tom's world and story and held there until the end. It's a gripping tale that I read from start to finish in one sitting and would strongly recommend you add to your must-read list.
Pieter Coudyzer (W/A) • SelfMadeHero, £14.99
SelfMadeHero will be at ELCAF Table 3 Friday-Sunday