Press Release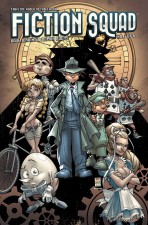 Writer Paul Jenkins (Wolverine: Origin, Revelations) has launched a new Kickstarter campaign to expand his world of Fablewood with an all-new detective story, FICTION SQUAD. Jenkins teams up with artist Ramon Bachs (Civil War: Front Line) to tell the darker side of fairy tales, because virtually all children's stories are, in fact, crime scenes.
Jenkins and artist Humberto Ramos (Spider-Man) first established the world of Fablewood in their two Kickstarter raises, FAIRY QUEST VOL. 1: OUTLAWS and FAIRY QUEST VOL. 2: OUTCASTS, both of which exceeded their campaign goals, allowing their passion project to become a reality. BOOM! Studios proudly serialized the first volume across two single issues and a softcover edition for wider distribution, with plans to serialize the second volume as well.
"As I've said in the previous Kickstarter for FAIRY QUEST: OUTCASTS, the world that Red and Woof are in is so much bigger, and I'm so excited to show off the rest of Fablewood to everyone," said Jenkins. "In FICTION SQUAD, we're switching gears a bit and getting into a hard-boiled detective story that involves everyone's favorite childhood nursery rhymes. Ramon Bachs is an incredibly talented artist who I worked with on Civil War: Front Line and I'm so grateful to be working with him again. Most of all, though, I'm thankful for the support of all the fans who back us, because it simply couldn't happen without them. Many thanks to all of you, and here's to a new campaign!"
FICTION SQUAD takes place in the world of FAIRY QUEST, the Fablewood-set story about Red and Woof as they fight against the system in order to remain best friends. But Fablewood is a giant place—there are thousands of people, and, much like everyday life, each one has their own story. FICTION SQUAD posits that every nursery rhyme you know is actually the result of a crime. The City of Rimes is controlled by two mafia families, the Queens of the Card Crime Syndicate and the Wicked Witches of the East and West Side. It's up to failed detective Frankie Mack and his partner, Simple Simon, to prevent a full-scale war from breaking out after Humpty Dumpty and the Wicked Witch of the East both meet untimely demises under suspicious circumstances.
If successfully funded, FICTION SQUAD will be released as a six-issue limited series featuring covers exclusive to Kickstarter backers, followed by a collected hardcover available only through the campaign.
For further details and a list of rewards, visit the FICTION SQUAD Kickstarter page here: https://www.kickstarter.com/projects/1803036765/fiction-squad.