A perfect small press acquisition for the spooky season, Davidt Dunlop's neatly timed self-published short Poor Little Ghosts asks two lead-in questions about the supernatural: "Why should the rich have a monopoly on the afterlife?" and "Where are all the poor little ghosts?". Ostensibly it's a tour of spectral hauntings in more mundane settings but Dunlop's atmospheric zine also has an added layer of social commentary to be found within its shadowy pages.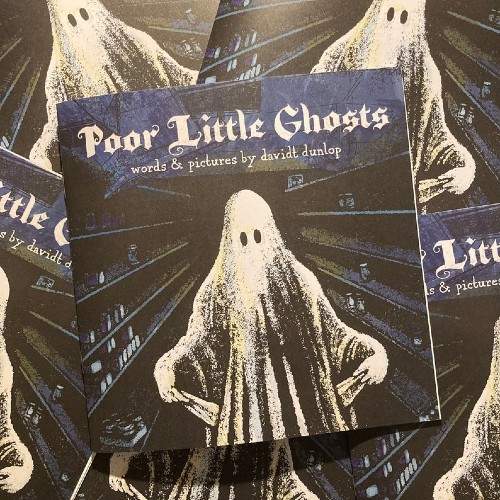 Dunlop's souls trapped on the earthly plane are visually of the traditional floating bedsheet style; shapeless white wraiths with no discernable features bar their black-pooled eyes. Rather than haunting the ruins of castles or the twisting corridors of stately homes, these ghosts are to be found in the modest boarded-up homes of evicted families, on the streets with the homeless, and in tiny ramshackle rooms. Their only solace in (after)life being those moments where they get to live vicariously through the lives of their mortal counterparts.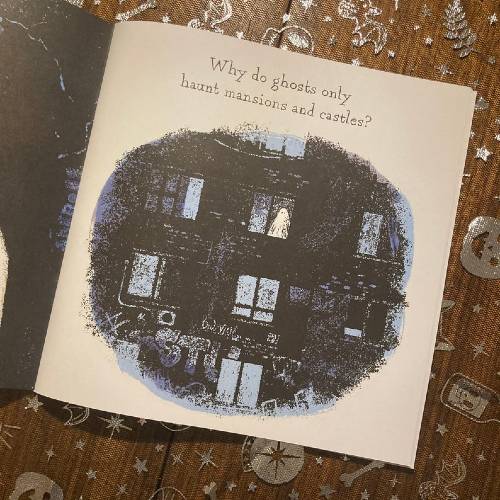 Dunlop's grainy art with its oppressive overtones and moody muted colour palette is a perfect fit for this tales of spectres who exist in pedestrian environments, and sometimes even in squalor. The incongruous juxtaposition of cartoon-style ghosts and realistic backgrounds is extremely effective in contrast, giving the otherworldly entities a demeanour that is all the more melancholy for their interactions with surroundings of urban decay and desolation.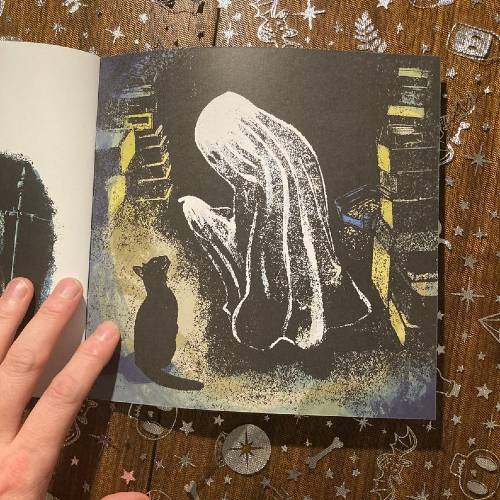 Poor Little Ghosts can be read as a reflection on the paranormal from a more everyday perspective but Dunlop's narrative can also be interpreted as a visual essay on the injustices of class, wealth and privilege. "It's as if the rich have a monopoly on limbo" he opines in one scene, implying that even in death social justice remains an unattainable goal. A neatly timed release for Halloween that takes a much explored storytelling devices in a thoughtful alternative direction.
Davidt Dunlop (W/A) • Self-published, £6.00
Review by Andy Oliver