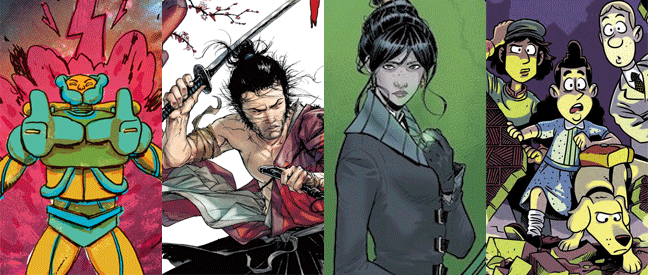 It's nearly Wednesday, and you know what that means: a fresh load of comics and graphic novels! With so many publications hitting your local comics store or digital storefront, the BF staff is here to lead you through the woods with our weekly staff picks. Satisfaction guaranteed!
Comic of the Week
Porcelain: Bone China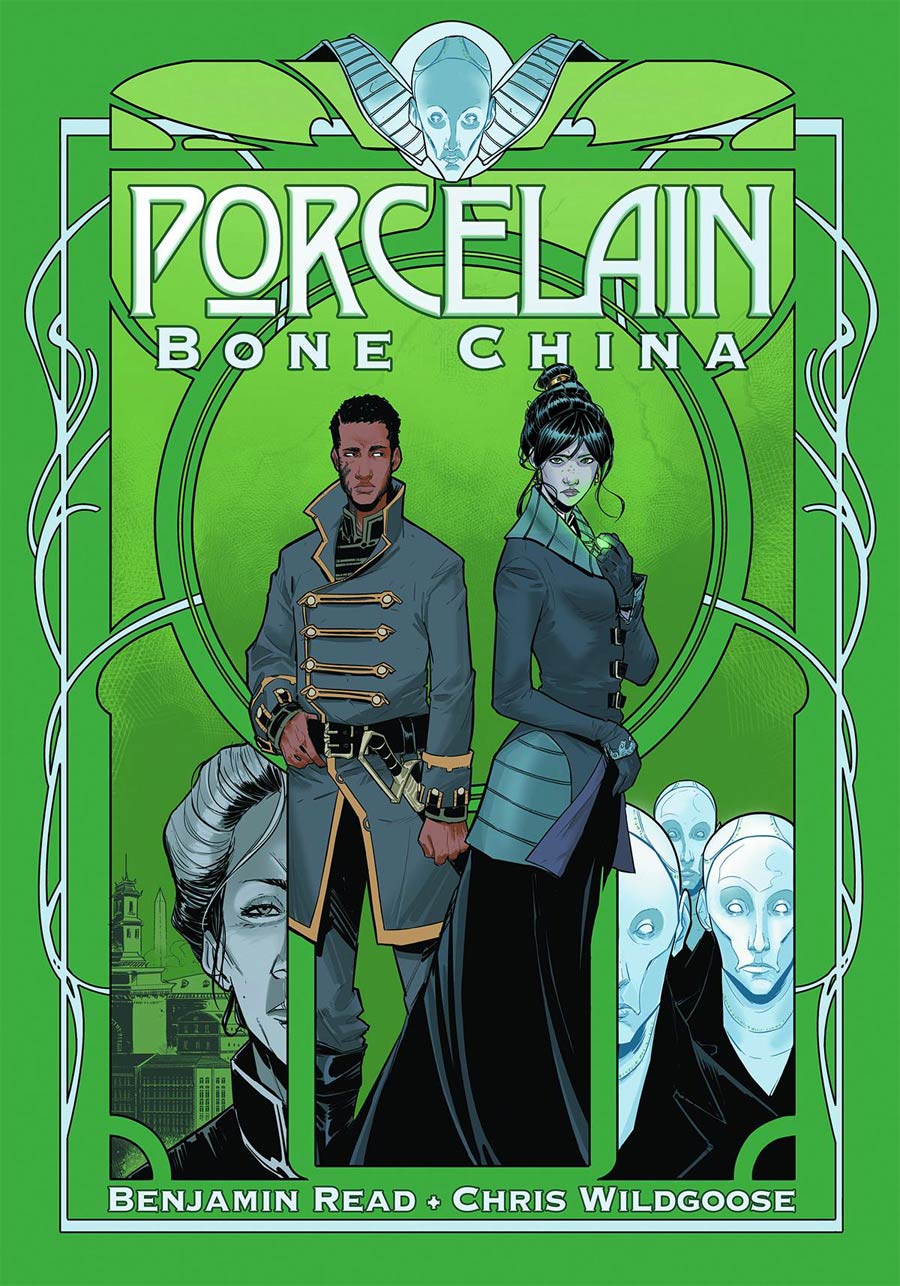 Porcelain, the enchanting modern fairy tale from Benjamin Read (Super 8) and Chris Wildgoose (True Grit), returns in this gorgeous second volume from UK studio Improper Books. The first volume introduced Child, a headstrong young girl who endeared herself to a reclusive artisan-mage named the Porcelain Maker, who in turn introduced her to a world far beyond her imagining.
More than ten years have passed since the first volume, and Child is now Lady: after the death of her adoptive "Uncle", she has taken on the mantle of Porcelain Maker. Her inheritance includes not only Uncle's substantial wealth, but also all of the secrets of Porcelain. Where once Child spent her youth climbing the high walls protecting her domain, Lady now hides behind them, trying to refine the Porcelain, while hopefully righting some past wrongs into the bargain.
However, when her particular skillset becomes a source of great interest to a ruthless general who wishes an army of porcelain soldiers, Lady's world becomes much, much larger.
Porcelain is set in a rich, fully realized world that is eerily familiar yet deliciously strange. Read and Wildgoose work in perfect tandem to produce a sumptuously illustrated tale full of magic, wonder, and heartbreak. I could think of far more terrible ways to spend a blustery winter afternoon than with this delightful escape.
Benjamin Read (W), Chris Wildgoose (A) • Improper Books, $22.99
—Jason Wilkins
The Baker Street Peculiars #1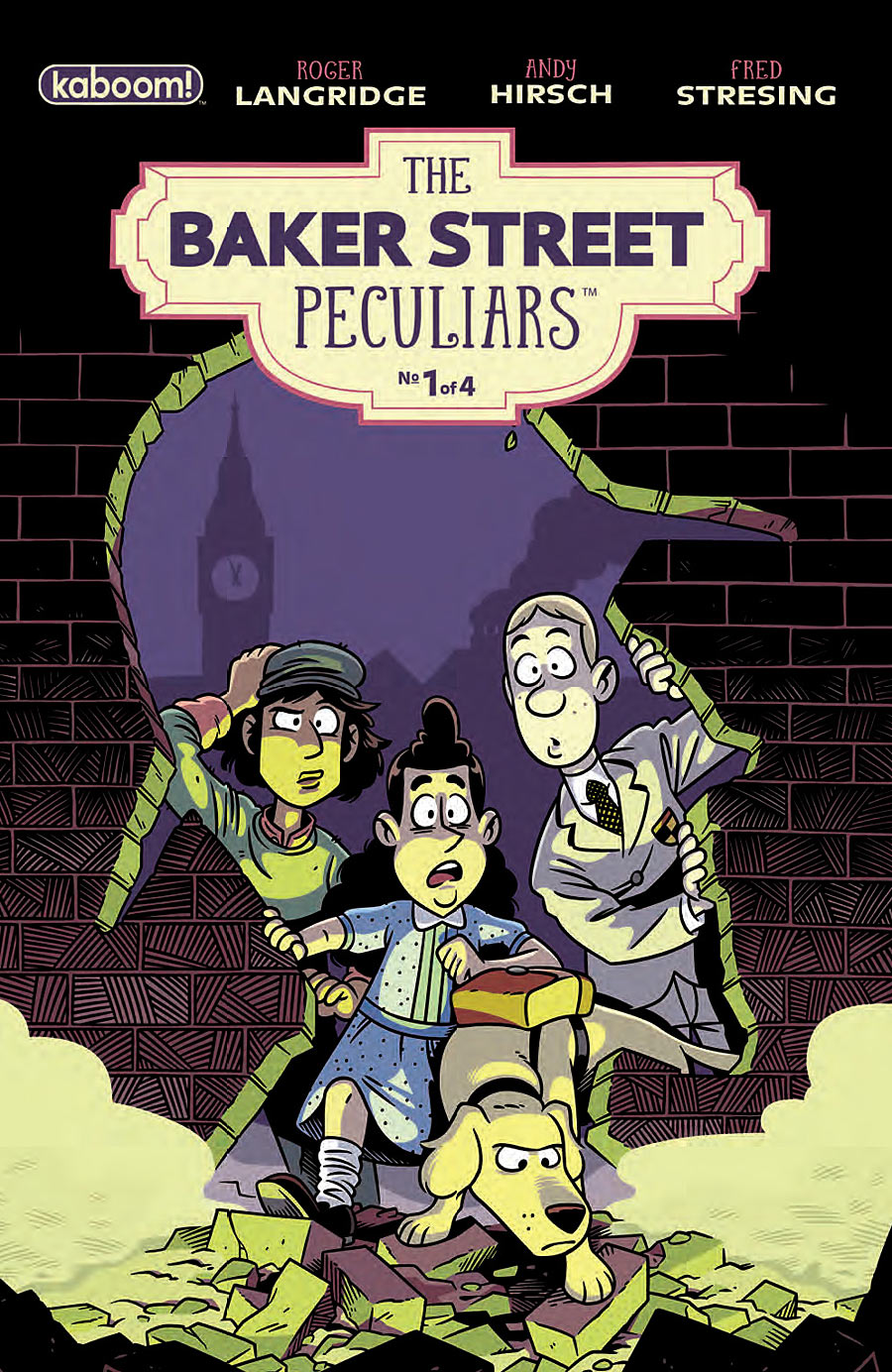 With a fresh new twist on the world of Sherlock Holmes, writer Roger Langridge (The Muppet Show, Abigail and the Snowman, The Musical Monsters of Turkey Hollow) has teamed up with cartoonist Andy Hirsch (Garfield, Regular Show, Adventure Time) to offer a four-part mystery that's sure to challenge the detection skills of readers of all ages.
Set in 1930s London, the action kicks in immediately as a stone statue of a lion suddenly comes to life and begins to wreck the city. It's an ideal case for the world's foremost detective, Sherlock Holmes. But Holmes doesn't actually exist: he's merely a fictional character created by housekeeper Mrs. Hudson, who has been the real detective all along. She writes Holmes' adventures under the pen name of John Watson and has solved cases in disguise for years. But she already has pending cases and will need some assistance from a rather precocious group of young detectives-in-training – the Baker Street Peculiars – to solve the mystery of the living statues.
Langridge is a master of weaving familiar elements of an existing property into a new setting that creates an intriguing perspective, so I'm curious to see how he refashions Mrs. Hudson from the kindly housekeeper into the sleuth we thought we knew as the intractable Holmes. The expressive cartooning style of artist Andy Hirsch should be an ideal complement to Langridge's new direction for Sherlock Holmes, and if you're new to his work, this mini-series is sure to make you a fan.
Roger Langridge (W), Andy Hirsch (A), Kaboom!, $3.99
-Karen O'Brien
Goldtiger: The Poseidon Complex
Even among hardcore aficionados of the newspaper adventure strip, a mention of Louis Schaeffer and Antonio Barretti's Goldtiger is likely to prompt a quizzical glance. Fortunately, thanks to the tireless literary detective work of Guy Adams and Jimmy Broxton, "the greatest comic of the 1960s that you've never heard of" is now available for a whole new audience!
As well as reproducing the debut adventure of the 60s' most surprising protagonists – two openly gay secret agents living as fashion designers in Swinging London – Adams and Broxton have collected an amazing archive of 'behind the scenes' material, including correspondence, interviews and sketches.
The tale they tell is one that will ring a bell with comic creators of any era: a pair of mismatched collaborators locked in a pyrrhic struggle between commerce and art, leading to estrangement, madness and death.
By the end, you'll certainly be wondering why you've never heard of Goldtiger before…
Louis Schaeffer (W), Antonio Barreti (A), 'presented by' Guy Adams and Jimmy Broxton • 2000AD, £19.99
– Tom Murphy
The Vision #5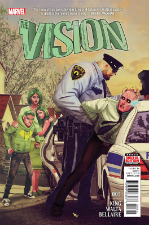 However repetitive Marvel's latest renumbering games have been in the wake of Secret Wars, their line-up of relaunched series has provided a number of intriguing new takes on old favourites. The Vision combines elements of dark humour, profound pathos and suburban sitcom in one of the best new Marvel books in years.
The android Avenger's attempts to create the perfect home life are unravelling around him. His family is disintegrating and buried secrets are being unearthed. When the Vision discovers the truth of what happened to long-time foe the Grim Reaper, will it be the end for his experiments in domestic bliss?
Writer Tom King has walked that careful line in creating an inventive premise for the series that is both entirely accessible for new readers yet respectful of the character's rich publishing history. Gabriel Hernandez Walta, meanwhile, has proved the perfect choice in conveying visually a world that juxtaposes the mundane and the fantastic, while Jordie Bellaire's colouring is as stunning as ever.
A standout series that deserves every last bit of the critical acclaim it has received.
Tom King (W), Gabriel Hernandez Walta (A) • Marvel Comics, $3.99
– Andy Oliver
Samurai #1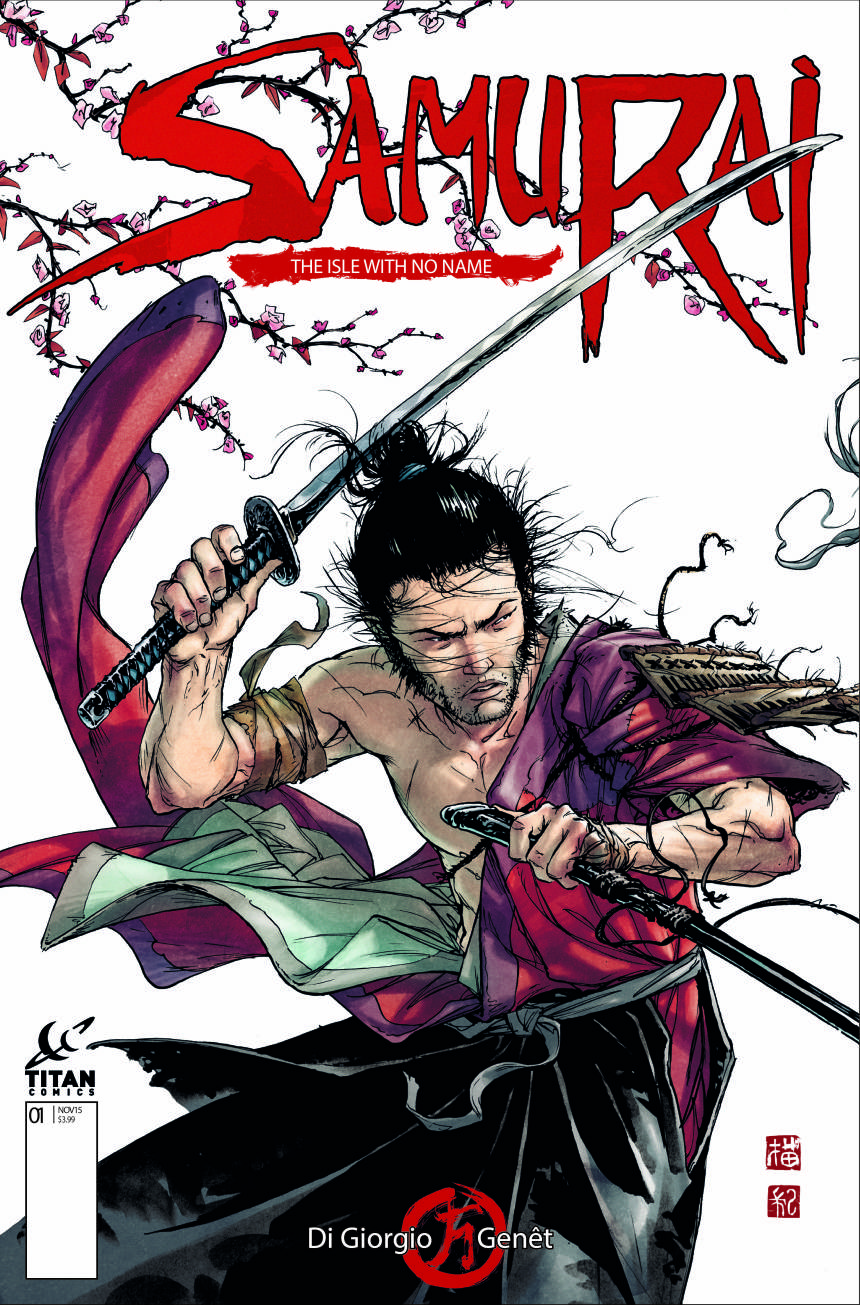 A runaway hit in its native Europe, Jean-François Di Giorgio and Frédéric Genêt's Samurai first got an English release in the late 2000s through Marvel's short-lived partnership with French publisher Soleil.
Titan recently published a collection of the original series – a beautifully drawn saga of nobility and betrayal set against the backdrop of feuding Imperial Japan. Titan also inked a deal with the original creative team to publish all-new Samurai adventures, the first of which starts this Wednesday.
'The Isle with No Name' sees the samurai Takeo continuing the search for his missing brother and the meaning behind his mysterious tattoo. His quest will take him to the Unnamed Island and deeper into his own dark past. Packed with rich period detail and classic adventure, Samurai #1 heralds the beginning of an exciting new series for longtime fans and newcomers alike.
Jean-François Di Giorgio (W), Frédéric Genét (A) • Titan Comics, $3.99
– Paul Mirek
Paracuellos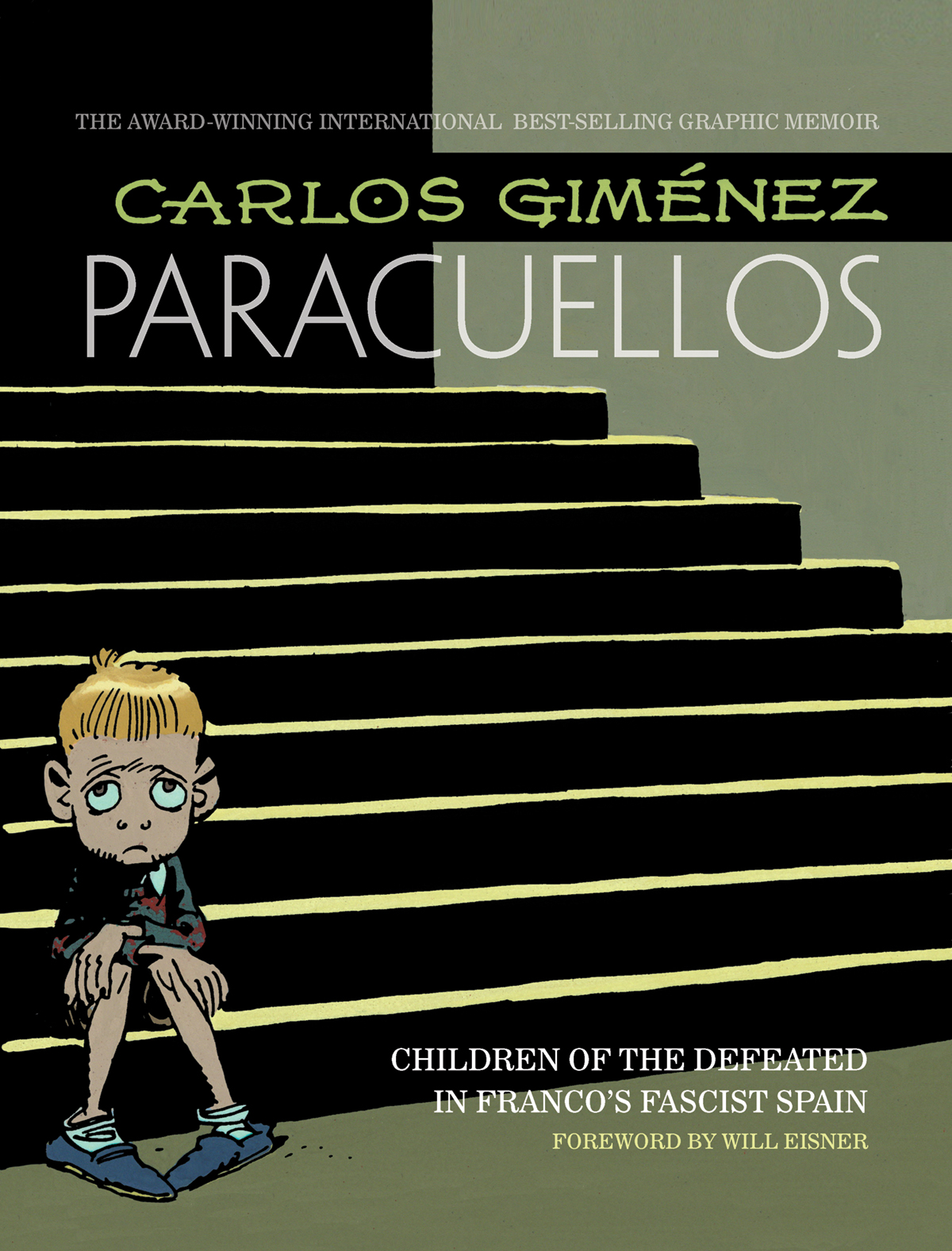 Spanish comics might not quite have the high profile of their Franco-Belgian counterparts, but there can be little argument about the classic status of Paracuellos, Carlos Giménez's autobiographical account of the plight of children in post-war fascist Spain.
The winner of Best Album at the 1981 Angoulême Festival and the Heritage Award at the same festival in 2010, its publication prompted death threats for its creator from Spanish right-wing groups, angry that the code of silence about their country's dark political past was being breached.
The book tells the story of the orphans and displaced children – of which Giménez was one – created by Franco's brutal overthrow of Spain's elected government in the 1930s. Pushed around a series of state- and church-run homes, the children were subjected to abuse and indoctrination to mould them into model "productive" citizens.
EuroComics, an imprint of IDW and the Library of American Comics headed up by editor Dean Mullaney, has already been nominated for its editions of Corto Maltese. Its revival of Paracuellos – named after the site of a Spanish Civil War atrocity – shows a welcome desire to bring the best international comics back into the spotlight.
Carlos Giménez (W/A) • EuroComics, $24.99
– Tom Murphy
Power Button #0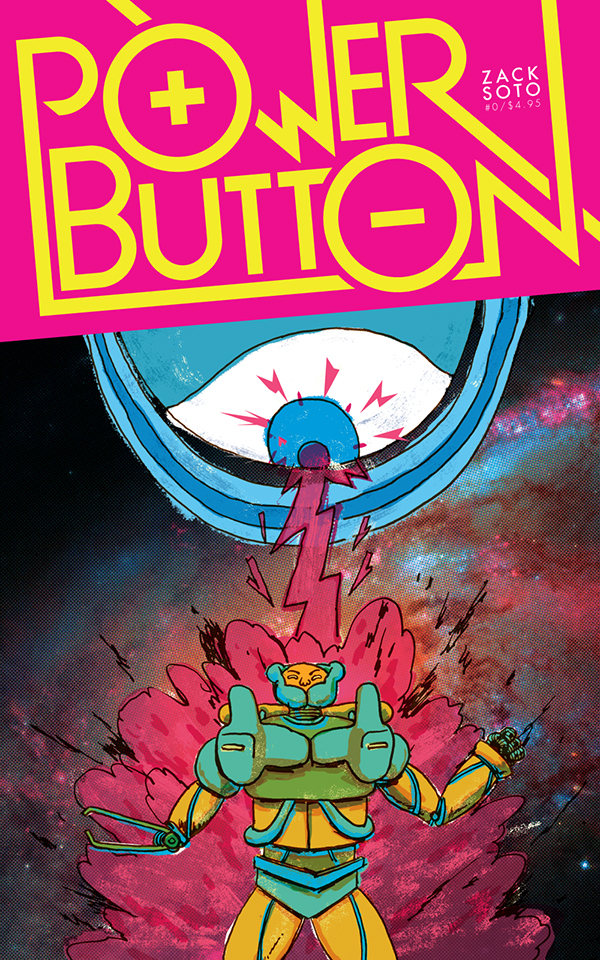 This is a special origin issue that sets the stage for a brand new science-fiction adventure series by Zack Soto (The Secret Voice). In order to save her planet from destruction at the hands of the Galactic Horde, Adatra sacrifices everything to become an Omega Knight – an unstoppable fighting machine created from the Omega Seed.
But there's a sacrifice: with her planet saved, there is no return to her old life or her true love. Adatra must remain in the service of the Weaponeers of IX to be ready to defend the next planet from an attack for the Horde. (And, from the preview of the first issue, it looks like that might very well be Earth!)
Aliens! Apocalypse! Mega Battles! Monsters! Pathos! Cool Space Armor! And all the style you'd expect from a Study Group production.
Zack Soto (W/A) • Alternative Comics, $4.95
– Tyler Chin-Tanner
Through the Habitrails: Life Before and After My Career in the Cubicles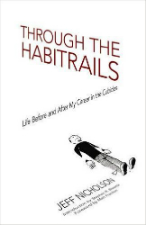 Those who picked up The Mammoth Book of Cult Comics – ILYA's excellent collection of '80s/'90s indie and self-published comics – in 2014 may remember me saying in my review of that hefty volume here at Broken Frontier that the book underlined "that publishers would be as well served in looking backwards as well as forwards for accomplished self-published work that deserves to be brought to a wider audience."
One of the works sampled in The Mammoth Book of Cult Comics was Jeff Nicholson's Through the Habitrails; an oblique, claustrophobic commentary on the soul-destroying world of work. The dark visual metaphor of this '90s cult classic will appeal to any reader who identifies with the horrors and tedium of the 9 to 5.
This is another in the series of deserving repackagings of out-of-print material by Dover Publications, who have been bringing so many worthy titles to new audiences recently. This edition includes an all-new epilogue and an introduction by Matt Fraction.
Jeff Nicholson (W/A) • Dover Publications, $14.95
– Andy Oliver