Archaia/Boom have provided BF with a preview to Rubicon OGN HC, in stores August 7, 2013.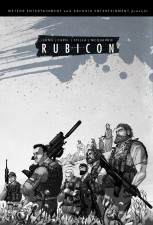 RUBICON
Original Graphic Novel Hardcover
Retail Price: $24.95 U.S.
Page Count: 128 pages
Format: Hardcover, 6.625" x 10.25", full color
Genre: Military Drama
On-Sale Date: August 7 in comic book shops, August 20 wherever books are sold
Written by Mark Long and Dan Capel
Illustrated by Mario Stilla
Cover by Mario Stilla
M – MATURE (18 and up, may contain nudity, profanity, excessive violence and other content not suitable for minors)
In this story inspired by the classic "Seven Samurai," five paramilitary Navy SEAL operators defend the residents of a remote mountain farming village in Afghanistan from attacks by marauding Taliban. Led by the war-weary Hector, the operators and villagers form mutual bonds of honor and respect leading up to a climactic battle where the "Lions of Panjshir" are desperately outnumbered.
Story by Oscar®-winning screenwriter Christopher McQuarrie (Usual Suspects); founding member of SEAL Team Six, Dan Capel; and New York Times best-selling author Mark Long (The Silence of Our Friends). Written by Long and featuring an introduction by Richard Marcinko, best-selling author (Rogue Warrior) and the first commanding officer of SEAL Team Six.
The graphic novel also features a pouch containing cool extras like a map, a Purple Heart replica certificate, and a handwritten letter!