Titan Comics has provided BF with a preview to Tomorrowla​nd #1, hitting stores tomorrow July 24, 2013.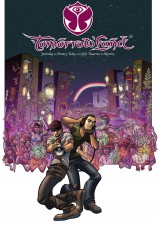 Tomorrowla​nd #1
Writer(s): Paul Jenkins
Artist Name(s): Stellar Labs
Issue Number: 1 (of 4)
Page Count: 32pp
Publisher: Titan Comics
Cover Price: $3.99
Release Date: July 24, 2013
From the Eisner award-winning writer of Spider-Man, Wolverine: Origin, The Inhumans and The Darkness comes a music-led adventure like no other!
Meet Dimitri Vegas and Like Mike, two young DJs – and the public faces of the world-renowned Tomorrowland festival – as they are drawn into an impossible adventure to save the vital spark of creativity!
Over the course of this retina-blasting fantasy adventure, the pair find themselves sucked into an eternal war between two worlds – a battle waged between the forces of creation and destruction for the energy we all carry inside us. It's a war we're rapidly losing – but can two DJs turn the tide over the course of just one festival?
There's only one way to find out!