Whitley's all-ages, Eisner-nominated series returns for more fantastic hijinks, as Adrienne and Sparky continue their quest to save her royal sisters.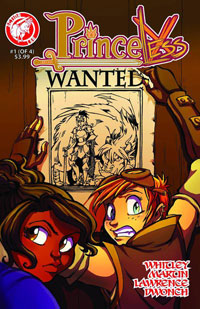 If you haven't already heard, Princeless is a pretty important book.
Maybe it doesn't have the media traction of Hickman's Avengers or Snyder's Batman but it was nominated for a couple of Eisners last year and beat out new, politically correct Spidey Miles Morales for a buttload of Glyph awards – no mean feat, to be sure.
Born out of a desire to shore up the fantasy genre's lack of strong female protagonists and representation of visible minorities, Princeless turned heads last year with its strong characterization, accessible art, and humorous insights into established comic book storytelling conventions. This second volume follows a pair of short story collections and further expands the realm of the fiercely independent Princess Adrienne and her dragon Sparky.
When last we encountered Adrienne, her new BFF Bedelia, and the ever-stalwart Sparky, our heroine was making her way to rescue her sister Anjelica, similarly incarcerated by her father to keep her chasteness intact. After the destruction of Bedelia's smithy, Adrienne and her best friend meander through the vastness of Ashland, causing no little mischief along the way.
Once again, Whitley proves his chops and his love of his characters with another tightly scripted issue. Adrienne and her companions remain as charming as ever and never lose that down to earth quality that allowed them access to our hearts in the first place. Setting aside his creative mandate to build a fantasy world that would resonate with the broader modern demographic, Whitley's pacing and sense of timing continues to be impeccable. Whether he's writing the humorous pilfering of bread from a stodgy merchant with mommy issues or making a subtle point about gender equality in genre fiction, Whitley rarely stumbles. We've all been there. When it's right, it's right – and it's all right with Princeless.
This new volume also sees a change in collaborators for Whitley. Emily Martin's art is of similar enough style and quality to M. Goodwin's work on the first series, that there are little to no hiccups visually from one chapter of Adrienne's quest to the next. I'm not sure if this is a good thing or not. Don't get me wrong, Martin is more than solid. Her storytelling is clean yet bouncy; her figure work expressive and exaggerated just enough. I couldn't help but wonder though if consistency wasn't getting in the way of visual distinction. The coolest thing about the Princeless short story collections and back-ups is the variety of artistic interpretations available. Martin is an able successor to Goodwin but a different style altogether wouldn't have been such a bad thing either.
I started off by calling Princeless an important book. There are few titles on the shelves today, regardless of genre or target market, that fuse craftsmanship, heart, and an original premise like Whitley's smart, light-hearted fantasy adventure. The term "modern fairy tale" is bandied about rather recklessly by critics and reviewers. It's an easy designation to assign a book that even marginally crosses genre borders. With Princeless, Whitley and Martin manage to live up to the label with their fun, resonant story of a damsel who doesn't know what it means to be in distress.
Jeremy Whitley (W), Emily C. Martin (A) • Action Lab Entertainment, $3.99, May 1, 2013.