It's almost Wednesday, and you know what that means: a fresh load of comics and graphic novels! With so many publications hitting your local comics store or digital storefront, the BF staff is here to lead you through the woods with our weekly staff picks. Satisfaction guaranteed.
Comic of the Week
Divinity #1
Perhaps the most intriguing entry in Valiant Entertainment's Valiant Next initiative is this week's launch of Divinity by Matt Kindt (The Valiant, Mind MGMT) and Trevor Hairsine (X-Men: Deadly Genesis). The four-issue prestige format limited series introduces Valiant's first new major character since the publisher's rebirth and explores a hidden corner of its increasingly fascinating fictional universe.
While other mainstream publishers such as Marvel and DC are ramping up for a major repositioning (some might call it compression) of their respective superhero universes, the creative mandate of Valiant Next appears to be one of expansion and evolution. Flying in the face of trends is nothing new for either the publisher or Matt Kindt, who is perfectly suited to a concept rooted in mystery and conspiracy.
This first issue lays the foundation for the introduction of a powerful new player in the Valiant universe, a Cold War-era Soviet cosmonaut named Abram Adams, who for all intents and purposes was lost during a clandestine mission to the very edges of reality. With gorgeous art courtesy of the versatile Hairsine, Divinity seeks to take us on a confounding journey through time and space, to illuminate this forgotten chapter of the Valiant universe's secret history.
Matt Kindt (W), Trevor Hairsine (A) • Valiant Entertainment, $3.99
– Jason Wilkins
Trees Vol. 1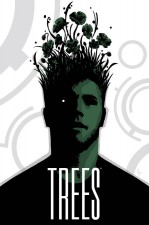 If you're the kind of person whose Transmetropolitan and Global Frequency issues are crumbling in their polybags from too many re-readings, make an investment in the future with this slick collection of the first eight issues of Warren Ellis's latest creator-driven title.
If you've somehow never heard of the whiskey-loving mad genius, this is also a perfect introduction to his one-of-a-kind blend of big-screen action and even bigger ideas, stunningly brought to life by artist Jason Howard in some of the most formally impressive work of his career.
The title refers to the unnatural machines which fell from the skies one fateful day, placed on Earth by some extraterrestrial hand with seemingly no regard for the life skittering across its surface. Like Simon Oliver in Vertigo's FBP, Ellis and Howard shift the timeline forward to show how mankind has adapted to this new paradigm, weaving a series of varied but interconnected tales of life in the "shade."
The result is a story that feels right in line with a particularly British strain of pessimistic sci-fi—Ellis namedropped John Brunner's The Sheep Look Up and Stand on Zanzibar in a Multiversity Comics Q&A, but John Christopher's The Tripods quadrilogy is just as effective of a touchpoint.
Warren Ellis (W); Jason Howard (A) • Image Comics, $14.99
– Paul Mirek
Princeless: The Pirate Princess #1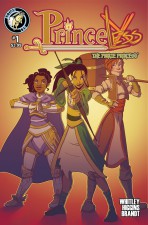 Princess Adrienne returns in a new four-part adventure from writer Jeremy Whitley and artists Rosy Higgins and Ted Brandt. Adrienne and Bedelia are still looking for adventure and find it when a princess locked away in a tower is in need of rescue. Although her brothers imprisoned her, Princess Raven is far from a damsel in distress. This pirate princess is proficient with a bow, and she's going to need all of her skills to escape the tower, fight her way past the guards, and join her new friends.
If you're looking for an age-appropriate comic to share with young girls, this is it. An all-ages comic featuring princesses who save the day and have a pink pet dragon is sure to be a great introduction to the wonderful world of comics.
Jeremy Whitley (W), Rosy Higgins and Ted Brandt (A), Action Lab Entertainment, $3.99
– Karen O'Brien
The Empty #1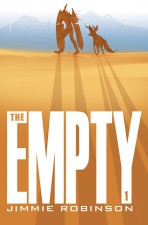 Jimmie Robinson has been producing well-received series for Image Comics for years, including Five Weapons and Bomb Queen. Now the writer/artist, who also colours and letters the book, is bringing his clean, confident style to an ecologically themed fantasy set in an apocalyptic world where nature has been blighted and poisoned.
In a starving, ramshackle village that represents the very last of humanity, a volatile hunter, Tanoor, thinks she might have found a chance to save her people when fate throws Lila, an alien stranger, into her path. The new arrival has the apparently miraculous power to bring nature back to life, but she and Tanoor will first have to survive the hostility and suspicion of the other villagers.
Jimmie Robinson (W/A) • Image Comics, $3.50
– Tom Murphy
Daomu HC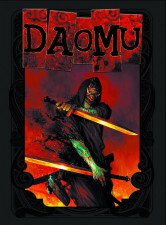 Daomu, the Chinese comics sensation, is collected in full for the first time in English courtesy of Magnetic Press, the upstart publisher that last year brought international hits Doomboy, Meka and Zaya to the US market.
Written by Xu Lei, nicknamed the Chinese Stephen King by his fans, Daomu is a story about a young man who finds out his diseased father kept a number of dark secrets, secrets that have put tomb raiders on his path and have breathed life into age-old mythological creatures.
Since we dropped the name Stephen King, you guessed it right: this is weird horror from the highest order, wrapped in a beautiful hardcover package with 225 pages of story and a bonus concept art section.
Xu Lei & Colin Johnson (W), Ken Chou (A), Magnetic Press, $29.99
– Frederik Hautain