The between-the- panels reading comprehension that comics requires in its readers, and its associated relationship with the passage of time, means that it's a particularly communicative medium for depicting gradual altered states of consciousness. Fatima Wajid's Prism, another offering from this year's ShortBox Comics Fair, is described as a "semi-anecdotal narrative" and invites us to observe three young friends as they get high in a playground late at night.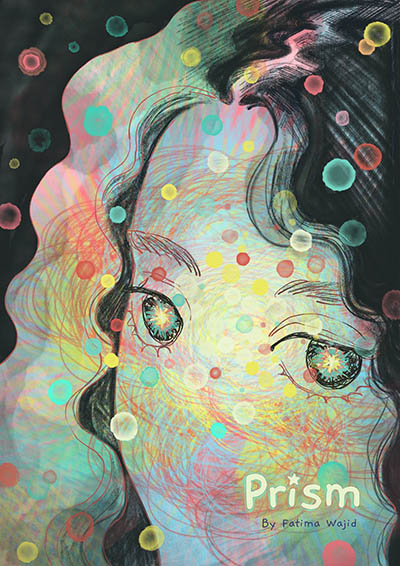 Prism isn't simply an opportunity for Wajid to use the page to portray hallucinogenic trippiness at its most vivid though. At its heart this is a story about the bonds of friendship and that strange disorienting period between university, our first forays into the workplace and finding our place in the world (if we ever do). Here we have a familiar and engaging portrayal of a trio of pals picking up where they left off after months apart, in that effortless way that true friends do. That they're also slowly slipping into a state of intoxication only complements the sense of camaraderie on show rather than overwhelming it.
The Prism of the title is part of a sparky back and forth between these young women as they discuss Pink Floyd and Syd Barrett, with Wajid giving us dual perspectives on their relationships by flitting between the dialogue of the three and the unnamed central character's reflective narration. It's a fitting device that allows the audience to be both in the moment but also cognisant of the history behind what we are observing.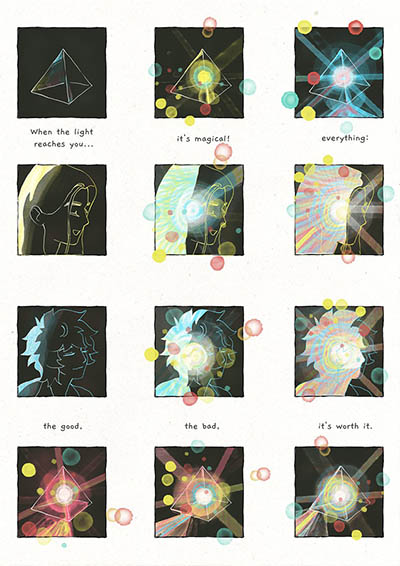 Of course the protagonist's gradually altering perceptions are also a crucial part of this experience and Wajid projects this in a variety of kaleidoscopic ways while still maintaining a careful colour coding for each character. Reality and psychedelia coalesce, mingle and gradually merge in relation to our central character's thoughts and interactions with her friends, allowing us to come away from Prism feeling that, for just a brief period of time, we have become an integral part of their worlds.
Fatima Wajid (W/A) • ShortBox Comics Fair, £4.00
Review by Andy Oliver