JMS's latest series for Image, illustrated by Gordon Purcell, is a low-energy, poorly executed dose of non-superheroics that never gets off the ground.
Now I'm not really the superhero guy (or gal) round these parts. However, like a lot of us, some of my formative comics experiences were accompanied by the twang of spandex, and I'm still happy to see new issues of Hawkguy and Astro City.
However, Protectors Inc., released through Image by J Michael Straczynski's Joe's Comics imprint – "WHERE IT'S ALWAYS FIVE MINUTES TO MIDNIGHT", apparently – is as poor a book as I can remember reading from the publisher.
It's sort-of-protagonist seems to be Detective John Riley, who thrills us initially as an expert witness in the courtroom, describing the minutiae of forensic evidence, and whose main dramatic need, as set up in this issue, is wishing it would start raining.
As he drifts off to sleep back at his apartment, Riley obligingly recalls for us the world-changer that sets up Protectors Inc: an unspecified space object that plunged onto France in 1944 and left a GI with superhuman powers. Before sliding into the land of nod, Riley manages to let us know that around 50 rich Americans also subsequently developed powers, all of which were apparently used for good. Until, that is, the superfolks went corporate as 'Protectors Inc' and it became all about the money.
However, it turns out that life for the superfolks is a bit like the pro-wrestling circuit: with no supervillains to deal with, they have the occasional meaningless rumble with each other, "all for show", and coin it in from the merchandise.
So neither our protagonist nor the cast of superhumans who form the backdrop of what should be a remarkable world have nothing much to do. The only thing approaching a mystery is the disappearance in a flash of of two thinly sketched characters at the beginning and the end of the issue.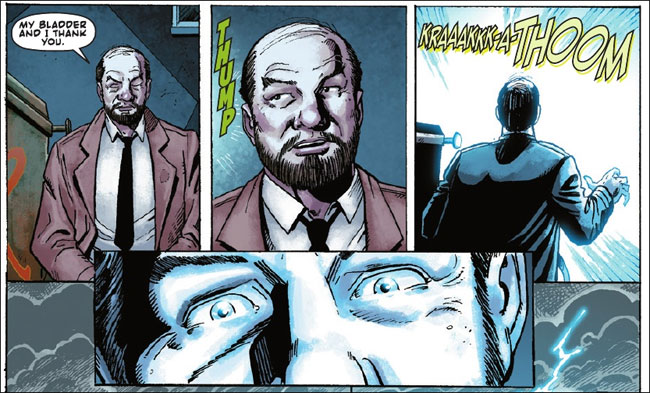 If that synopsis doesn't sound promising, it's not helped any by the poor execution of the book. JMS's overwritten script relies heavily on studiedly 'pithy' dialogue and some chewy first-person narration, while artist Gordon Purcell creates some baffling anatomy; in a 'dynamic' double-page spread of a superteam, one of the heroes – Mr America – hops boldly into battle, having apparently lost one leg from the knee down. Behind him, a team-mate seems to have a gloved hand growing out of his shoulder. (And judging from the rest of the book, I'd say they're not supposed to be setting a bold precedent for superheroes with disabilities.) Sadly, none of this is helped by Michael Atiyeh's jarring colouring.
JMS clearly has a great many fans, but this really is a poor effort on any level. He doesn't help matters with his jovial 'Joe's Counter' editorial chat at the end: "Some said it couldn't be done. Some said it shouldn't be done." #AskingForIt
For a while I was even hoping that the creaky script and misjudged art might be a deliberate attempt to recall the naive innocence of superheroes past, but if you're looking for cheesy retro-style action, it's easier than ever to go back to the source – and to find material that's delivered with considerably more aptitude, care and charm than this.
Even with the offer of a FREE AUDIO VERSION and the tantalising promise that #2 will see Riley employ a scantily clad young female concrete sniffer to help his investigation into when it might start raining, I'll be sticking with Astro City for now.
J. Michael Straczynski (W), Gordon Purcell (A) • Image Comics, $2.99, November 6, 2013