Hot on the heels of January's announcement of a new Cor!! and Buster Special from Rebellion this Easter the publisher has announced plans for no less than seven all-new specials to be published in 2019. While some follow on from previously established projects like the Scream! and Misty Special and The Vigilant there are others that will come as unexpected and very pleasant surprises as the Rebellion revolution continues apace.
The full press release is below.
Make 2019 *extra special* with SEVEN new 2000 AD and Rebellion comic specials!
Rebellion is making holidays special again this year with a whole slate of classic comic book specials for new readers and nostalgic parents alike!
We're resurrecting some of the most beloved comic books in British history – from humour to football, from superheroes to girls' comics, they'll be packed with all-new material!
SEVEN new specials will be storming the newsstands between April and October, each one honouring a different part of the British comic industry – the Cor!! & Buster Special, 2000 AD Villains Takeover Special, 2000 AD Regened, 2000 AD Sci-Fi Special, Tammy & Jinty Special, The Vigilant, Roy of the Rovers 65th Anniversary Special, Scream & Misty Presents The Thirteenth Floor.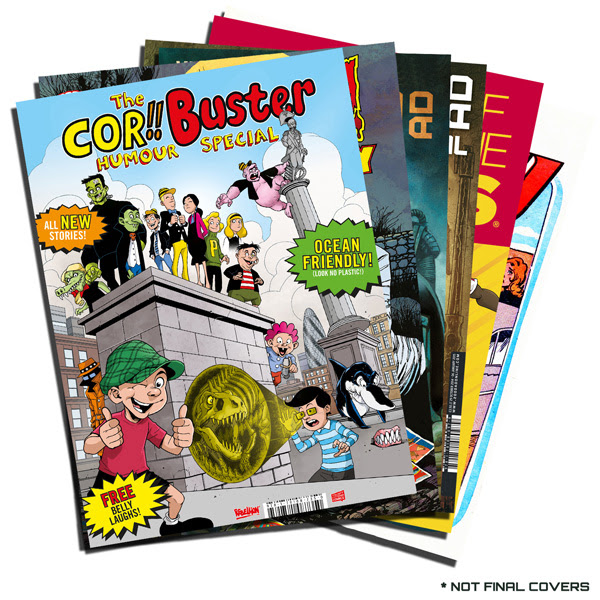 Buster and Cor!! were two of the biggest humour comics in Britain – and now they're back and they've brought their friends! The 48-page Cor!! & Buster Special will hit newsstands in on 17th April, retailing at £4.99. From the world's naughtiest baby, Sweeny Toddler, to Gums, the most incompetent shark in the seven seas, this one-shot special will feature top comics talent including a cover by Neil Googe (The Flash), and strips by Ned Hartley (Star Wars), Cavan Scott (Doctor Who), Abigail Bulmer (2000 AD) and Tanya Roberts (TMNT)!
The dastardly and the iniquitous will be taking over 2000 AD on 4th May – the 32-page US-format 2000 AD Villains Takeover special sees the baddies from some of the 2000 AD's biggest strips, including Judge Dredd, Strontium Dog, and Sláine, get their moment in the spotlight! Available only from comic book stores for the low price of just 99p/99c!
On 8th May, the kids are taking over as 2000 AD gives way to 2000 AD Regened – a one-off special issue of the Galaxy's Greatest Comic intended for all ages! Following the massively successful Free Comic Book Day issue of Regened in 2018, the pint-sized anti-heroes return for another bumper Prog for kids of all ages and species! 2000 AD Prog 2130 will be 100 packed pages, retailing at £4.99 from all good stockists!
In 2018, the comics world lost one of its best creators – Carlos Ezquerra. This June, the 2000 AD Sci-Fi Special will pay tribute to the co-creator of Judge Dredd and Strontium Dog with a special issue focusing on some of his greatest moments. It will also include his unpublished work on Specter, a new series he was working on with long-time collaborator John Wagner. The 48-page special hits shelves on 19th June at £4.99.
In the 1970s and 1980s, comics aimed at girls outsold those aimed at boys – and Tammy and Jinty were two of the biggest titles. This June, these classic titles return, retooled for the 21st Century and with a host of new creators producing high-quality strips that pay tribute to the legacy of trail-blazing comics while introducing a new audience to the medium! The 48-page Tammy & Jinty Special lands on 27 June, priced at £4.99.
After its smash hit debut last year, The Vigilant returns in August, resurrecting the greatest home-grown superheroes Britain has to offer – a team unlike any other, a challenge none have faced before! Even if superhero comics have never been your thing, take up the call of The Vigilant with this 64-page special – out on 14th August , priced at £4.99.
Following his spectacular return to comics, Roy of the Rovers gets his first new special in September for his 65th birthday and the start of the new footie season! The golden-footed hero is back for a new generation! The Roy of the Rovers 65th Anniversary Special kicks off on 11th September with a bumper 128-page £9.99 issue!
And in time for Hallowe'en, the Scream & Misty Presents The Thirteenth Floor arrives on 16th October with a 48-page £4.99 special filled with the best chills that British comics can deliver! Created by John Wagner, Alan Grant, and José Ortiz, The Thirteenth Floor is where the homicidal caretaker computer Max puts those he doesn't like – a mysterious floor of the tower block he controls where he keeps their worst fears. Few, if any, survive if they get on Max's wrong side!
All the Rebellion specials will be available from good newsagents, as well as comic book stores via Diamond Distribution, and through 2000 AD's webshop and apps.