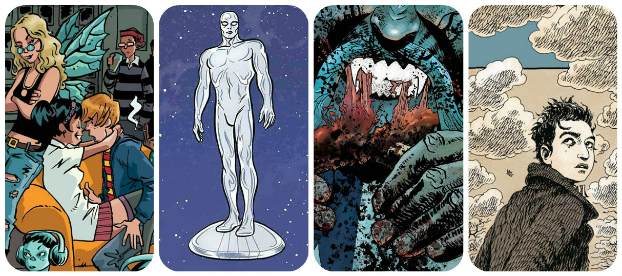 It's nearly Wednesday, and you know what that means: a fresh load of comics and graphic novels! With so many publications hitting your local comics store, comics events or digital storefront, the BF team are here to lead you through the woods with our weekly staff picks. Satisfaction guaranteed!
Comic of the Week
Black Crown Quarterly #1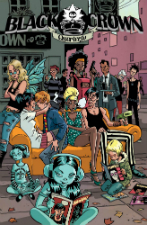 We loved Kid Lobotomy, the debut book from IDW's new Shelley Bond-curated Black Crown line of comics, when we reviewed it here at BF last week, calling it "an insubordinate graphic manifesto for the Black Crown imprint." This creator-owned family of titles have a connecting locale in common – the Black Crown pub – and operate in what Bond describes as "a shared landscape" rather than a shared universe.
This first quarterly anthology has a fantastic creative roll call including Rob Davis (The Motherless Oven) on the lead feature 'Tales from the Black Crown Pub'. Broken Frontier Anthology artist Jamie Coe (Art Schooled) contributes the first part of 'Cannonball Comics', an "exquisite corpse" story and Cathi Unsworth provides 'Swell Maps', the first part of a Pop Atlas of Britain. There's also a comics Cud reunion, extra features, a double-sided pull-out poster and more.
Vibrant, eclectic and defiantly irreverent, the Black Crown books look set to give the complacency of serial comics publishing a much needed shake-up in the months to come!
Anthology – Various creators (W/A) • IDW Publishing, $6.99
– Andy Oliver
Redneck Vol.1: Deep in the Heart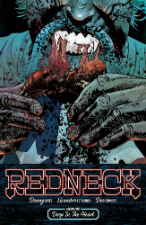 It's the lead up to Halloween, and of course, there be vampires! This week sees the release of Redneck Volume 1: Deep in the Heart, the trade paperback collecting issues #1-6 of Donny Cates and Lisandro Estherren's southern fried tale of a rather unique family living deep in the heart of Texas.
The Bowman clan love their guns, love their pickup trucks, and love the taste of blood. For years they've managed to lead a peaceful existence, running the local barbecue joint in their small town and living off of cow's blood; until a series of events involving a local preacher throws off this delicate balance, bringing fear, hatred, and a whole lot of bad blood to the surface.
In a similar vein (pun intended) to Cates's hugely successful Texan fantasy God Country, which marked him as one to watch earlier this year, with added hints of Preacher, Southern Bastards, and Howard Chaykin's Bite Club, Redneck Vol. 1 will satisfy your craving for a vampire comic that doesn't suck.
Donny Cates (W), Lisandro Estherren (A) • Image Comics, $16.99
– Ally Russell
Walt Disney's Christmas Classics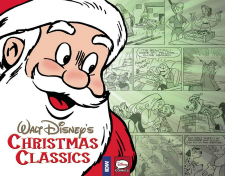 No publisher does Christmas like Disney. Walt Disney's Christmas Parade debuted from Dell Publishing in 1949 and started a yearly tradition of releasing a Christmas-themed comic book every year. Disney introduced its Christmas-themed newspaper strip adventure in 1960 with 'Peter Pan's Christmas Story,' a lively tale where Captain Hook tries to sabotage Christmas. The daily strip led up to its conclusion on Christmas Eve, when Hook was foiled and Santa was successfully off to deliver his presents.
The strip proved so popular that for the next 28 years, Disney produced a self-contained story featuring another set of its signature characters following the same save-Christmas-from-the-bad-guys plot with charming twists and variations.
Walt Disney's Christmas Classics debuts this week from IDW Publishing and—for the first time ever—collects all 28 stories in one hardcover edition. It's a must-have for Disney fans and Christmas collectors, and you really should think about making it your go-to Christmas present this year. (Public Service Announcement: There are only 61 days until Christmas.)
Frank Reilly (W), Floyd Gottfredson, Various (A) • IDW Publishing, $39.99
– Karen O'Brien
Baking with Kafka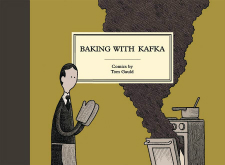 An absolute master of anti-climactic comic timing, Tom Gauld's strips are familiar from many sources (the New Scientist, the Guardian and the New York Times, not to mention his Eisner-nominated graphic novels) and hold a wry mirror up to contemporary events and obsessions, literary conventions, and the combination of the two.
Through this mirror all reality is fiction and all fiction is reality and thus we can laugh at the bittersweet stupidity of humanity. Similar to his 2013 collection You're All Just Jealous of My Jetpack this new pleasingly chunky hardcover collects Gauld's short comic works from the last few years, arguably the format that shows him at his best.
Tom Gauld (W/A) • Drawn & Quarterly, £12.99
– Jenny Robins
Silver Surfer #14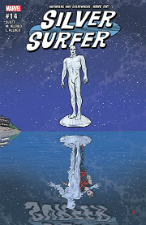 To all things an ending… and sadly that applies to Slott and Allred's superb take on the Silver Surfer, as Norrin Radd and his companion Dawn Greenwood's journey finally comes to its conclusion.
Slott has given us a Surfer at once both enigmatically cosmic and utterly human, and his relationship with Dawn has been at the very touching heart of this run since the beginning. Allred's quirky, energetic art has rarely been better and this, for many, has been the definitive Silver Surfer run since the heady days of the 1960s.
Dan Slott (W), Mike Allred (A) • Marvel Comics, $3.99
– Andy Oliver
Cartoon Clouds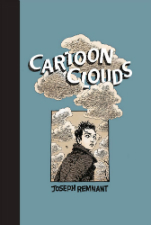 My staff pick this week is Cartoon Clouds by Joseph Remnant. As an art school graduate myself I'm keen to read this story of art students figuring out what they do once they finish school.
I love Remnant's illustration style which is a huge plus and the book promises a strong narrative with slice-of-life conversations. Remnant's art can also be seen in Harvey Pekar's Cleveland or his self-published comic Blindspot!
Joseph Remnant (W/A) • Fantagraphics Books, $22.99
– EdieOP