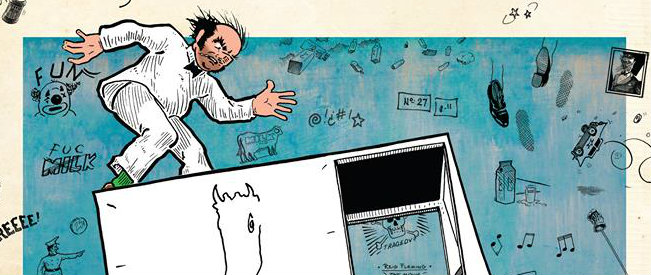 There's never been anything normal about Reid Fleming, the self-proclaimed world's toughest milkman. From the time of his inception, David Boswell's caustic, perpetually enraged working-class antihero has defied the odds, building a fierce cult following among fans and fellow creators.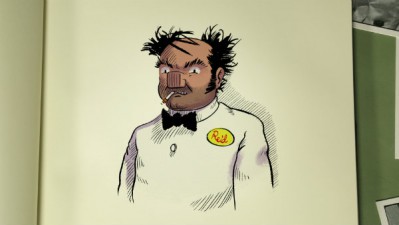 The character's influence reaches far and wide – to Hollywood and back – touching the imaginations of writers, actors, and animators. His manic personality and madcap misadventures continue to resonate with legions of regular folks itching to unleash their id-fueled inner milkmen against the forces of mediocrity.
At the height of the character's popularity in the early 1980s, Boswell took Reid Fleming to Hollywood, penning a script under the guidance of producers Jeph Loeb and Matthew Weisman (Teen Wolf). However, despite early positive buzz, the rug was pulled out from underneath everyone's favorite milkman, and Reid Fleming spiraled into the depths of development hell, where he languishes to this day.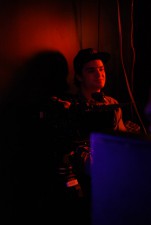 Toronto director Charlie Tyrell first encountered Reid as a child and knew that the character and his soft-spoken creator deserved a wider audience. When he discovered how close a Reid Fleming film actually came to being made, he set out to chronicle Boswell's disappointing trip to Hollywood in a short documentary entitled I Thought I Told You to Shut Up!!
Using a combination of stop-motion animation and interviews with fellow creators, fans, and Boswell's Hollywood peers, such as Matt Groening, Jonathan Demme, Kevin Pollack, and Ed Asner, Tyrell celebrates Reid's influence on an entire generation of contemporaries. In the process, the director also makes a hell of a case for another kick at the can for Boswell and his cantankerous creation.
I chatted with Tyrell via email, and not only did he provide some insight into Reid's impact on his life, but he also graciously provided stills from the film, featuring Boswell, numerous Hollywood personalities, and – of course – The World's Toughest Milkman.
Narrated by Jonathan Demme and produced by Larue Entertainment, I Thought I Told You to Shut Up!! premieres today on Vimeo.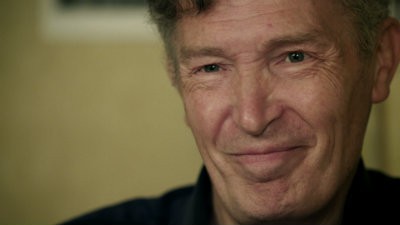 BROKEN FRONTIER: When did you first encounter David Boswell's Reid Fleming, World's Toughest Milkman?

CHARLIE TYRELL: I always saw the comics in my house as a kid. That and Heartbreak Comics, David's other book.
What initially attracted you to the comic, and why do you feel it still resonates so strongly with readers? What sets it apart from other comics and graphic novels published today?
They're hilarious! And they resonate so well with readers because Reid does what everybody wants to do. He's a guy stuck in a dead-end job with a dickhead of a boss. I think a lot of people can relate to that and probably enjoy living vicariously through him as he goes on these destructive tangents.
Why did you choose to make Boswell's journey to Hollywood the subject of your short documentary?
I always knew that Reid Fleming would make a great film. It seems like such a no-brainer. And after doing initial interviews with David and discovering how close it actually came I knew that we had to focus on that.
What do you hope the audience will take away from the film? 
I would love it if this film could stir some new interest in Reid and potentially land on the radar of someone with the interest and power to get the property out of contractual limbo.
How has the climate in Hollywood changed over the years with regards to comic-book properties? Do you feel studios are more open-minded about comics or are they only interested in blockbuster franchises like The Avengers?
The market is certainly over-saturated with big-budget comic-book movies. But you're starting to see some of the lesser-known franchises make their way onto the big screen (looking at you, Guardians of the Galaxy). And it's great, because I feel like filmmakers are given more creative liberties with these smaller properties since the fan bases aren't as large.
There are a lot of well-respected Hollywood players attached to the film. Was it difficult to get them on board and what did you find most surprising about their recollections?
Difficult to get their phone numbers, yes. But once we established a connection and mentioned Reid Fleming the doors opened up. Everyone was so enthusiastic to talk about Reid or David. It was pure nostalgia for a lot of them. But most surprising was probably to hear how much of an influence Matt Groening claimed Reid Fleming had on him while he was developing The Simpsons.
So, is there any room in Hollywood today for a Reid Fleming production?
I think if Hollywood is wise about it then they will take the Reid Fleming property pretty seriously. It's counter-programming to the larger franchises and there's definitely a market for that by this point.