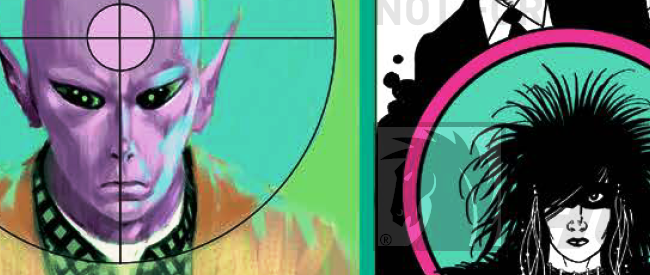 Mystery and science fiction will collide in small-town America soon, but first you have to get through the introductions of the alien doctor, the government agency chasing him, and the Native American nurse determined to help him.
Initially released as chapters serialized in the pages of Dark Horse Presents, Resident Alien: The Suicide Blonde #0 launches the story into a book of its own. An alien has crash landed and is learning to fit into Earth-bound life by using his ability to mask his appearance to become the town doctor.
Writer Peter Hogan begins the story where the last chapter left off, physician Harry was accidentally shot by his Native American assistant Asta in the course of solving a mystery. Asta and her father move along the dream plane to check up on a sleeping Harry, whose injuries are healing nicely. They know Harry is an alien and discover that unknown parties are searching for him. Asta is charged with convincing Harry to remain in Patience.
Through well-done flashbacks we learn about Harry's arrival on Earth three years ago and the government men in black who are searching for him. He's learned the language, how to drive, how to fix broken-down vehicles, and how to be a doctor the townspeople respect. A young doctor is brought in to take over while Harry convalesces, and it isn't going so well. Convinced that he's needed, Harry decides to stay in the town and is immediately consulted on another murder. Presumably, that is where issue #1 will begin.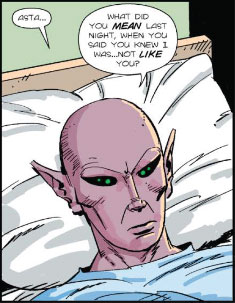 No action and no mystery in this set-up issue, but Hogan introduces some interesting characters. It's not every day that Native American characters figure prominently in comics, and Asta is going to be fun to watch. Resident Alien is a simple enough setting that should get more compelling with the introduction of the crime-solving elements and increased pressure from the government hounds.
Steve Parkhouse's art takes some getting used to. His faces and facial expressions are well thought out and great consideration has obviously gone into making each character consistent and distinct. But his body language is stiff and his panel construction is formal block-upon-block. It will be interesting to see if these change once the action heats up in future issues, or if this is a style that will characterize the series.
Peter Hogan (W), Steve Parkhouse (A) • Dark Horse Comics, $3.99, August 14, 2013