It's almost Wednesday, and you know what that means: a fresh load of comics and graphic novels! With so many publications hitting your local comics store or digital storefront, BF is here to lead you through the woods. These are the books that need to be on your pull list this week.
Comic of the Week
Hellboy In Hell #6

In Mike Mignola's version of hell, there's no endless streams of lava or burning flames and red isn't the dominant color. Instead, it's a place where anything can happen, time is of no consequence and not even Satan is safe.
Hellboy In Hell marked Mignola's return to handling the interior art on his character's continuing saga after having put it in the hands of the stellar Duncan Fegredo since 2007. With everything in Hellboy's 20-year history leading up to this story, there was no one else but Mignola to tell it. Hellboy In Hell is the actual Hellboy origin tale, as it fills in plenty of gaps as to who Hellboy really was; before he was summoned by the Nazis on that fateful 1944 December night.
This week, the series resumes after a 6-month pause, with Hellboy encountering a vampire he's faced before.
It's also worth noting that Mignola has taken another step forward in further distilling his style down to the bare essence, stripping it of any superfluous elements. It's meticulous, even though Hellboy sure has seen crisper days — but since he's in hell, that kind of speaks for itself.
Mike Mignola (W/A) • Dark Horse Comics, $2.99
– Frederik Hautain
The United States of Murder Inc. #1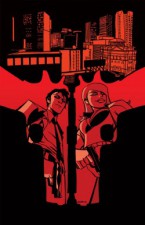 As alternate histories go, one based on the question 'what if the Mob had won the war with the FBI' sounds like a pretty intriguing scenario, albeit a very violent one. And if the pressing question, what if the Mob had one the war with the FBI is one that has been (or is now) plaguing your mind – then wonder no more because that is exactly the premise of the new creator-owned collaboration between Brian Michael Bendis and Michael Avon Oeming, The United States of Murder.
According to them, what would happen is that the mob would grow in strength and power until they singlehandedly controlled most of the East coast of America, and a couple of parts of Nevada. This is a true crime comic, pure and simple. A story of organised crime centred around the anti-hero characters of gangster Valentine Gallo and hit-woman Jagger Rose, two people on the ascent discovering secrets that force them to question the life they've always known.
Brian Michael Bendis (W), Michael Avon Oeming (A) • Marvel Comics, $3.99
– Conori Bell-Bhuiyan
Superman: Doomed #1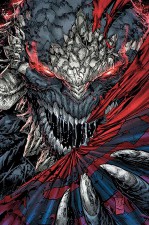 After a number of "prelude" issues across different titles, DC Comics is finally ready to kick off the New 52 battle between Superman and the indestructible Kryptonian monster Doomsday.
There are reasons to be nervous about this issue, and indeed this whole event. Scott Lobdell's recent efforts on both Teen Titans and Red Hood and the Outlaws have been less than spectacular, so trusting him to reinvent and re-energize the Superman/Doomsday rivalry feels risky. That said, Greg Pak and Charles Soule are at the helm of some very strong Superman books (Action Comics, Batman/Superman, and Superman/Wonder Woman, respectively) and I suspect that their involvement will help raise the overall quality of this one-shot as well as the multi-title arc as a whole.
But the real reason that I'm excited for this issue has been the promise of a fresh angle on the Doomsday battle. While I'm sure there will be a fair amount of punching and smashing (which I would expect from this title), I maintain high hopes for new developments in this iconic rivalry.
Scott Lobdell, Greg Pak, Charles Soule (W), Ken Lashley (A) • DC Comics, $4.99
– Reid Vanier
Shutter #2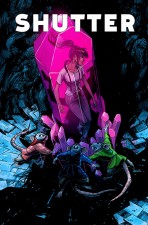 Kate Kristopher thought she had left her family legacy and life of adventure behind… that is until she was attacked by a swarm of ghost ninjas and a mysterious, robotic being revealed to her that there's more to Kate's family than she realized; secrets her father never told her. To make matters worse, these assailants aren't the only ones after her.
Now with a hefty price on her head, Kate wonders if even an NYPD unit equipped with flying saucers will be enough to protect her from the threats that are mounting from all angles.
Joe Keatinge (W), Leila del Duca (A) • Image Comics, $3.50
– Tyler Chin-Tanner

The Amateurs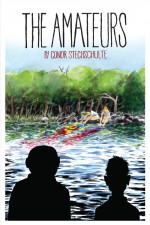 If you try to imagine the most nightmarishly transgressive Laurel and Hardy film you've never seen, you might just get close to the experience of reading Conor Stechschulte's 64-page story The Amateurs. Two rural butchers turn up to their shop one morning to find themselves mysteriously unable to remember what to do. As their customers come in and demand their 'usuals', Jim and Winston have to improvise using what they can find around them – with gruesome consequences.
However, there's much more to the book than increasingly grotesque slapstick. It's interspersed with lushly written extracts from a schoolgirl's diary and other related episodes that heighten the dreamlike sensation and create a rich atmosphere of isolated rural strangeness. Stechschulte's dark humour and claustrophobic art style make this an intense and disquieting read.
Conor Stechschulte (W/A) • Fantagraphics Books, $14.99
– Tom Murphy
Deadly Hands of Kung Fu #1
Shang-Chi Master of Kung-Fu was created by writer Steve Englehart and legendary artist Jim Starlin in 1972 as Marvel's entry into the martial arts craze sweeping the entertainment industry.
A popular title through the 1970s, the original run lasted through issue #125 (1983) and established Shang-Chi as the most deadly hand-to-hand combatant on the planet. He has made numerous guest appearances with Marvel's A-list heroes through the years and is finally appearing in his own limited four-issue series from writer Mike Benson (Deadpool Pulp) and Tan Eng Huat (X-Men Legacy). The Deadly Hands of Kung Fu title lasted 33 issues (1974-77) and also featured Power Fist, the Sons of the Tiger, and the Daughters of the Dragon in short stories.
When an MI-6 agent with ties to Shang-Chi's past is murdered, the Master of Kung Fu travels to England to pay his respects and discovers that all is not as it appears. He'll be joined by familiar characters (the original series had a deadly and delightful supporting cast) and new enemies as he tracks down the answers to a mystery laced with intrigue, espionage, and plenty of pulse-pounding kung-fu.
Mike Benson (W), Tan Eng Huat (A) • Marvel Comics, $3.99
– Karen O'Brien