Exciting news today from the direction of LDComics' latest newsletter that, following the receipt of a British Council International Collaboration award, the 'REVEAL! Women's Comics East Africa-UK' initiative will soon be championing comics artists from Kenya, Tanzania, Rwanda and Uganda, as well as UK artists with heritage from those countries. More details of this exciting development in the press release below. For updates sign up to the LDComics newsletter here.
REVEAL! Women's Comics East Africa-UK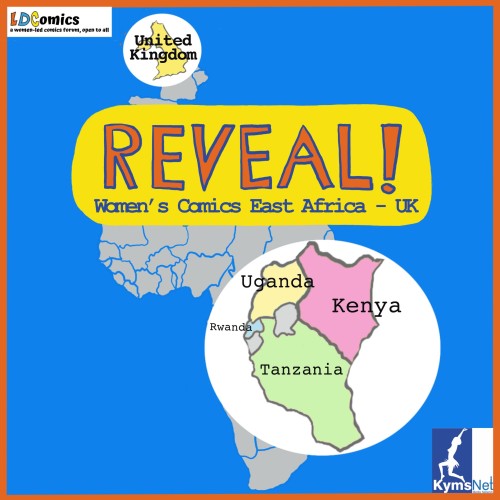 REVEAL! will platform women's comics, cartoons, graphic novels in 4 East African countries Kenya, Tanzania, Rwanda, Uganda and UK artists with family heritage in this region. This will contribute to wider cross-cultural recognition of women's experiences historically and currently.
REVEAL! will celebrate women's responses through comics to ideas around gender identity located within existing histories. Participants will contemporize activity through reflection of Climate Change impact on experiences, especially those living with disability and within marginalized communities.
REVEAL! is a partnership between graphic novelist, comics scholar Dr Nicola Streeten, director UK LDComics CIC and artist, arts journalist Msanii Kimani wa Wanijru, director Kenyan Kymsnet Media Network.
We are exceptionally pleased because from the first round of projects to receive awards, REVEAL! was one of 48 selected from around 950 submissions.
The list of supported projects can be seen here.
REVEAL! is a terrific opportunity to expand and enrich our thriving comics community globally, shape comics history, and history more widely to include women.
What/When?
REVEAL! work will begin this Spring and we will post updates and news in due course … keep a check on LDC newsletters and social media.