Crisp, clear, and decidedly addictive, this handsome compendium edition features three of Geary's best true crime sagas.
As one of the most respected cartoonists in the biz, Rick Geary's work as appeared in countless comics, magazines, newspapers, and children's books. He has a well-deserved reputation for crisp, clean visual storytelling overbrimming with detail and expression. Indulging his undeniable fascination with lurid tales of debauchery and murder, Geary has produced two impressive lines of true crime sagas for NBM Graphic Novels.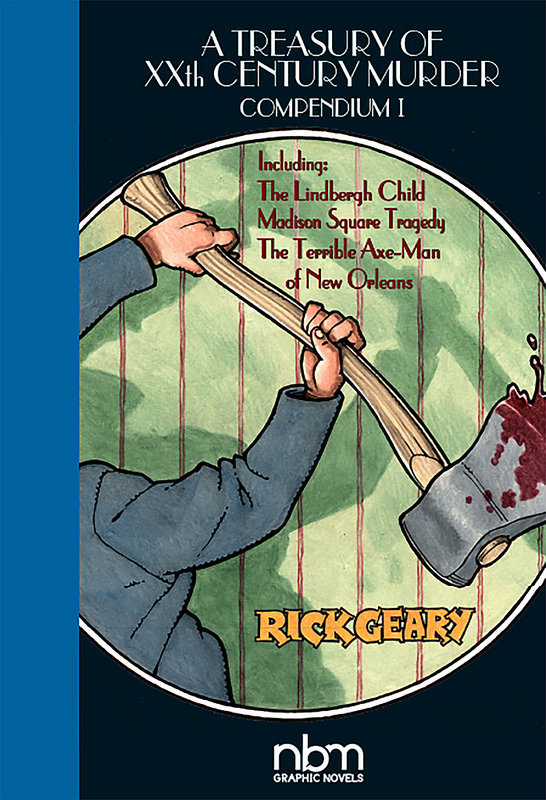 Although his A Treasury of Victorian Murder is just as engrossing as his A Treasury of 20th Century Murder, it is the latter that we are concerned with here. Boasting three of Geary's finest investigations into famous crimes of last century, this compendium edition includes the previously published The Lindbergh Child, The Madison Square Tragedy, and The Terrible Axe-Man of New Orleans.
While I don't have the space to delve too deeply into the plots of all three tales, I encourage interested readers to look up each of these notorious incidents to fully appreciate their historical significance. All three crimes are a product of their epoch and illuminate the dark corners of the socio-economic mores in which they occurred.
What I will say is Geary's singular art style is a perfect match for his subject matter. His clean lines and expressive rendering achieve a wonderful balance typically absent from modern cartooning. Whereas many of contemporaries rely on Photoshop and other imaging software to provide depth and detail to their art, Geary relies on good old fashioned draftsmanship, using varying line weights and lengths and a meticulous spotting of the blacks to add heft and atmosphere to his work.
His visual storytelling is off the charts—elegantly simple in that deceptive way masters have about them. The craftsmanship employed is never so easy as it appears on the surface but that's what makes the works of creators like Geary so magical. We may not know or understand why we love them so much but we do.
And like a true investigative journalist, Geary maintains a careful objective distance from the crimes he covers on his artistic beat. He refuses to inject his own opinions into his graphic reports, allowing his readers to come to their own conclusions about each crime's major suspects and their motives.
NBM's dedication to publishing high-quality books is on full display with this handsomely bound hardcover compendium of Geary's work. A fitting vehicle for his timeless, well-crafted comics, this collection is the perfect introduction to his work. Entertaining, educational, and above all, supremely engrossing, Geary's graphic reportage should be required reading for any self-respecting connoisseur of the form.
Rick Geary (W, A) • NBM Graphic Novels, $27.99