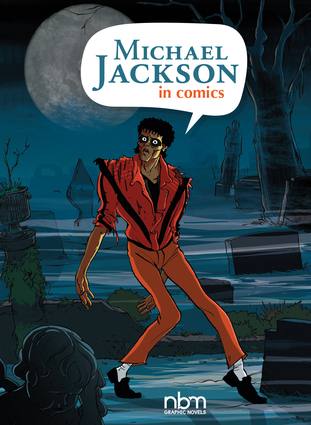 The cynic in all of us would ask if Michael Jackson deserves yet another biography, given how every aspect of his life continues to elicit scrutiny even a decade after his untimely passing. The latest version from NBM, however, shows that there is always another way of approaching a colourful life. Part of its Biography Series and written by Céka, Michael Jackson in Comics doesn't adopt a warts-and-all approach, opting instead for a celebration of what made the late King of Pop a global icon.
From his humble beginnings at 2300 Jackson Street to the Apollo Theatre, introduction to Motown, the entrance of Diana Ross, and creation of the Jackson 5, it allows artists like Laurent Houssin, Guillaume Griffon, Sarah Williamson, and Julien Akita — among many others — to flesh out this now-familiar tale with their distinctive styles, colours, and textures. The result is sometimes strange, but always entertaining, much like their subject himself.
Each chapter begins with a short essay followed by the comics, which makes sense given how some of the panels work better when a reader has access to context. This also works as a deterrent for fans though, as the trotting out of clichés about Jackson's life and achievements starts to get in the way of simply enjoying the visuals. It is a sensible approach, but not always a practical one.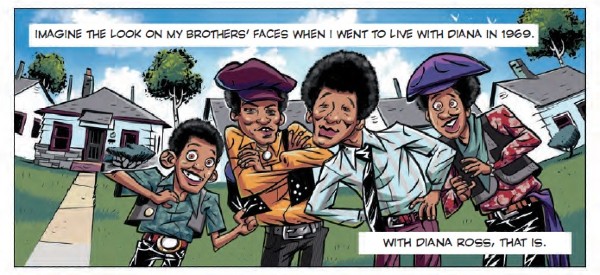 Art by JGSB
It's interesting to consider how Jackson spent his life experimenting with all kinds of media, which is probably what inspired the publishers to bring so many voices on board. It serves as an artistic statement too, acknowledging the complex nature of his personality, and effectively documenting the radical changes he adopted over the course of his life. The chapters that work best, unsurprisingly, are those that walk off the beaten path and into the little corners of his personal history. There's his infatuation with the Elephant Man, for instance, one on his legendary pets, and a charming personal story by the artist Vox on why Jackson's white socks made such an impact on young fans.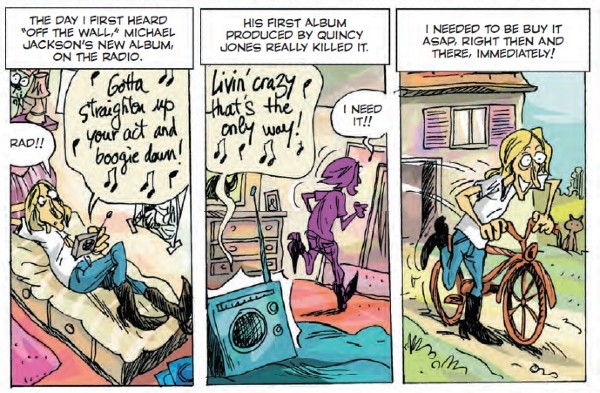 Art by Vox
What I enjoyed best was looking at Michael's face itself, as captured by these cartoonists and illustrators. While some preferred a straightforward caricature, others tried to get at the essence of his chameleon-like personality instead. I smiled at the idea of a collage of these faces on the cover, but eventually acknowledged that the drawing eventually chosen — Jackson dancing for the music video of 'Thriller' and caught mid-pose by Bast — served to remind readers of a time when it was impossible to escape the long shadow he cast over popular culture. It was, one suspects, the last time he was unconditionally adored, before tabloid rumours about his personal life began to get more attention than the music he created.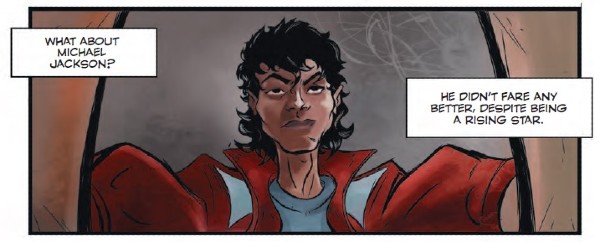 Art by BiG ToF
This is undoubtedly a great addition to the shelves of any Jackson fan; it is also a good example of what comics can do for biography, when aspects of a celebrity's life are explored by various artists in a medium that traditionally lends itself to experimentation. Michael Jackson passed away in 2009, but continues to attract attention from the press, as well as new generations of listeners who gravitate to his undeniably impressive legacy. Flipping through these pages proves that there is always more to his story.
Céka (W), Patrick Lacan, Filippo Neri & Piero Ruggeri, JGSB, Laurent Houssin, Lu-K, Sarah Williamson, Guillaume Griffon, BiG ToF, Nikopek & Lou, Vox, Domas, Clément Baloup, Martin Trystram, Bast, Guillaume Tavernier, Aurélie Neyret, Anthony Audibert, Yigaël, Julien Akita, Lapuss, Kyung-Eun Park, Jean-Christophe Pol & Vallale (A) • NBM Publishing, $26.99
Review by Lindsay Pereira