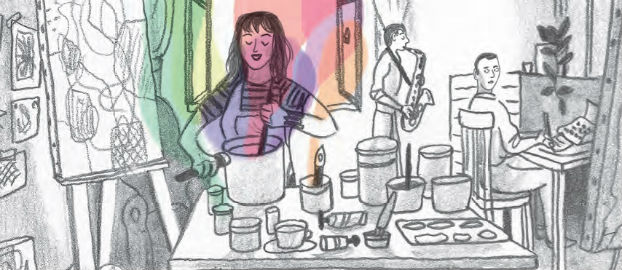 It's probably no surprise that artists' biographies make up a sizeable chunk of the market for high-end, broadsheet-acceptable 'Waitrose comics'. Those among us who are enthralled by the visual arts are probably – by definition – more receptive to the comics form, while the endless possibilities of the medium allow any number of striking visual metaphors for the act of creation.
In this luxurious hardback, Dominique Osuch and Sandrine Martin look back at the remarkable life and work of Niki de Saint Phalle (1930-2002). A prolific, self-taught artist, she is probably best known for her 'Nana' sculptures – exuberant, outsized avatars of feminine energy, bursting with creativity and fertility.
As the scion of an aristocratic family of French bankers, the young Marie-Agnes underwent a migratory upbringing – scarred by sexual abuse – that laid the foundation for a nomadic life. It's probably no surprise that amid constant movement, both her work and her personal relationships became characterised by an intense restlessness. She was as quick to be picked up and flung around by love and desire as she was by artistic inspiration.
Married as a teenager and with no formal art training, it was only after brutal treatment for mental health problems in her 20s that the young woman, now calling herself Niki, committed herself wholeheartedly to a life of artistic endeavour. That marked the launch of an extraordinarily ambitious and productive career, during which she produced around 3,500 works, many of them on a huge scale.
Along the way she forged a wide-ranging web of relationships and collaborations, at the heart of which was the complex – and never fully resolved – partnership with Swiss kinetic sculptor Jean Tinguely, with whom Niki created one of her most familiar works – the much-loved Stravinsky Fountain outside the Pompidou Centre in Paris.
Despite the numerous and debilitating ailments that plagued her throughout her life (due in part to exposure to the industrial materials she used in her work), Niki de Saint Phalle was a woman with a gift for making things happen; fellow artists, craftsmen, mayors and presidents all fell under her spell.
When the artist, convalescing in the Swiss Alps, complains to an Italian friend about her difficulties in getting an planned sculpture garden off the ground, a solution presents itself. Not only is the friend an heiress to the Agnelli family – the owners of the Fiat motor company – but two of her brothers have a large plot of land in Italy that they don't know what to do with. It later becomes the site of Saint Phalle's most ambitous work, the five-acre Tarot Garden in Tuscany, which took more than 20 years of work before it was opened to the public in 1998.
The extraordinary nature of Sainte Phalle's life means that there's a lot to cram into this book, leading to some slightly staccato storytelling to ensure that every major development – both personal and artistic – is ticked off. Page turns click along with a metronomic beat as Osuch and Martin mark off each year and project. The stuttering flow of the book probably isn't helped by the sometimes stilted narration, which also has to jump the hurdle of translation and suffers from some sloppy proofreading.
On the page, Martin's clear and attractive cartooning lays down an accessible baseline of pencil work that leaves room for altogether more extravagant flights of fancy as Niki is swept away by her imagination. The book's sections are also heralded by full-page treatments of tarot cards, blending the traditional iconography of the Major Arcana with motifs from the artist's life and work.
Osuch and Martin's rapid-fire and slightly breathless treatment can leave the reader struggling to keep up. However, their book is a penetrating look at the mind, life and work of a fearless female artist who defied every convention to single-mindedly follow her muse and detonate like a firework across the artistic scene of the late 20th century.
Dominique Osuch (W), Sandrine Martin (A), Joe Johnson (Tr) • NBM Graphic Novels, $29.99
Review by Tom Murphy