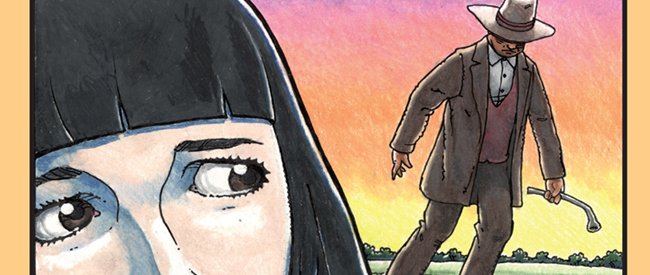 For almost thirty years, Rick Geary's Treasury of Murder series from NBM has disturbed and delighted fans with his signature linework and meticulous attention to detail. Now the master of true crime takes a whimsical sidestep into fiction starring his favorite silent film star, Louise Brooks. Something of a complement to his non-fiction work, this classic whodunit shows another more intimate side of the renowned cartoonist.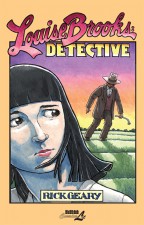 Some people can pull off bangs and some can't. For Louise Brooks, the pixie-cute silent film star who popularized the bob haircut, this was never an issue. Brooks was a something of a trendsetter: experimental, headstrong, and not afraid to voice her opinion.
While her independence got her blacklisted in Hollywood, it also paved the way for an influential trio of German films that eventually secured her legacy long after she faded into obscurity. Upon her return from Europe, Brooks retreated to her hometown of Wichita, Kansas after her acting prospects dried up, operating a short-lived dance studio.
This is where Rick Geary takes up the story. A lifelong fan of the Pandora's Box star, Geary's passion for his subject matter is plain for his audience to see. In a self-described fantasy casting Brooks in the role of intrepid amateur detective, Geary constructs a classic whodunit revolving around the confounding death of the fiancé of Louise's only real friend in Wichita.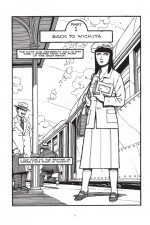 The plot, while fairly straightforward, is well-executed and features the neat little twist at the end we expect in an archetypal mystery yarn. Featuring unassuming yet brilliant playwright-farmers, down-on-their-luck hobos, and a smattering of romance, there's a simple elegance permeating Geary's whimsical foray into fiction.
Geary applies his keen eye for detail to every element of his plot. People, settings, and events all have a purpose and either serve to drive the plot forward or illuminate a previously hidden facet of Brooks's character.
This obsession with accuracy, a hallmark of Geary's work throughout his career, informs his depiction of Louise in everything from her appearance to her wry wit and single-mindedness. Geary explores the inhospitable environment of her home life and recounts her ongoing financial struggles with an unflinching eye.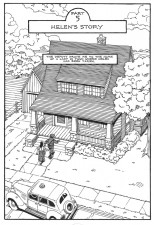 Geary's meticulous linework seems as effortless as ever, and his characterization of his protagonist is spot-on without sacrificing his signature style. Painstakingly constructed maps provide an added layer of verisimilitude, but it's Geary's ability to set the scene and build atmosphere simply by changing the frequency or weight of his lines that really bring Louise and the sleepy town of Wichita to life.
A wonderful detour into the realm of fiction, Louise Brooks: Detective is a fun, brisk read that not only teaches something about an almost forgotten film star from Hollywood's silent age but also illuminates a previously unknown passion of its creator.
Rick Geary (W, A) • NBM Publishing, $15.99.