NBM have announced their upcoming releases for the second half of this year which include work from the late Tobias Tak, whose contributions to anthologies like The Comix Reader, Tiny Pencil and Affordable Amazement will be fondly remembered by UK small press aficionados. The full NBM Graphic Novels list with cover reveals runs in the press release below.
NBM GRAPHIC NOVELS Announce Upcoming Release Schedule
NBM Graphic Novels is proud to announce the release schedule from Summer 2021 through Winter 2022, including brand new biographies of Janis Joplin by Nicolas Finet & Christopher
, Django Reinhardt
 by Salva Rubio & Efa, and Alfred Hitchock by Noël Simsolo & Dominique Hé. Among our nonfiction culinary adventures we'll have, The Secrets of Chocolate: A Gourmand's Trip Through a Top Chef's Atelier by Franckie Alarcon and The Art of Sushi by Franckie Alarcon. We also have an inventive book from Tobias Tak, who has transformed twenty poems by Federico García Lorca, one of Spain's foremost cultural and literary figures, into comics.
Longtime NBM fans will be rewarded with the final volume of Michael Cherkas & Larry Hancock's conspiracy driven Silent Invasion: Dark Matter.
And finally, the long awaited announcement that Dungeon has returned! Revamped collections of previous releases will set the stage for new volumes by Joann Sfar & Lewis Trondheim and their many collaborators!
JUNE
The Secrets of Chocolate: A Gourmand's Trip Through a Top Chef's Atelier.
By Franckie Alarcon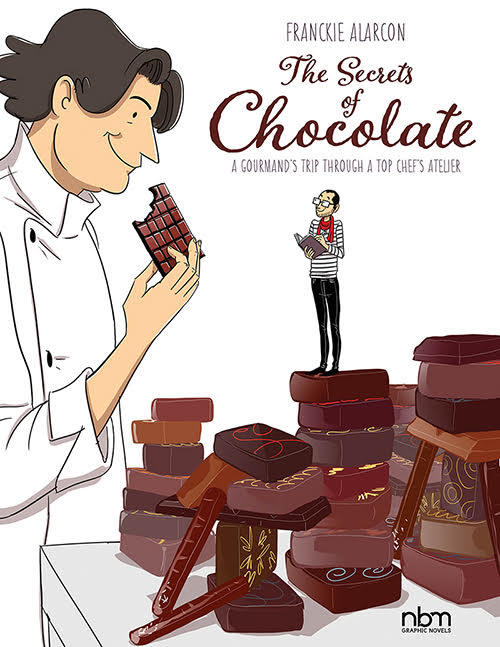 Following Jacques Genin for a year, Franckie Alarcon hobnobbed with one of the biggest chefs of Chocolate. Former chef and pastry chef for prestigious restaurants, this super-talented autodidact shares all his passion and knowledge of chocolate and his process for creating recipes. In this docu-comic, we travel with the starry-eyed author, satisfying many a craving from the chef's amazing atelier above his store, trying his hand as an apprentice, all the way to the Peruvian cocoa plantations where another chef shows how one carefully chooses the beans.
8 ½ x 11, 112pp., full color HC, $19.99, ISBN 9781681122786; Ebook: ISBN 9781681122793, $13.99
JULY
Love Me Please: The Story of Janis Joplin
By Nicolas Finet & Christopher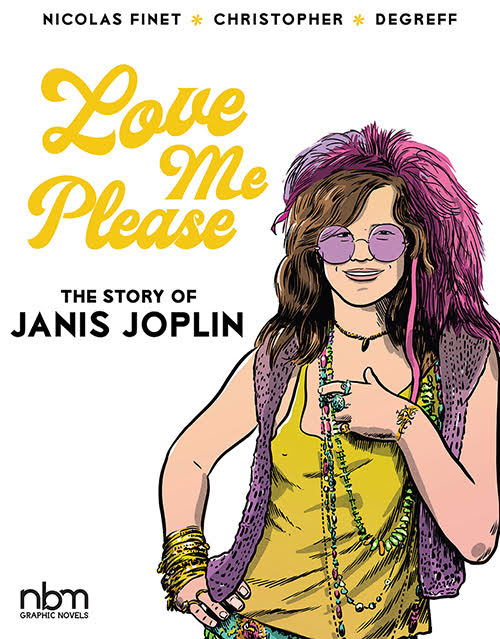 Love Me Please is a biography in comics of the amazing rock singer Janis Joplin, which recalls, respecting the chronology, the highlights of her journey from childhood, after the Second World War, to her abrupt death in late 1970.It is one of the most fabulous musical adventures in America of the second half of the twentieth century. Yet it lasted only five years.How did a very young messed up woman, a drug addict filled with doubt, become in a few years a planetary icon of rock music? She went from the shadows to the blinding light of fame in only four records (the last one issued a month and a half after her tragic death). Thanks to a worldwide movement of emancipation which would consecrate for a long time the ideals and modes of alternative lifestyles from counterculture to the flower power generation, Janis, the ugly duckling, gave free rein to her impulses.
Fed by the thirst for freedom of the Beat Generation and the desire for emancipation expressed by American youth in the early 1960s, Janis Joplin left for San Francisco, the epicenter of cultural innovation. She will live there a freedom of which she would hardly have dared to dream, abandoning herself to all impulses, overcoming without hesitation all the taboos of the time: bisexuality, alcohol, drugs, doing so not only with delight, but with the taste for excess which came naturally from her spontaneous character. A lively, fascinating story of a woman ahead of her time.
7 ½ x 10, 160pp. full color HC, $24.99, ISBN 9781681122762; Ebook: ISBN 9781681122779, $16.99
AUGUST
Canciones of Federico Garcia Lorca
By Tobias Tak
Introduction by Christopher Maurer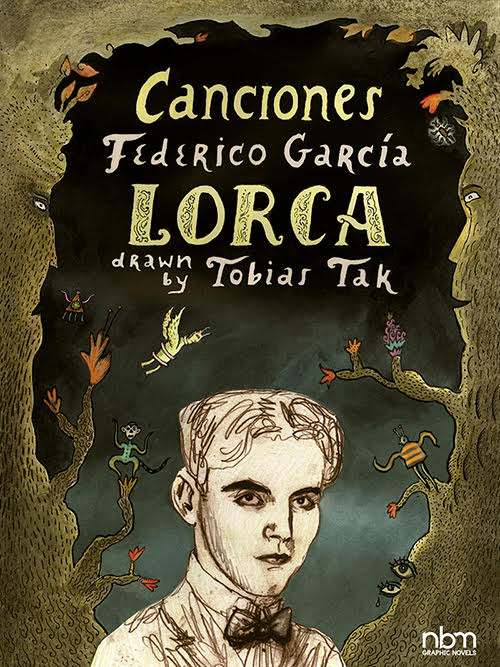 Federico García Lorca is one of Spain's foremost cultural and literary figures. In 1927, he published his masterpiece Canciones, a volume of lyrical poetry. Tobias Tak transformed twenty of these poems into a series of richly detailed and inventive comics. With his boundless imagination, Tak's illustrations add a new depth and energy to Lorca's poetry. This collection will appeal to lovers of visual art, graphic novels and poetry and aims to bring the colorful and atmospheric landscape of Lorca's work to a new audience. Includes an introduction by Lorca scholar, editor and translator Christopher Maurer ("The Collected Poems of Lorca").
8×10, 160pp., full color HC, $24.99; ISBN 9781681122748 Ebook: ISBN 9781681122755, $16.99
SEPTEMBER
Dungeon: Zenith Vols. 1-2 – The Barbarian Princess
By Lewis Trondheim & Joann Sfar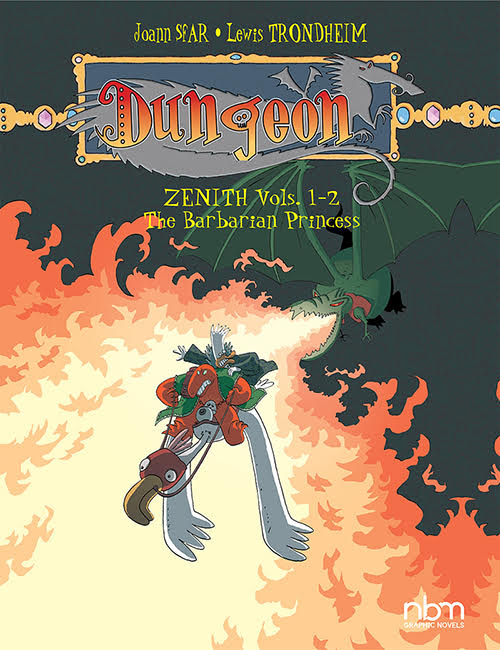 Welcome to Dungeon, the looniest world of horror and heroic fantasy you'll ever be transported into! A spoof of Dungeons & Dragons and all heroic fantasy tropes. This series, a best-seller in many countries, starts with the apogee of Dungeon, a mighty castle filled with monsters, trolls and goblins kept by a wily bird, the Dungeon Keeper, and the object of desire of many an uncouth and disgusting form of life (and afterlife) and Herbert the Timorous Duck is assigned to defend it! Thank goodness, the Dungeon Keeper has assigned Marvin the Dragon, a blood-thirsty, uh, vegetarian, warrior, to his side. 4 full stories in one omnibus volume at a new larger size! (Combines the 1st 2 volumes originally published).
8 ½ x 11, 192pp., full color trade paperback, $19.99, ISBN 9781681122809
Dungeon: The Early Years, Vols. 1-2 – The Night Shirt
By Christophe Blain •Joann Sfar • Lewis Trondheim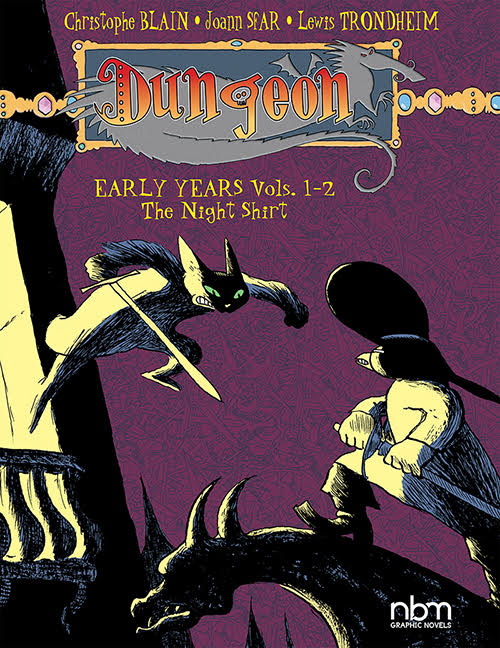 In the sprawling world of Dungeon, the Early Years subseries relates the origins of it. In this first story, you will see the Keeper barely an adult leaving his family to go find fortune in a time of chaos and darkness… Fun, adventure, suspense and… wry satire. Hyacinthe, Dungeon Keeper to be, continues to render justice in a cloak nightly as The Night Shirt and stumbles upon the one he pines for, Alexandra, an assassin, about to be raped! After his valiant and heroic rescue, his wettest dreams come true… with dire consequences. In the second story which happens quite a few years later, he's married and a poor husband, worse even, a poor lover, until Alexandra plots to gain him back. Cloak and dagger with romantic bravura! And you thought he didn't have it in him. Art by Eisner nominated Blain (Gus) and story by legendary Trondheim and Eisner nominated Sfar (Rabbi's Cat).
8 ½ x 11, 192pp, full color trade pb, 19.99, ISBN 9781681122816
OCTOBER
Silent Invasion Vol. 4: Dark Matter
By Michael Cherkas and Larry Hancock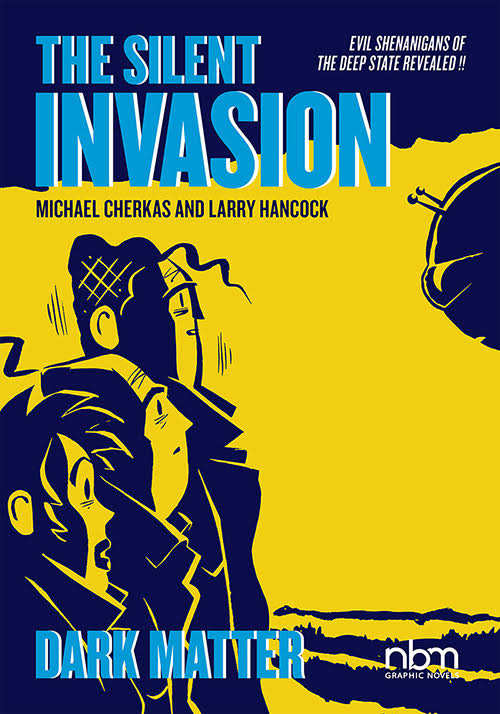 Walter Sinkage's quiet suburban life is shattered when he witnesses several UFOs flash past in the sky. His search for the truth about the UFOS and the suspicious disappearance of his brother Matt, leads him to an alien abduction support group and confrontation with the Church of Cosmic Enlightenment. When Walter also vanishes, police detective Eddy Dime finds himself stymied while trying to uncover the truth behind what happened to the two brothers and other victims of what he believes may be an alien conspiracy that reaches into the highest and murkiest echelons of government power.
7×10, 120 pp. B&W trade pb., $14.99, ISBN 9781681122830, e-book: ISBN 9781681122847; $9.99
NOVEMBER
Dungeon: Zenith, Vol. 4 [7-8]: Outside the Ramparts
By Joann Sfar • Lewis Trondheim • Boulet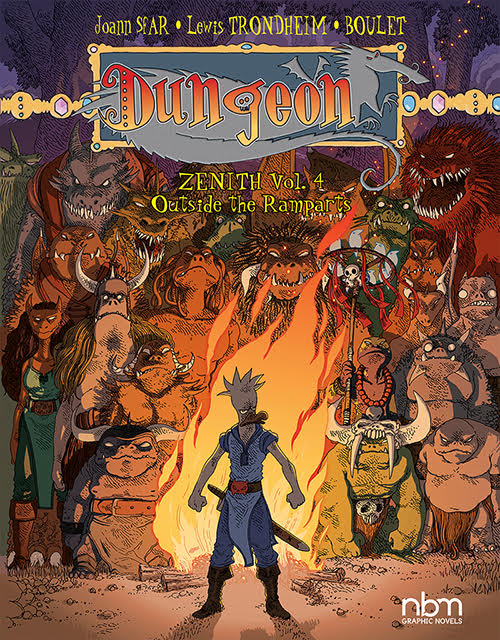 The epic saga spoof of Dungeons & Dragons and an inspiration to the likes of Adventure Time, is back with two new stories in the height of Dungeon's power!
In the first chapter: to reclaim the Dungeon that fell to the scheming William Delacourt, the plan is simple: Marvin, Isis and Herbert must find some magic fugus purit and use it to dislodge the current occupants of the fortress. But is this really the Guardian's plan? Our heroes will have to fight against everyone to save the Dungeon. Meanwhile, will Marvin succeed in his engagement blast-of-fire-breath Tong Deum?
In the second: according to the draconian tradition, Herbert is officially mandated by Marvin to go see his mother and announce his engagement to Pirzuine. Upon arrival, he discovers her murder. To avoid a bloodbath, will the valiant duck succeed in finding the culprit before Marvin arrives, without alienating the sensitive dragons who inhabit the village?
8×10, 160pp., full color hardcover, $24.99, ISBN 9781681122854 Ebook: ISBN 9781681122861, $16.99
DECEMBER
The Art of Sushi
By Franckie Alarcon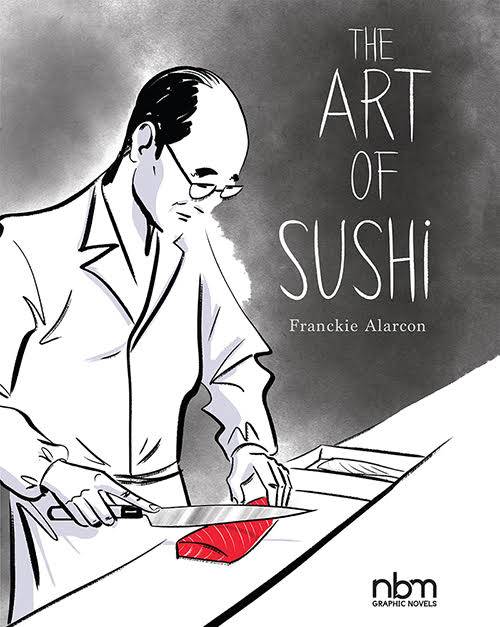 Fly to Japan and come discover all there is to know about sushi. After revealing the secrets of chocolate to us, Franckie Alarcon offers a gourmet panorama of this exceptional dish that has conquered the planet! But do you really know sushi? The author traveled to Japan to meet all the players involved in the making of this true work of culinary art. From the traditional starred chef to the young cook who is shaking up the rules, including all the artisans and producers involved, this book covers the most emblematic of Japanese products from A to Z. A fascinating journey of discovery that, along the way, tells a lot about Japan itself. You'll never believe the precision and detailed obsession with quality ingredients involved.
8×10, 160pp., full color hardcover, $24.99, ISBN 9781681122854 Ebook: ISBN 9781681122861, $16.99
JANUARY
Django, Hand on Fire: The Great Django Reinhardt
By Salva Rubio, Efa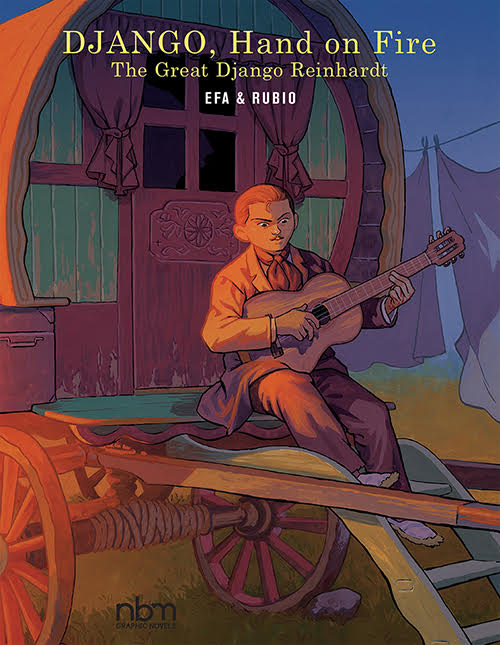 Django Reinhardt is a legend. But Django -which may have meant "I awake"- was twice born. A first time in the snow, during the winter of 1910 in a nomadic gypsy family stationed in Liberchies, Belgium. The second in Saint-Ouen, near Paris, in the fall of 1928, when a fire in his caravan mutilated his left hand. Writer Salva Rubio and artist Efa have already produced together a remarkable biopic on Monet, paying tribute to the painter's obsession with light. Likewise, this biopic devoted to the youth of the prodigy musician features the passion and determination of the man who has always considered himself the greatest guitarist in the world. In this story-score, by laying out the panels like chords, the artist brings to life his passion in vibrating watercolor to better accompany the musical and technical development of the inventor of gypsy jazz. From musette to jazz, from violin to banjo then to guitar, Django's destiny is that of his 'hand on fire', possessed by the supernatural spirit of the "duende" which burns in the soul of each gypsy musician. That of a miracle who is reborn from his ashes, more dazzling than ever. Cue the music!
9×12, 88pp., full color hardcover, 19.99, ISBN 9781681122878 Ebook, $9.99, ISBN 9781681122885
FEBRUARY
Alfred Hitchcock: Master of Suspense
By Noël Simsolo, Dominique Hé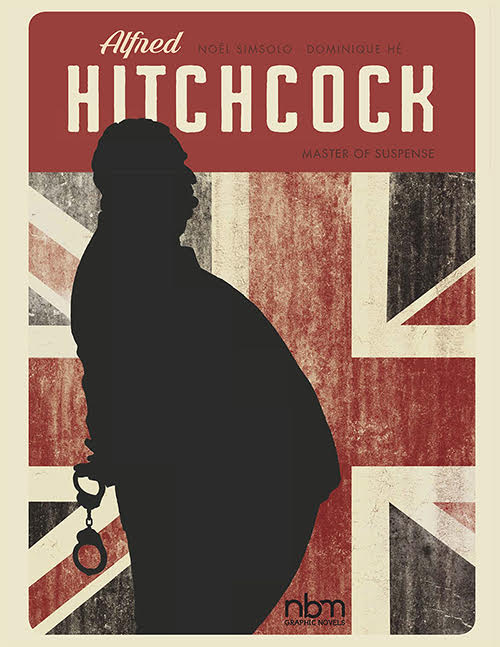 1960, the film Psycho traumatized viewers around the world. Never before had the angst or the suspense been so well presented in cinema. But where does the talent of this Alfred Hitchcock come from, the one now nicknamed the "Master of Suspense"?
To find out, we must first go back to his youth, in England, during the first half of the 20th century. Having grown up in a Catholic family – a religious originality that will be felt in a large part of his cinema – "Hitch" is an atypical Englishman who, very early on, has a taste for telling stories. The temptation to work for the cinema will not be long in coming, first as a graphic designer at Islington Studios in London where his visual talent will lead him to make his debut behind the camera, as an assistant and then as a full director. It is also here that he will meet Alma Reville, his assistant and wife who will accompany him throughout his storied career, including the jump to the big time in Hollywood. Discover the life of undoubtedly one of the greatest filmmakers of all time. The story of a colorful, demanding and quite simply extraordinary artist.
8 ½ x 11, 320pp., full color hardcover, $44.99, ISBN 9781681122892 Ebook, $29.99, ISBN 9781681122908