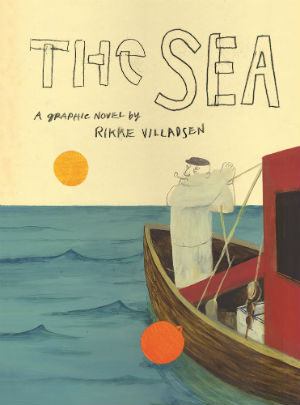 Danish artist Rikke Villadsen's The Sea – her debut English language comics offering from Fantagraphics – is as much extended visual metaphor as it is narrative. Its protagonist is a seaworn fisherman who insists on being viewed as a sailor given his long association with the ocean; as richly illustrated by the tattoos across his body painting a vivid picture of his nautical history over the decades.
On one of his fishing expeditions to inspect his traps he discovers in his catch the bizarre sight of a talking fish and a baby. In their company, he finds his authenticity as a maritime man questioned as he's tormented about his origins by this unlikely duo. As the trip progresses his grip on sanity appears to deteriorate further with events reaching a nightmarish and strangely cyclical denouement…
Villadsen's unsettlingly haunting story asks the reader to interpret, intuit and, to a degree, find their own meaning in its surreal pages. But, throughout, themes of identity and how we perceive and present ourselves can be taken from its moody and atmospheric interiors. The fisherman clings to an idealised definition of both who he thinks he is as a sailor and what he believes that entails. The challenges to those beliefs that he confronts in the form of the baby and the fish build up to a crescendo of submersive self-doubt; one that overwhelms this lost soul in its detached but ruthless potency with the brutal, crashing waves that engulf him directly reflecting his growing inner turmoil.
The Sea is a book of visual contradictions that complement its motifs. Its claustrophobic narrative is contrasted against the open and expansive environment that serves as its setting, while Villadsen's art embraces a curious mix of realism and the absurd as the forces of nature and an eerie fatalism collide. This is a graphic novel that looks to provoke an emotional response in its audience – one that asks them to immerse themselves more in allegory and allusion rather than plot or structure – on the way to a conclusion that hints at the inevitability and inescapability of preceding events.
A tale of brooding undercurrents, The Sea will perhaps not appeal to those resistant to the oblique or the representational in their sequential art. But the bolder reader will undoubtedly find much to consider in the intense reactions this disquieting descent into madness evokes in its audience.
Rikke Villadsen • Fantagraphics Books, $19.99
Review by Andy Oliver