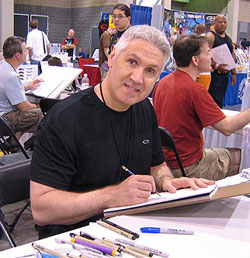 Mike Wieringo would have celebrated his 50th birthday today. Almost 6 years ago in August 2007, he passed away from a heart attack at the way too young age of 44. His legacy is that of a great artist who had an unparalleled way of putting the fun in funnybooks.
As a kid growing up, that was why Wieringo's art made such an impression on me. His work was full of enthusiasm and positivity, his linework brightly energetic, all perfectly embodied in the 'Ringo!' he used as a signature on his pieces – that thick exclamation mark just said it all.
The first Wieringo project I picked up was a Rogue limited series in the early Nineties, but the qualities that made his style so unique were there from the very start of his career working on The Flash all through his run on Friendly Neighborhood Spider-Man, which wrapped shortly before his untimely death. And of course, Tellos, which he co-created with writer and longtime friend Todd Dezago.
Here's a selection of some fine Wieringo art. Share your thoughts on Mike's work in the comments below or on Twitter at #MikeWieringo.