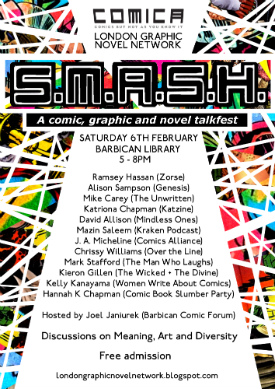 Following on from last November's well-received afternoon of comics-related discussions (which included our own Editor-in-Chief Andy Oliver as a panel guest) the London Graphic Novel Network are holding another S.M.A.S.H. event at the Barbican Library this Saturday February 6th.
This time around the conversations will revolve around questions of meaning, art and diversity in comics and will once again be hosted by S.M.A.S.H. master of ceremonies Joel Janiurek. The guests are drawn from the assembled ranks of comics creators and medium commentators and include Broken Frontier Anthology contributors Alison Sampson and Mark Stafford, 'Small Pressganged' favourite Katriona Chapman, The Unwritten writer Mike Carey, Comic Book Slumber Party's Hannah K. Chapman, and The Wicked + The Divine's Kieron Gillen. The full guest list can be seen on the S.M.A.S.H. poster right.
This series of lively deliberations on the form run from 5pm to 8pm and are entirely free to attendees.  For more on S.M.A.S.H. visit the Facebook page here.