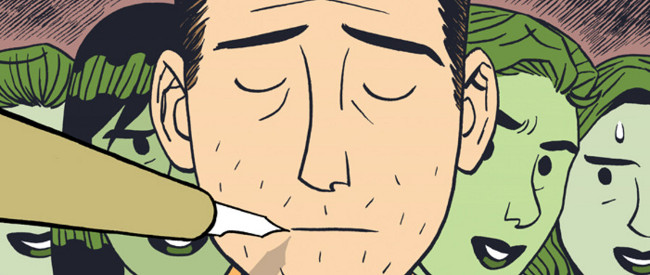 The long-awaited return to print of New Zealand cartoonist Dylan Horrocks is a slightly heavy-handed look at the moral responsibilities of authors and artists.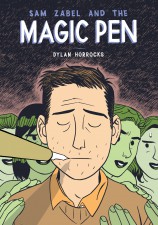 Published sporadically for 10 issues between 1993 and 1997, there weren't many comics that Fatter Younger Me was more pleased to spot on the shelf than Pickle, by the New Zealand cartoonist Dylan Horrocks.
To an isolated comics reader, its main story, subsequently completed and collected as the graphic novel Hicksville, offered a deeply alluring glimpse at what the world could be like if everyone woke up to the pleasure to be gleaned from comics.
Through my own negligence I hadn't really kept up with what Horrocks had done since then, so I was delighted to see him publish a new and substantial piece of work through Fantagraphics – the 216-page Sam Zabel and the Magic Pen.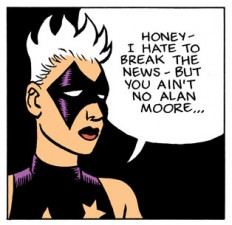 In the book, Sam Zabel is a cartoonist who has sidelined his personal work (a comic called Pickle, in an interesting metafictional callback) to earn a crust scripting the superhero adventures of Lady Night – a generic modern reboot of an altogether stranger and more contemplative original property (reflecting, in another autobiographical note, Horrocks's unhappy experiences writing mainstream properties for DC Comics).
While attending an academic literary conference, Sam meets a breezy young webcomicker called Alice, setting in motion a chain of events that plunges him into the alternative realities of comics drawn with the magic pen of the title – an artefact that has popped up throughout history, giving its bearer the power to create a living world that anyone can enter, if they know how.
Along with with Alice and the rocket-booted Miki – another explorer of this comics multiverse – Sam traverses an array of fictional realms and comic genres. Along the way it becomes increasingly clear to him that an author's fantasies and their depiction can have wider consequences, whether they're drawn with a magic pen or not.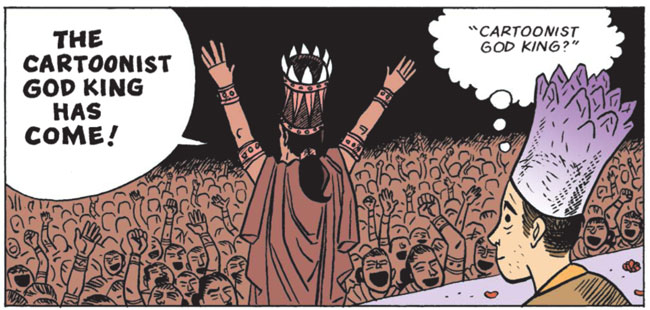 As diverting and pleasingly rendered as it is, the reality-hopping that comprises the bulk of the book never creates much in the way of peril or excitement (apart from a slightly contrived bit of business when they end up in the hentai manga from which Miki escaped).
Instead, it's largely there to set up Horrocks's big message about the moral and ethical responsibility of the artist, and how their work reflects and relates to the real world.
The point is eventually delivered bluntly and without any hinderance of subtext, and while Horrocks makes valid and important points through his characters and – more directly – his own authorial narration, their slightly heavy-handed feel sits a little awkwardly with the playful charm of his narrative style.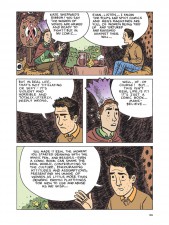 The notion of breaking through into other fictional worlds certainly isn't a new one, but it remains a strong metaphor for the power and responsibilities of the popular artist, who can create a whole universe with nothing more than a pen and a bit of paper.
However, as Horrocks points out through his characters, even the fictional enactment of an author's fantasies can have consequences beyond the world-building on the page, by perpetuating damaging social and cultural attitudes.
Unfortunately, it often feels as if the reader is being given a bit of a dressing-down for all those reactionary comics they've created and enjoyed down the decades. (Although it's hard to imagine that anyone ploughing through a $30 Fantagraphics hardback is likely to require that level of re-education.)
And while Alice's little lecture on the intricacies of responsible sexual roleplaying might be a useful primer for someone thinking of dipping their toes in the BDSM lifestyle, it doesn't feel quite at home in a book that started off as an examination of a middle-aged cartoonist's creative paralysis.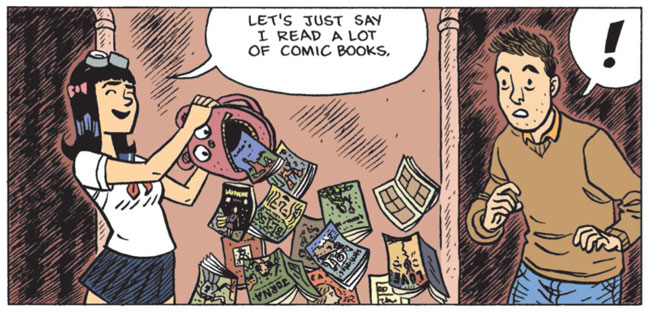 While Sam Zabel and the Magic Pen offers a strange and slightly uneasy mix of earnest finger-wagging and celebration of the power of comics, it remains knitted together by the easy confidence and attractive style of Horrocks's cartooning.
However, in an echo of another recent work that examined artistic impotence, Scott McCloud's The Sculptor, it's slightly unfortunate that its creator's undoubted sincerity doesn't translate more smoothly into a more satisfying blend of story and theme.
Dylan Horrocks (W/A) • Fantagraphics Books, $29.99, March 2015.