'3 Reasons Why You Need to Read…' is Broken Frontier's semi-regular spotlight on a given serial comic that we think should be on your pull list. Whether it's because of its thematic explorations, its craft and presentation, or if it's something altogether more frivolous, we'll provide you with a trio of pointers as to why you should be checking each chosen book out…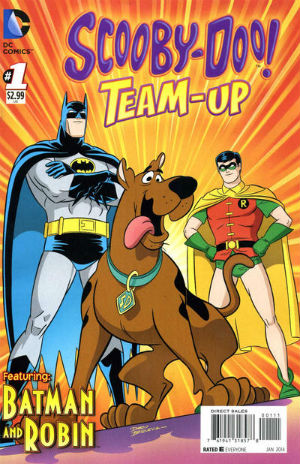 When it debuted in late 2013, DC's Scooby-Doo! Team-Up seemed like an ephemeral bit of fun. A throwaway nod to the 1970s tradition of team-up comics that would have a brief run matching up the Mystery Machine crew with a number of animated versions of DC super-heroes.
Four and a half years later the book is still going strong and has moved from bimonthly to monthly status, bringing Scooby and the gang not just into the lives of the inhabitants of the DC Universe but also other classic cartoon characters. The book's guiding light has been writer Sholly Fisch who has provided a monthly nostalgia-fest, aided and abetted by the clean lines and whimsical visuals of (mostly) Dario Brizuela.
It may not be the kind of comics fare you're used to seeing covered here at Broken Frontier but here's our three reasons why it may not be quite the comic you're expecting…
#1 Capturing that unpredictable team-up comic vibe
Those classic team-up books from both DC and Marvel (who can forget The Brave and the Bold, DC Comics Presents, Marvel Team-Up and Marvel Two-in-One?) are remembered so fondly not just for the major headliners who would share billing with Batman, Superman, Spider-Man and the Thing but also for those eccentric and unlikely guest-stars. Batman in the House of Mystery or Kamandi's alternative future; Superman side-by-side with Santa Claus, He-Man and the Masters of the Universe or Sgt. Rock; Spider-Man encountering Red Sonja or the Thing meeting Doc Savage.
In Scooby-Doo! Team-Up it's not just the denizens of the DC super-hero world that the crew meet! You can also see the Scooby gang journey to the past of the Flintstones and the future of the Jetsons, and hang out with the likes of Hong Kong Phooey, Jonny Quest, Space Ghost, Top Cat and Yogi Bear. And throughout it all – however unlikely each team-up seems – writer Sholly Fisch finds a way to make these bizarre encounters work within the framework of the established world of Scooby-Doo.
#2 Fun, mostly self-contained stories with a retro and genuinely "all-ages" sensibility
The once eclectic and welcoming DC Universe has seemed a very dark place since its line-wide reboot in 2011. In contrast this book is relaxed, fun and celebratory in tone. It hearkens back to those much-missed days when you could pick up a random issue from the newsstand, enjoy a done-in-one story and have no problem following the action. We need far more monthly comics with this philosophy! And it's a genuinely all-ages read too. If you're a younger reader then you'll love it for its lively hijinks and slapstick humour. If you're an older fan you'll find it a treasure trove of pop cultural mentions.
#3 The most DC book DC are currently publishing
Who would have thought that in 2018 the DC book that would most embody the heart of the DC Universe would be a small print run, licensed character (from outside the DCU!) title, ostensibly aimed at a junior audience? And yet it is. It's full of continuity nods and Easter eggs for the long-term DCU reader.
Check out the latest issue for example which features Angel and the Ape, the Inferior Five, Stanley and his Monster, Sugar and Spike, and even little-seen musical characters the Maniaks. If you're an old school DC fan then you will have been delighted to see Captain Marvel referred to correctly by the character's given name and not the misappropriated "Shazam" when he made his appearance in #16, or the glorious indulgence of Scooby's canine capers with Krypto, Ace the Bat-Hound, G'Nort and Dino-Mutt in #18. Every DC-oriented issue is replete with continuity treats, obscure character appearances and references to the rich history of the pre-2011 DC Universe!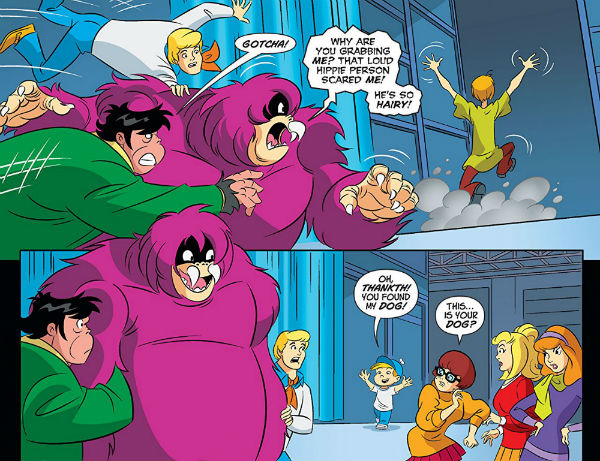 Sholly Fisch (W), Dario Brizuela et al. (A), Franco Riesco et al. (C), Saida Temofonte et al. (L) • DC Comics, $2.99
For more on Scooby-Doo! Team-Up visit the DC site here.