This past Sunday marked the 50th anniversary of the death of twelve-year-old Chanie Wenjack. Found dead of exposure beside a stretch of desolate train tracks in Northern Ontario, Chanie had been trying to walk the 400 miles home in the freezing rain in nothing but a thin cotton windbreaker. A student in one of Canada's notorious Indian residential schools, Chanie didn't even know which way was really home. He only knew he wanted to get back there.

Most Canadians only learned about Chanie a few weeks ago, when The Tragically Hip frontman Gord Downie and acclaimed Canadian comics creator Jeff Lemire announced Secret Path. Comprised of a 10-song album, animated film, and fully-painted graphic novel, the project shines a much-needed spotlight on the systemic abuses that occurred within the residential school system and beyond.
According to an article by Canadian author Joseph Boyden, Canada's Truth and Reconciliation Commission fears the number of unaccounted for children during the residential school's 120-year existence "may be as high as 30,000." It's an obscene number.
If that isn't reason enough to read Secret Path by Gord Downie and Jeff Lemire, here are three more…
#1 Chanie Wenjack's story needs to be heard
It took 30 years for Chanie's story to gain a wider audience. In 1967, Maclean's magazine journalist Ian Adams broke the sad story of Chanie's "lonely death" and for a short time brought his story to a wider audience. The attention wouldn't last, of course. The subject matter was too controversial for the government of the day to do much more than sweep the findings of a formal inquest under the carpet.
Even the general public – in an era known for its social activism – let Chanie's story slide back into obscurity. Nobody needed the guilt trip of a dead native kid dying alone beside the tracks on their conscience. You have to understand, this is a country that only closed the last residential school 20 years ago. It's fucking shameful. And through our ignorance, willful or otherwise, we all share a part in it.
That's why it's imperative that Chanie's story is heard. There have already been thousands of stories that have been ignored for too long. There's a million more waiting to happen as we speak, in ravaged post-colonial indigenous cultures around the world. This isn't just a Canadian problem. It's a people problem.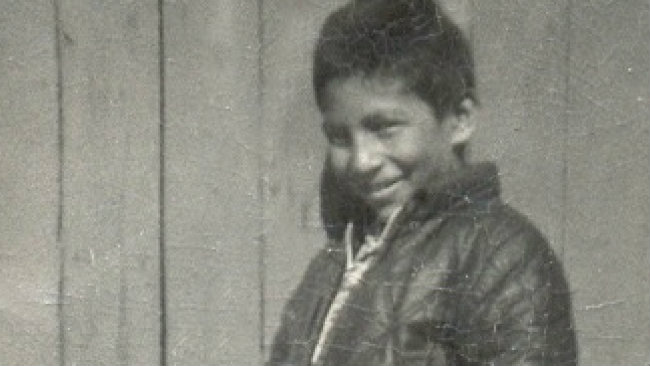 #2 Downie's lyrical poetry
You may have heard him referred to as Canada' s unofficial poet laureate in recent months due to his highly-publicized battle with terminal brain cancer but it was true of Gord Downie long before word of illness broke earlier this year. As the lyricist and frontman of The Tragically Hip, Downie has been writing about Canada and Canadians for decades.
Downie has never been much of a patriot in the traditional sense of the word. His songs aren't patriotic, except in the most tangential way. Instead, he recalls our history with calculated cynicism and thoughtful reflection, challenging us to view our pasts free from self-imposed blinders of convenience.
The songs written for the Secret Path album challenge us even further, resonating on an intensely emotional level as Downie channels the desolation and despair of Chanie's journey. He builds each song around painful imagery drawn from the tragic facts of Chanie's death: a jar of seven matches, a thin, blue windbreaker, a rail map he couldn't even read, a "secret path" many students used to escape the resident school where Chanie stayed…
#3 Lemire's haunting imagery
As one of the most respected creators working in comics today, it came as no surprise when it was announced Downie had recruited Toronto-based cartoonist Jeff Lemire to translate Secret Path into ten-chapter graphic novel. It was important to Downie that there be a visual representation of the project, something tangible the audience could hold in their hands.
Leveraging the book's large, square dimensions, Lemire crafts an elegantly simple tale from Downie's lyrics, employing massive page-sized panels and bold imagery to ensure the emotional beats of Chanie's story resonate clearly, painfully in the reader. Gloomy ink washes and panoramic views of Northern Ontario's majestic and foreboding evergreen forests evoke a pervading atmosphere of desperation and despair.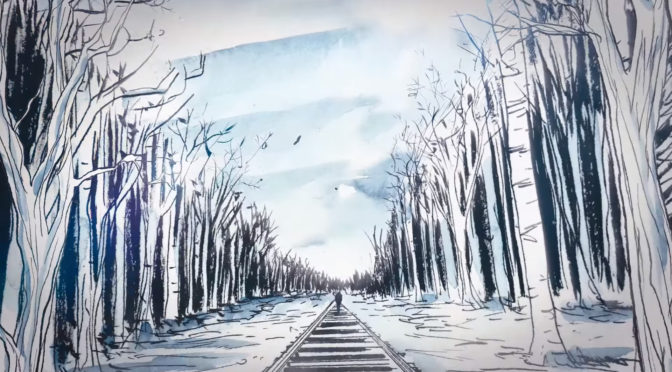 The reader feels the freezing rain soaking through Chanie's thin, cotton windbreaker; sees the hunger-fueled apparitions lurking beneath the shadows of the trees; feels the weight of mile upon mile of unbroken northern bush pressing down upon them.
Lemire's artwork in Secret Path is some of the best of his career and I know how that must sound considering the subject matter. It's one of those throwaway comments reviewers pull out of our asses all the time and in my case, as a huge Lemire booster, is twice-damning. Biased or not, Secret Path is a project that requires a level of empathy rarely witnessed in traditional comics and there are none better suited to the task of realizing a work of such emotional complexity on the comics page.
Go to secretpath.ca to learn more about Chanie Wenjack, Secret Path, and the Gord Downie & Chanie Wenjack Fund.