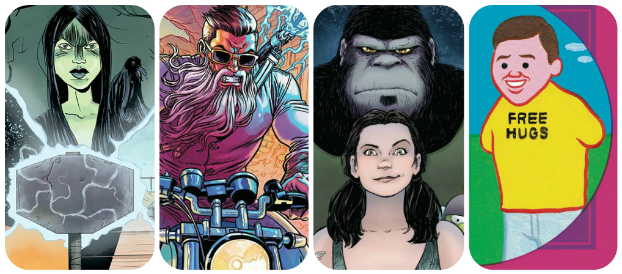 It's nearly Wednesday, and you know what that means: a fresh load of comics and graphic novels! With so many publications hitting your local comics store or digital storefront, the BF staff is here to lead you through the woods with our weekly staff picks. Satisfaction guaranteed!
Comic of the Week
Zonzo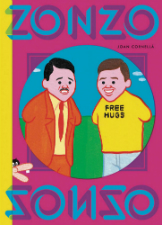 Every year British indie publisher Breakdown Press raise the bar with the exhibitor list for their cutting edge comics event Safari Festival. In 2016, though, they surpassed themselves with guests that included Simon Hanselmann, Laura Callaghan, Anna Haifisch and the artist behind this week's 'Comic of the Week', Joan Cornellà. His online presence ensured he was a huge draw last year not just at Safari but also at a signing at London's Gosh! Comics.
Cornellà's wordless one-page comic strips are uncompromising and brutally funny. When I reviewed his last collection Mox Nox here at Broken Frontier last year I said "whether it be in his own unique style of slapstick body horror, the moments of social commentary weaving in and out of the absurdist jollity, or that simultaneous evocation of existential angst with a knowing thumbs up to the audience, Joan Cornellà has created something undeniably and unsettlingly original in these pages."
Expect more nihilistic naughtiness when Fantagraphics bring the latest volume to the shelves of your LCS this Wednesday!
Joan Cornellà (W/A) • Fantagraphics, $14.99
– Andy Oliver
Motor Girl #3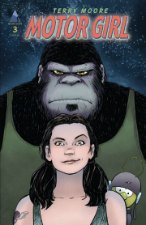 Sam has problems, alright. After kindly repairing a UFO in the first issue, her humble desert junkyard has now become the go-to destination for broken alien ships. And as if that weren't challenging enough, an Area 51 conspiracy theorist is hanging around and trying to catch it all on video! Adding to her troubles, the bank is threatening repossession of the junkyard because it has an offer to use the property for a casino, but Sam can't let that happen because she's just learned that it's sacred ground.
Eisner Award-winner Terry Moore's latest series simultaneously tells an entertaining story and tugs at your heartstrings —and true to Moore's form, not everything is always what it seems. It's not too late to pick up issues #1 and #2, so get caught up now and pick up issue #3 this week. You'll be glad you did.
Terry Moore (W/A) • Abstract Studios, $3.99
– Karen O'Brien
Curse Words #1
As we all know, looks can be deceiving. Take Wizord, for example. On the surface, the protagonist of Charles Soule and Ryan Browne's new creator-owned series Curse Words appears to be your typical benevolent Tolkiensian magic-user, albeit one with a hipster fashion sense and penchant for riding around the streets of the Big Apple on vintage motorcycles. In reality, Wizord hails from a fantasy realm where the bad guys won, taking refuge on Earth in an attempt to "balance the ledger" and do a little good.
Billed as "Lord of the Rings meets Breaking Bad," Curse Words is a gorgeously illustrated, high octane urban fantasy thriller that doesn't take itself too seriously. Soule and Browne offer a refreshing take on the classic elements of fantasy fiction, streamlining the genre for modern sensibilities, while retaining an appropriate level of operatic scale. A fun, smart book that's sure to appeal to the secret hipster Gandalf in all of us.
Charles Soule (W), Ryan Browne (A) • Image Comics, $3.99
– Jason Wilkins
The Baker Street Peculiars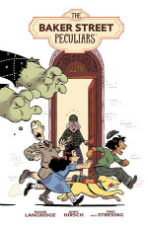 While critics debate the veracity of Benedict Cumberbatch's physical prowess in the BBC's latest series of Sherlock, one thing is clear: audiences are hungry for more of Arthur Conan Doyle's mythical detective. Eisner Award winner Roger Langridge and Andy Hirsch offer up a more lighthearted take on Sherlock Holmes in this limited series—starting with a giant lion statue coming to life and wreaking havoc in Trafalgar Square. However, the master himself is otherwise occupied, so he recruits three young apprentices (and a dog) to tackle the case.
Langridge is at his all-ages best in a fun and fanciful story that should appeal to fans of his runs on Thor: The Mighty Avenger and Abigail and the Snowman. The art team of Hirsch and Stresing keeps the excitement high throughout, offering a rewarding adventure for reluctant readers and lifelong Holmes enthusiasts alike.
Roger Langridge (W), Andy Hirsch (A), Fred Stresing (C) • Boom! Studios, $14.99
– Paul Mirek
Black Hammer Giant-Sized Annual #1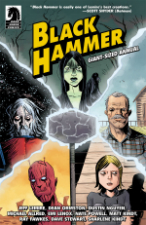 The breakout hit of 2016 (and winner of the recent BF Award for Best New Series) fills in the gap between issues with this oversized anthology featuring 5 standalone stories that focus on each of the stranded heroes introduced to us in the first story arc; Slam, Golden Gail, Colonel Weird, Barbalien, and Madame Dragonfly.
Jeff Lemire scripts the different tales and is joined by artists he's collaborated with in the past including  Dustin Nguyen (Descender), Emi Lenox (Plutona), Nate Powell (March), Matt Kindt (The Valiant), Ray Fawkes (Constantine), and Mike Allred (Madman).
Fans of Black Hammer should make sure not to miss this special issue, and anyone unfamiliar with the title should go grab the first 6 issues as well as this annual.
Jeff Lemire (W), Various (A) • Dark Horse Comics, $5.99
– Tyler Chin-Tanner