News from our friends over at Tripwire magazine about the crowdfunding campaign for their new Sherlock Holmes and the Empire Builders project. Further details and preview art in the press release below.
2022 was Tripwire's 30th anniversary year but the magazine isn't resting on its laurels. Sherlock Holmes And The Empire Builders The Gene Genie Volume One, an original hardcover graphic novel, just launched to fund on the Zoop platform and it's already at 66 per cent of its target after six days.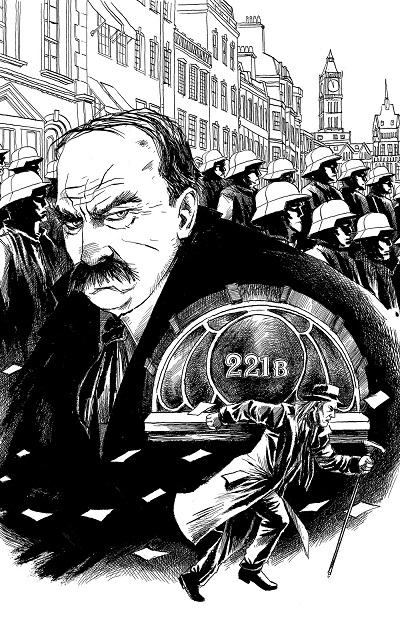 "We are very proud of getting this out after twenty years in the making," Sherlock Holmes and The Empire Builders co-creator Joel Meadows said. Sherlock Holmes and The Empire Builders is an epic alternate world sci fi adventure featuring The World's Greatest Detective as people have never seen him before.
When Watson leaves Holmes to help Crick unravel the DNA helix and finds himself in the employ of England's most evil man, Holmes is forced to team up with an unlikely group to defeat this monstrous figure and return England to its status quo. With your support here we can get the first part of this exciting graphic novel out to readers!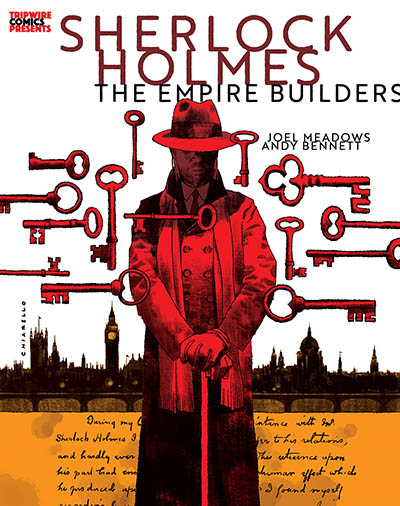 Testing the waters with three shorts which ran in Tripwire magazine, we felt that now was the time to debut this in its own graphic novel series. This will be a hardcover with a dust jacket running at 88 pages with 68 pages of story (much of which will be new material) plus character sketches, script pages and an interview offering extra information on the series.
Covers by Mark Chiarello & Walter Simonson and pin-ups by Liam Sharp/ Bill Sienkiewicz, Shawn Martinbrough and Barry Kitson.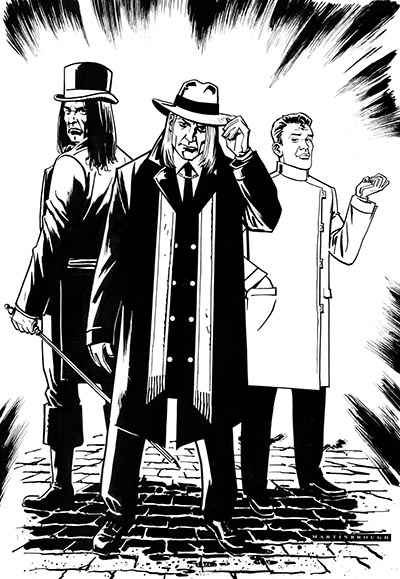 The series has already garnered fans from the world of comics and film.
"When you think there is nothing more to be said or done with Sherlock Holmes, along come Meadows and Bennett to breathe fresh life into the great detective. Bravo! I'm thoroughly enjoying this original tale!"
– Michael Moorcock, fantasy writing legend (Elric, Jerry Cornelius)
'Drawing from the wonderful classic that is Sherlock Holmes, Joel Meadows and Tripwire have once again delivered an electrifying story in a dynamically driven comic spread'.
– Richard Taylor, Wētā Workshop (Lord Of The Rings films, Planet Of The Apes)
"A brilliant celebration of an iconic character. Joel Meadows delivers in style, with a refreshing take on Sherlock Holmes and the art by Andy Bennett is just what you need in a comic. I can't recommend it enough."
– Mark London CEO/CCO Mad Cave Studios and Writer of Hunt.Kill.Repeat, Wolvenheart, Battlecats, Knights Of The Golden Sun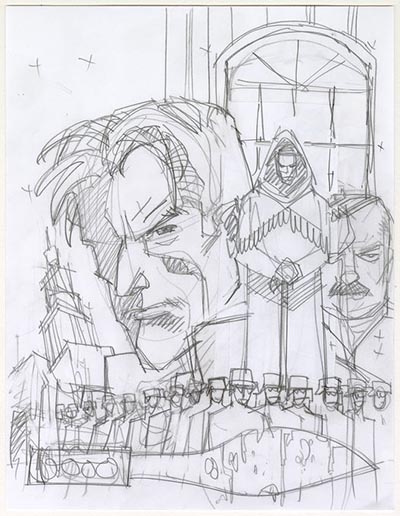 "If you learn the names of your home's previous tenants and it turns out Sherlock Holmes used to live there, I would say get the locks changed–but it wouldn't do any good. This problem, and others, never would have occurred to me without the benefit of Joel Meadows' paranoia and Andy Bennett's moodily feathered art. Also, never reveal the secret potentials of DNA to a fascist, even a well-bred one. Especially a well-bred one."
– Tom Peyer, writer, The Wrong Earth, The High Heaven (Ahoy Comics)
"As a lifelong Sherlock Holmes devotee I'm very happy to add this to my collection of the master of 221 B Baker streets adventures! Meadows and Bennet have accomplished a small(but important!) miracle in capturing the spirit and mystery of Conan Doyle's Holmes in their great imagining in this new story with the eccentric and brilliant private consulting detective. Meadows has written a tale full of mystery and he draws you in with his mastery of the detective tale. Bennett's art is just wonderful as it has all the atmosphere a Holmes tale would require and yet has a fresh approach and graphic charm that makes this an instant classic. If you love Holmes you will loves this, if you are new to Sherlock Holmes you could have no better introduction."
– Kelley Jones, artist, Batman
Sherlock Holmes and The Empire Builders The Gene Genie Volume One is running to fund on Zoop until 27 July. Support the campaign here.